Mobile & Desktop Apps
Make sure employees never miss an update via a rich mobile user experience that interchanges with the desktop experience.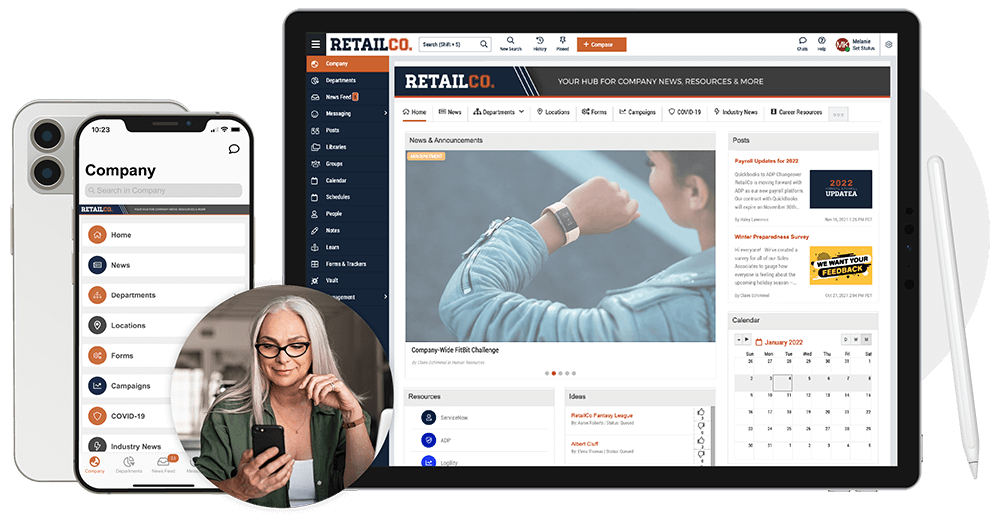 Support For All Popular Languages
MangoApps is fully translated at the system level and available in English, Spanish, French,
German, Dutch, Chinese (traditional), Chinese (simplified), Portuguese, Polish and Turkish.
Email Notifications
Send out weekly email digests that summarizes the activities and information that is relevant to a user over the past week. Email notifications can be company branded, and are configurable by domain admins.
Push Notifications
With push notifications, you can keep employees updated, informed, and connected to their teams while on the go. Disable or snooze push notifications to stay focused during vbusy times of the day.
SMS Notifications
& Messages
Send out/boost posts, alerts, and surveys over SMS to increase the reach and engagement of content. Users can also be sent the link to the MangoApps' mobile app via SMS.
I love the freedom that MangoApps gives me to access it anywhere, from any time, on any device. It doesn't matter if I'm on my mobile phone, on my tablet on the train, or on my company computer.
- Reto Wenger, Project Manager, HUBER+SUHNER
Easy Accessibility To Important Resources
MangoApps contains a wide-breadth of accessibility features and conforms to WCAG-2 requirements.
See a few of the ways we help make company information readily accessible to your entire workforce.

Saved Searches
Admins can save search criteria with advanced filters for all network users in the domain. Users can save search criteria as well. Results seen by users will be automatically adjusted to reflect the permissions they have on the items.
Quick Access
Keep a list of pages & items that you have recently visited for quick access back to them. Search history can keep a max of 100 items and can be cleared at any time. Items can be pinned for quick reference as well.
MangoApps-Assigned Email Addresses
Users without an email address can safely and securely receive emails as private messages without having to worry about SPAM. A MangoApps email address is automatically generated for employees upon arrival, no manual assignment is needed.
Assistants
Assistants can be assigned to specific users. An assistant is authorized to schedule/share company & team posts on behalf of the executive. Any action taken by an assistant is automatically recorded in the assistants log.