1. We make it simple
Deploying a new software tool at your large company can be a nightmare. Unlike the software giants that are constantly adding new siloed tools and layers of complexity with little to no support for all but their largest customers, MangoApps is a single, comprehensive platform. Working with us is easy.
Our software is deep, wide, and modular, and we work with our clients to ensure that they only get and pay for the parts they need. We—actual human beings who are friendly and enthusiastic—are there every step of the way, from implementation and rollout through long-term growth. You don't have to pay 5 figures for a premium customer support tier, or navigate vague documentation to get MangoApps up and running, or solve problems.

Our comprehensive approach ensures a friction-free experience for you, and a simple, user-friendly interface for your team. Customers rave about how easily their teams adapt to MangoApps, and how little hand holding they require. Better yet, our customers stick around for a long time, because they get value from working with us.
Our modular approach makes it easy to start small in your digital transformation journey, and ramp up over time.
We get most of our customers through word of mouth, which we see as a natural result of our customer-obsessed approach. This lets us limit our spending on marketing and sales, instead investing in engineering and support. The results are cutting-edge products, positive customer relationships, and low costs. Our pricing model can save you over 80% against the tools you're using now, simply because we aren't subject to corporate bloat.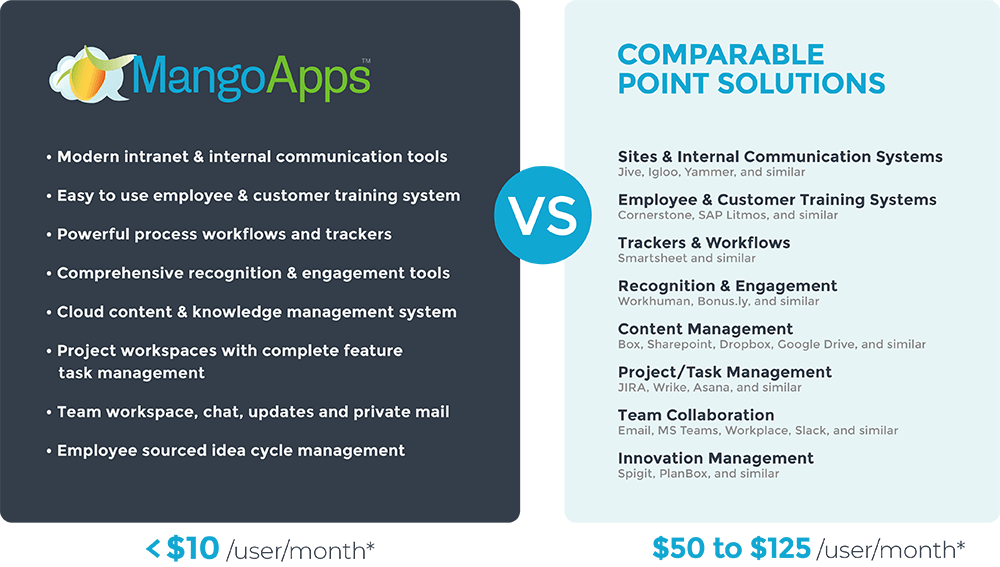 Sectors like healthcare and manufacturing have something like 20% of their large teams in corporate roles, and the rest at the front lines. With these numbers, decision-makers are put into the uncomfortable position of either paying through the nose for expensive communication tools for everyone, or keeping 80% of their workers out of the loop.
MangoApps' low per-user pricing changes that equation--our mobile app functionality enables your front-line teams to seamlessly integrate their communications into the same platform with your corporate staff, meaning that everyone is better connected without having to spend a fortune.
Our tools adapt to the way your company does work, and not the other way around. This isn't like purchasing a big-name tool that you have to convince everyone to buy into, and then struggle through learning how to use.
We will work with you to get our flexible solutions integrated into the systems and workflows you already have in place, and brand everything to your company so it feels like it was developed in-house. Team members outside of IT at many of our customers have never heard of MangoApps—they know it by the on-brand name their company gave it, and love how easy it is to use and how seamlessly it fits into their lives.
At MangoApps, we believe in quality relationships over quantity, and we will do everything in our power to set you up for success.
4. We make it fast & easy
Did we mention poor customer support from big vendors? We've all experienced the endless queueing and searching that comes with a bad vendor experience.
With MangoApps, every customer gets a workspace where they can collaborate directly with their assigned member of our team, as well as access to the MangoApps Community Portal, a space for MangoApps clients to connect and learn from each other. Our customer service is an everyday, ongoing relationship. You won't need to go through customer support hurdles when something goes wrong, because you'll be partnered with a readily available expert in your domain. Plus, with the MangoApps Community Portal, you can discover solutions from other MangoApps users who may have run into similar difficulties, or share suggestions & ideas of your own - not just with other users but directly with MangoApps team members.
We function on a steady diet of ongoing customer feedback and interactions, which fuel everything we do - from engineering to sales and support. With representatives in your time zone and the MangoApps Community Portal, we can guarantee quick, easy, collaborative deployment and upkeep.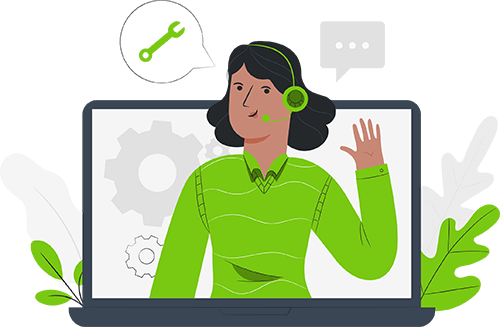 Your long-term success with MangoApps is our top priority. This isn't just lip service—our whole business model revolves around ongoing customer relationships, so we are incentivized to provide you with as much value as possible, for the long haul.
We take pride in the fact that our customers not only stick around over time, but recommend us to their networks. Steady, long-term growth has always been our primary objective, and this allows us to structure everything we do around answering customer concerns.
We don't care about fundraising or hype, so our time and attention is fully devoted to our products and our customers. You will never see us close a deal and then disappear, the way larger vendors might when they sign non-Fortune 500 clients.
Our unique business model allows us to be cost-effective without being out of date or poorly built. This is what sets us apart from other vendors; we are constantly innovating and striving towards excellence, without compromising our customer focus or our lean approach.
Over the last two decades, big tech companies have built incredible consumer experiences, but employee experiences have fallen behind. Far too many companies rely on outdated, siloed internal tools that hinder their effectiveness.
You deserve better, and that's what we strive to give you. Every company can reach its potential if it has an employee experience solution designed for the modern era. Unlike the growth-obsessed vendors and mega-corporations that we're up against, we promise to invest everything we have in our relationship with you, and ensure that you succeed. You deserve nothing less.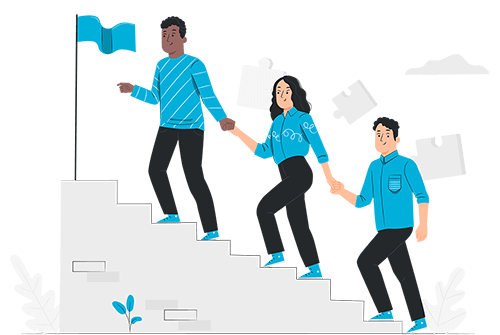 In summary, we create value beyond what is possible with a web of siloed tools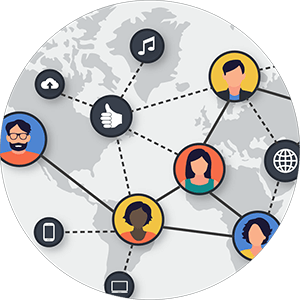 Single hub to connect all your employees and systems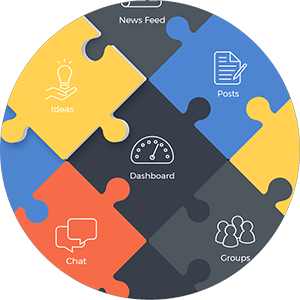 A scalable platform you'll never outgrow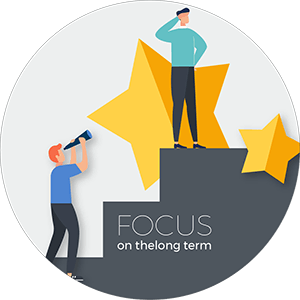 Simple to use, high company-wide adoption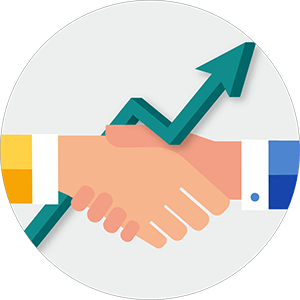 Actionable business insights around efficiency and employee sentiment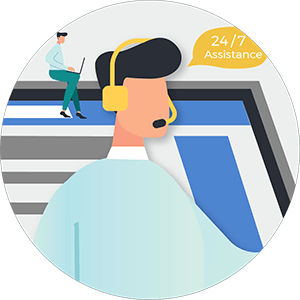 Around the clock support to ensure your success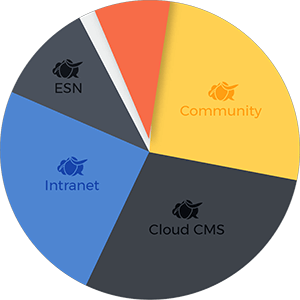 Pay for what you need, add more as you go