Why Choose MangoApps
Improve Communication for Everyone
Empower 100% of your team with a messaging system designed for focused internal communication. It's perfect for volunteers who don't need an email account.
Ensure Your Staff and Volunteers
are Well-trained
Onboard people quickly and continually give them access to new skills. A strong online training program ensures consistent messaging and better employee performance.
Simplify Scheduling & Shifts
Eliminate confusion with a simple scheduling solution that is always up to date, so your managers don't have to answer repetitive questions or scramble to find people.
Easy Information Storage & Retrieval
Never lose another important document by keeping all company information organized in one spot, accessible from desktop or mobile.
Eliminate Endless Searching
Our wikis, libraries, and rich text pages give workers logical repositories of information. Better yet, global search makes it easy to find exactly what you're looking for.
Create Space for Questions
Give your staff and volunteers a space where they can ask a question and be instantly connected to the right person, creating a searchable historical record.
The ease with which someone can throw up a question and reply to someone else is huge. We wanted to have spaces that would be both resource repositories, as well as social spaces where people could share. So, MangoApps allowed us to bring those things and blend those things together.
- Emily Hatteberg, Editorial Manager & Content Strategist, YMCA
An Integral Solution for
any Type of Nonprofit
I find MangoApps really intuitive because it's got a bit of a social media feel to it... It's easy to get used to it, even if you've never used a platform like that before. Our old intranet was quite difficult and not very user-friendly, so this has been a real shift for us.
- Leanne Manchester, Senior Comms Officer, Wildlife Trusts
Key Features
Build a platform that grows with your business. See these intuitive MangoApps features that
improve your retail operations across all levels and adapt to your future.
Newsfeed
Every user gets a personal newsfeed, with posts and updates where they can react and comment within a familiar social media-like interface.
Modern Intranet
Stay organized with collaborative documents, wikis, and libraries, all nested in a mobile-friendly, searchable intranet.
Training
Keep staff and volunteers aligned with your mission and values, through mobile-accessible training courses you can create and deploy in minutes.
Forms & Workflows
Track everchanging fundraising information and budget plans with forms that populate into collaborative spreadsheets, and automations that save time.
Rewards & Recognition
Peer-to-peer recognition makes your workers feel appreciated for their efforts. Virtual greeting cards spread joy throughout your organization and encourage employees and volunteers to stick around.
Focused Mailbox & IM
Efficiently push information out to your staff and volunteers, on a mobile-accessible platform to simplify targeted communication throughout all levels of your organization.
Our customers achieve amazing results
Integrations
MangoApps integrates with countless third-party platforms, allowing you to create a single page with quick links for all your critical tools.
See All Integrations
I think that's a great thing to showcase - that we're really happy with the responsiveness that MangoApps has and how they're really quick to help us and try to understand our needs.
- Elizabeth Hererra, Community Manager, YMCA
Break free from legacy systems and move forward faster with MangoApps.
A unified employee experience saves employees time, improves workplace efficiency and agility.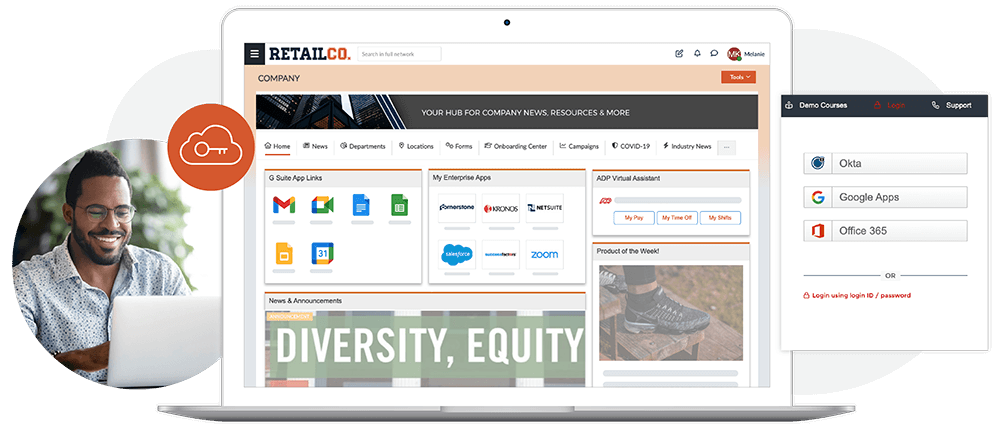 Talk to a product expert to learn more