Built To Optimize Your Daily Operations
MangoApps' modern work environment saves your financial institution time and money
by ensuring that work does not happen in silos.
Build an Informed Workforce
Keep everyone on the same page with a powerful internal communications platform that ensures no member is left behind.
Unify Employee Resources
Give your bank tellers a single homepage with links to all the tools they need during their shift, alongside forms and company resources.
Streamline Collaboration and Efficiency
Improve your workflows with traceable, audit-ready business processes that carry projects from inception to completion in a secure environment.
Ensure GDPR Compliance
Our robust enterprise-level security features have all the depth you need to ensure compliance with financial regulations and GDPR.
Facilitate Team Communication
Quick exchange of messages within our platform allows your employees to securely communicate PII and financial data in real time.
Reduce Set-up Time and Implementation Costs
Our hard-working support team will get your implementation up and running quickly so you see immediate impact.
We're seeing gains in communication, culture and strategy alignment, and consistent single-messaging. MangoApps helps us do that in a manner that isn't just blasting out a bunch of broadcast emails. We're able to get away from this and establish communication that is hasty, consistent, and keeps key messages in front of our people.
- Cheryl Olson, Head of People & Culture, Great Western Bank
Learn How It Works
We deliver value at every level with a communications platform that feels modern and easy to use
while also meeting your rigorous security requirements.
Leadership
Take control of your bank's communications and operations and increase overall engagement and efficiency.
Management
Keep back-office operations productive with audit-ready process management tools that maximize efficiency and ROI.
Branch Workers
Empower your branch workers to quickly resolve any issues that arise with a unified dashboard for all their company tools.
Key Benefits
MangoApps' intuitive platform allows your bank tellers to focus on customers instead of
struggling to use outdated technology.
A Unified Experience
All the tools and resources your employees need, nested in a user-friendly dashboard. Get a great user experience without compromising on security.
Top-down Communication
Distribute relevant information to targeted employee groups, with templates, an intuitive campaign creation process, and read receipts.
Centralize Employee Knowledge
Provide a one-stop shop for your banking employees to access company policies, financial regulation documents, and other important resources.
Project Workspaces
Set your teams up for success by establishing a space where they can share financial data requests and collaborate on projects.
Trackers & Workflows
Collect and analyze financial data with forms that populate tracker spreadsheets. Automated workflows ensure that projects are completed.
Safeguard Operations
Prioritize data protection and security needs, so your bank is always audit-ready and operates stress-free.
Your Data Is Safe With Us.
Our security protocols include:
Data-loss prevention (DLP) policies with automated rules and templates for PII and finance patterns
Regular system audits and system log backups to ensure readiness for company audits
Protection behind own firewall or within own network
AWS hosting and its hundreds of security & compliance features, including GDPR compliance
Private cloud deployment available
Custom IP ranges to limit platform accessibility within an area
SSO, MFA, and password complexity settings
Learn More
Enhance Your Platform With Built-in Integrations.
Built-in integrations are easy to use and meant to complement your MangoApps platform. Integrate necessary external applications with SSO and authentication to provide easy and efficient access for your employees.
Simply enable them with a switch and check a few boxes to customize. Don't see something that you need? Go even further with our open APIs and Webhooks.
See All Integrations
The communication around MangoApps has been extremely strong. It's such a breath of fresh air compared to the old Flash-based employee management system we were using.
- Cheryl Olson, Head of People & Culture, Great Western Bank
Break free from legacy systems and move forward faster with MangoApps.
A unified employee experience saves employees time, improves workplace efficiency and agility.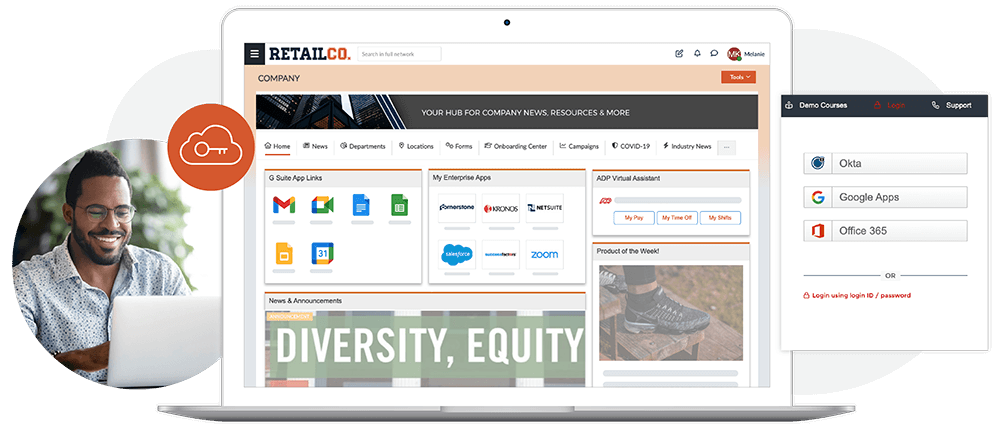 Talk to a product expert to learn more