Is the front door to your IP locked?
MangoApps is the only HITRUST and SOC 2 Type 2 certified digital hub for 100% of your workforce.
Intranet & communications are the front door to your company's data. Ask yourself if employee-facing systems, such as your Intranet, have the same ironclad security as your customer-facing systems.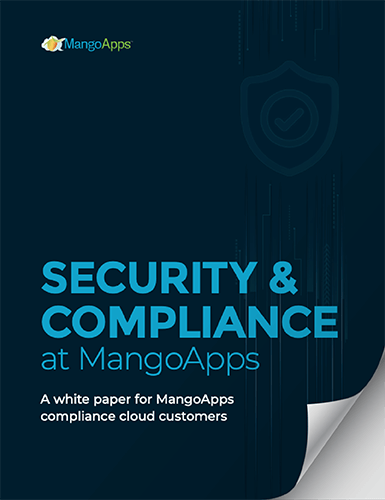 Ironclad security
MangoApps implements multiple layers of security to protect your data including:
Built-in data loss prevention policies
Real-time access to audit and access logs
Default encryption of all data at rest and transit
100% hosted on AWS with AWS-recommended security practices
Meet compliance and regulatory requirements
MangoApps is designed to meet specific industry regulations and international security and data privacy standards:
HITRUST certified (includes HIPAA compliance)
BAA signing for healthcare companies
Advanced content moderation capabilities
Content Governance
MangoApps offers governance and risk management capabilities that are flexible enough to meet your organization's needs, no matter what they are:
Built-in eDiscovery features
Global data retention policies
Custom data export and backup
Get peace of mind with 99.9% uptime
You need to ensure that your systems stay up around the cloud, and that's why we guarantee 99.9% uptime for our customers:
Redundancy and failover across multiple AWS regions
Priority enterprise support and dedicated CSM
Some of our members operate in highly restricted civic spaces, and it is crucial for us to create a safe space for them. Security is definitely our main priority, and MangoApps functions such as two-step authentication and custom admin roles are crucial. With MangoApps, we have certainty that our data is on a specific server, is not being transferred to other companies, and cannot be sold.
- Carolina Vega Rivas, Membership Engagement Specialist, CIVICUS
Improve Security & Employee Experience with Single Sign-On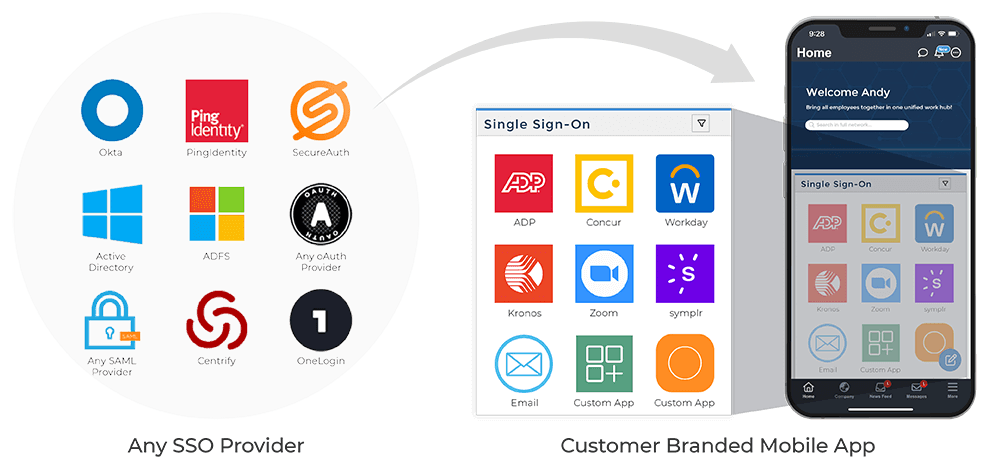 Security & Compliance
It's critical to us that your information is safe and secure. From development to hosting to monitoring,
we've created multiple layers of security to keep your data secure and private.
Additional Features
Keep track and log all admin-made changes. Actions like export, activations, deactivations, deletions, and more can be tracked in the audit log.
Custom admin roles make it easy to split duties and keep everything organized. Create custom admin roles to give specific users access to the admin portal for the administration of modules and features.
Securely offboard employees by automatically deactivating mobile/desktop devices when an employee departs your organization. Devices can be wiped out, disabled, and retired in bulk actions.
Network and user-level trash cans allow for the recovery of deleted content without IT intervention. After a predetermined period of time, any content that resides in a trash can is permanently deleted.
Audit-ready logs of content, conversations, and actions can be generated vin the event of a legal hold.
Security FAQs
What is HITRUST?
HITRUST (the Health Information Trust Alliance) was founded in 2007 and was created to help organizations in all industries, but especially healthcare, make compliance with requirements such as HIPAA into a concrete, demonstrable certification.
They have created a system where a company can undergo a rigorous process to demonstrate their compliance with a number of common security frameworks, and then some, with a single certification. This eliminates the need to go through many simultaneous processes with different third parties, and puts a verifiable system in place through which vendors like MangoApps can say definitively that they manage data, information risk, and compliance at the level required by security-minded clients.
What is HITRUST CSF Certification?
Per HITRUST's website, HITRUST CSF is a certifiable framework that provides organizations globally a comprehensive, flexible, and efficient approach to regulatory/standards compliance and risk management.
"Developed in collaboration with data protection professionals, the HITRUST CSF rationalizes relevant regulations and standards into a single overarching security and privacy framework. Because the HITRUST CSF is both risk- and compliance-based, organizations of varying risk profiles can customize the security and privacy control baselines through various factors, including organization type, size, systems, and compliance requirements."
Read more.
In short, it is a certifiable standard for data security that is risk-based rather than compliance-based.
What is the difference between HITRUST and HIPAA?
HIPAA is a law that requires organizations to meet a series of requirements related to security. HITRUST is a framework incorporating aspects of HIPAA and other compliance standards, which gives organizations a way to show evidence of their compliance with these standards.
With HITRUST certification, organizations show that they have met a measurable set of criteria and objectives around security and risk.
A Detailed Look Into Security & Compliance at MangoApps
We know that intranet & communications are the front doors to your company's data, and we have a special responsibility to keep it safe and secure. Download this whitepaper for an in-depth look at MangoApps' security and compliance practices.