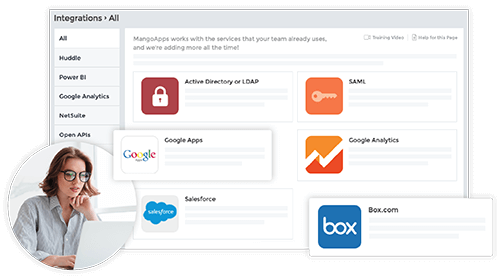 Depth
Our integrations are more than just links. We offer native functionality from many of the tools you use, without leaving your MangoApps dashboard.
Ease of Use
You don't have to be an engineer to set up our integrations. It takes minutes and works out of the box.
Custom Integrations
Build integrations using Open APIs or webhooks. Alternatively, our team can churn out custom-built solutions for whatever you need.
Augment Your Microsoft 365
and G Suite Deployment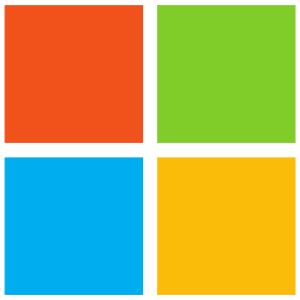 Modern Intranet
for Microsoft 365
Make Microsoft 365 work for you, by giving it the dashboard and social intranet layer it desperately needs.
Learn more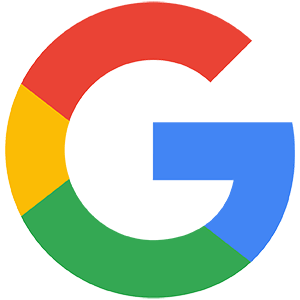 Modern Intranet
for G Suite
Wrap G Suite's tools and content into a rich employee experience that brings everything together in one cohesive platform.
Learn more
Single Sign-on System Integrations
We can serve as your SSO provider, or integrate with whichever one you use.
Either way, security and access are the highest priority.

Okta

OneLogin

PingIdentity

iLantus

SecureAuth

GoogleApps

Office365

Bitium

Centrify

Active Directory

ADFS

LDAP

Any OpenID Provider

Any SAML Provider

Any oAuth Provider
File Storage & Sharing System Integrations
Wherever your team keeps files, MangoApps can integrate so you can share items quickly with your teams.

Office365

Google Drive

Sharepoint

Box

Dropbox

One Drive

AWS

SAN

Windows Server

Email

Outlook

Slack

GoToMeeting

JoinMe

Skype
Email, Slack & Conferencing System Integrations
Answer emails and chats from a single window, and bring your conferencing solutions into our shared calendar.
Microsoft 365 Integrations
Deep integrations with Microsoft 365 let you add interactive Outlook, Calendar, and Sharepoint widgets to dashboards, as well as open and edit documents inside MangoApps.

Office365

Excel

Outlook

Powerpoint

Sharepoint

Word

Google Analytics

GoogleApps

Google Calendar

Google Drive
GoogleApps Integrations
Our interactive widgets let you put your G Suite apps into a dashboard alongside all the other tools you use.
BI, Payroll, CRM & Support
System Integrations
Pull detailed information from a variety of business apps, allowing them to populate tickets and updates
into your notification feed, which you can address without leaving the page.

Tableau

Microsoft BI

Google Analytics

Github

AirBrake

Beanstalk

Ultipro

Bottomline

Insperity

Jira

NewRelic

Pingdom

Salesforce

Siebel

Netsuite

Zendesk

Zapier
MangoApps As An Identity Provider
If you don't already have an SSO solution, MangoApps can serve as one, allowing your users to log into all these systems.

SuccessFactors

Zendesk

Workday

Netsuite

Salesforce

Sharepoint

Kronos

Microsoft CRM

Namely

Box

Cornerstone

Zoom
Video, Social Media,
Browser Extensions & More...
Ensure content from various sites is splashy and interactive whenever it is linked from within MangoApps.

YouTube

Vimeo

Wistia

Unsplash

RSS

Mailchimp

Twitter

Facebook

Weather

Chrome

Edge

Firefox
ADP Integration
Synchronize employee information from ADP Workforce Now directly into MangoApps
Learn More
Shift Connector
Connect with your work schedule application so employees can see their current and upcoming shifts, as well as hours worked, within our mobile app.
Learn More
Break free from legacy systems and move forward faster with MangoApps.
A unified employee experience saves employees time, improves workplace efficiency and agility.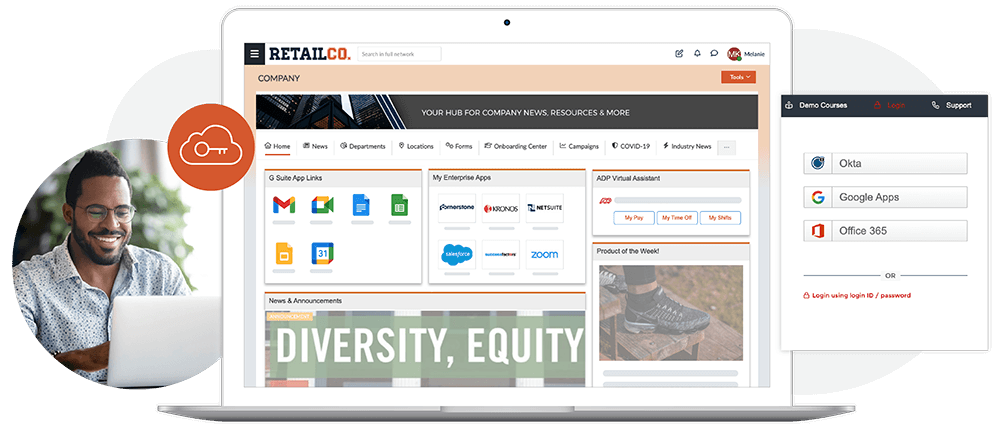 Talk to a product expert to learn more