Compare MangoApps
MangoApps is a new way of keeping everyone on the same page and working towards the same goals. No one comes close to MangoApps's flexibility, features, ease of use & price.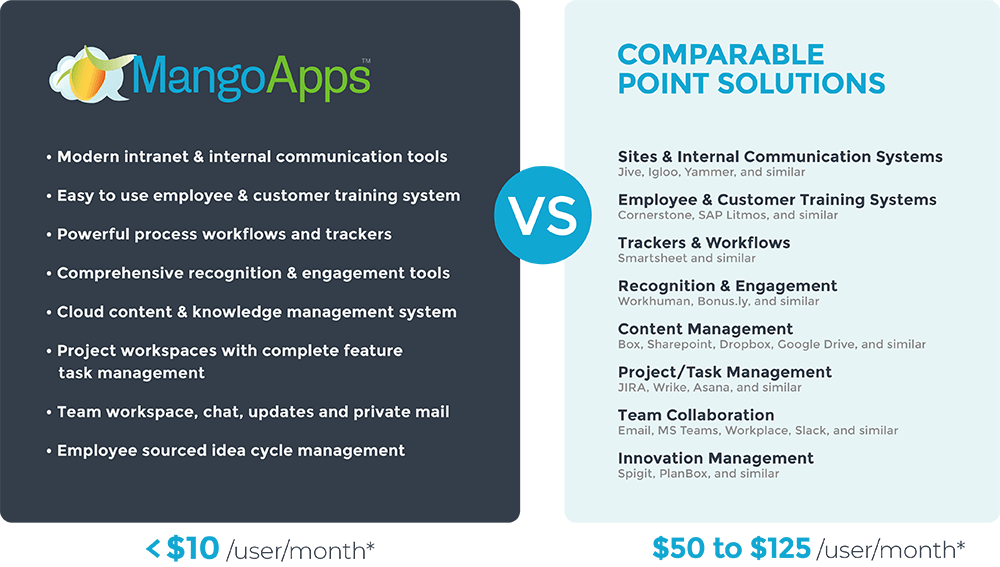 Our Unified Approach
With MangoApps, you can provide your employees with a single source of truth, where everything they need is in one place.
With our modular approach, you can start with the features you need now, and add more as your company's needs evolve.
Eliminate siloed solutions with a unified work hub, allowing you to save on unnecessary tools, bloated contracts, and administration costs.
Keep all of your internal conversations, files, and resources stored in a centralized location.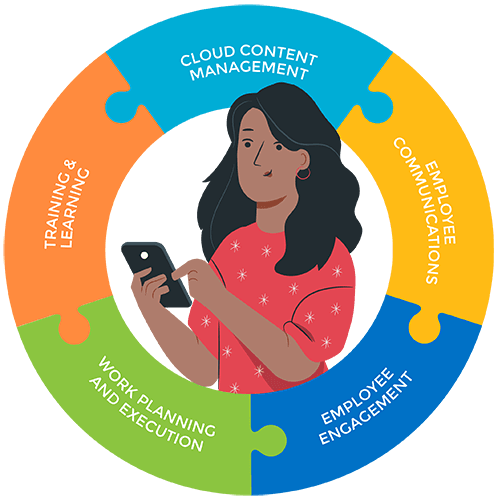 MangoApps vs. Communication Solutions
Teams that communicate better achieve more. Get your employees on the same page with an inclusive communication platform.
Promote visibility and collaboration by making it easy for teams to find and connect with people in other parts of the organization.
Create a central communication network that is accessible from any device, making it easier than ever to distribute important updates to your workforce.
Bridge the gap between your desk employees and your frontline workers. Bring everyone into the loop with a unified internal communication approach.
MangoApps vs. Intranet Solutions
Transform internal communications with a modern intranet platform that helps your organization meet the future with confidence.
Receive a flexible intranet with a modular design, allowing you to turn on and off features and provide the best user experience possible to your employees.
Connect your entire workforce and meet your employees wherever they are, with an intranet that is accessible via desktop, web app, or mobile device.
With MangoApps, you receive an affordable 'out-of-the-box' intranet with no hidden costs, add-on fees, or 'specialist' consultants required.
MangoApps vs. Collaboration Solutions
Improve internal collaboration and create more productive teams by removing the inefficiencies and wasted time associated with email & meetings.
Skip the hour-long briefing meetings. With MangoApps, you get access to a collaborative workplace where projects are being tracked, and can be executed much faster.
Remove siloed email threads and countless versions of documents with a searchable workspace, employees can quickly find projects, past conversations, and documents.
Convert meetings and impromptu conversations into action items that can be quickly assigned to employees and tracked over time.