Set defaults to match your requirements for link previews, user invitations, email notification settings, locale settings and more for all employees of the company.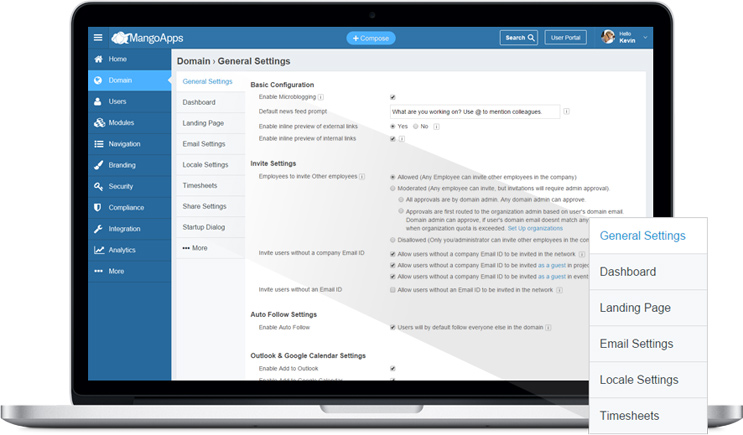 Facilitate user administration with centralized management. MangoApps lets you de-activate, reset password, change email address, assign managers and more, directly from the admin portal. It also enables sync with Active Directory/LDAP to add and remove users.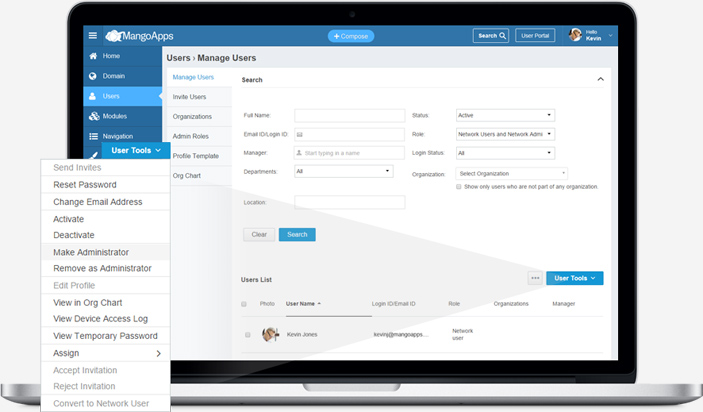 Modules setup is a way for domain admins to enable or disable core functionality in MangoApps. When a module is disabled the functionality is no longer accessible to your users. However, any data in these modules is kept intact.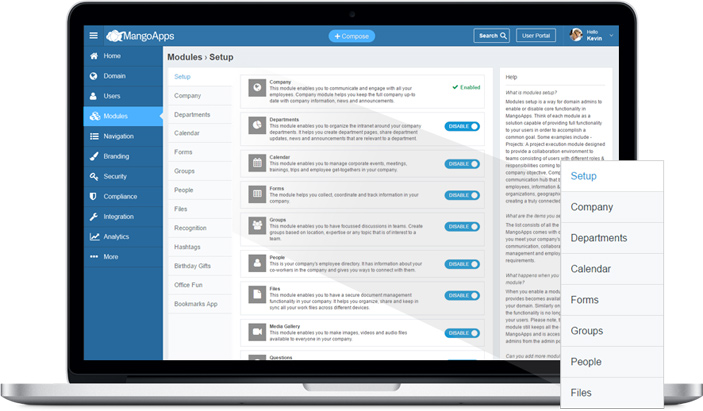 With admin capabilities such as default navigation, getting started dialog, and help menu customization you can depend on MangoApps to give your users the help they need to get started.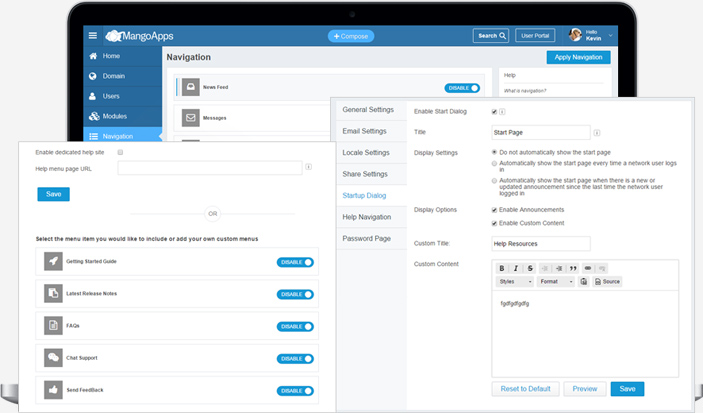 From company logo, favicon, and browser tab name, to selecting pre-defined themes, to advanced branding of the full web portal, you can do it all from the branding module functionality on admin portal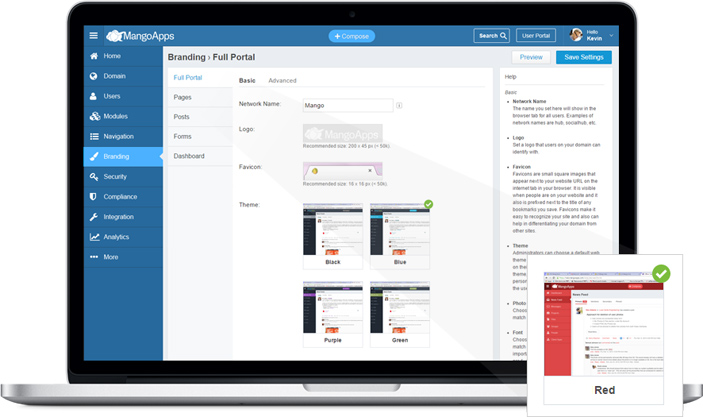 Security, safety and privacy
We understand that security is your priority. It's our priority too. That's why we use advanced security technology to protect your MangoApps access and data. Features such as logical firewalls, password management, and virus scan on documents all are designed to give admins peace of mind. Also, easily monitor alerts and security logs that let you know when someone without authorization even attempts to access part of your network.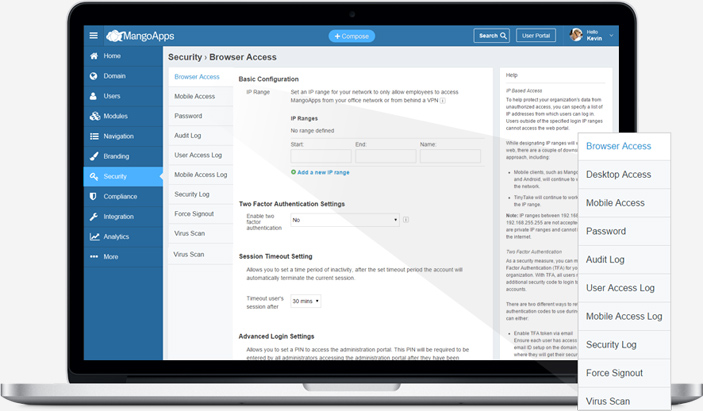 Compliance, data protection and retention
Set up for how long data will be retained in your domain, take action on flagged content, setup terms of service, usage policy and more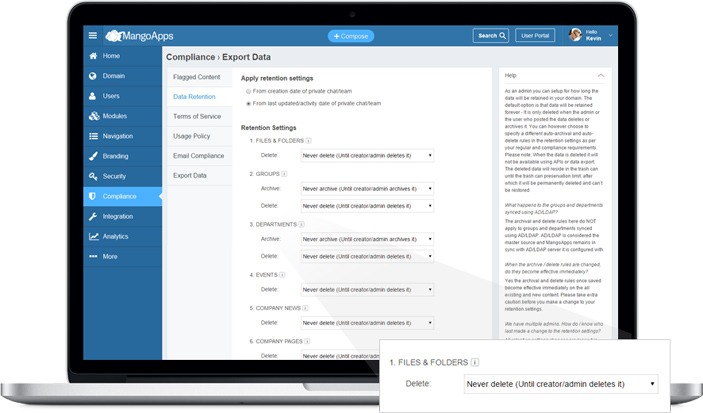 Set up single sign-on with AD/LDAP, SAML 2.0, or GoogleApps. You also have an option to integrate your enterprise SSO technology with MangoApps, using the custom SSO option. MangoApps also integrates with online meeting tools such as GoToMeeting and Join.Me. It offers the ability to share your screen, HD video conferencing, audio and personal meeting rooms.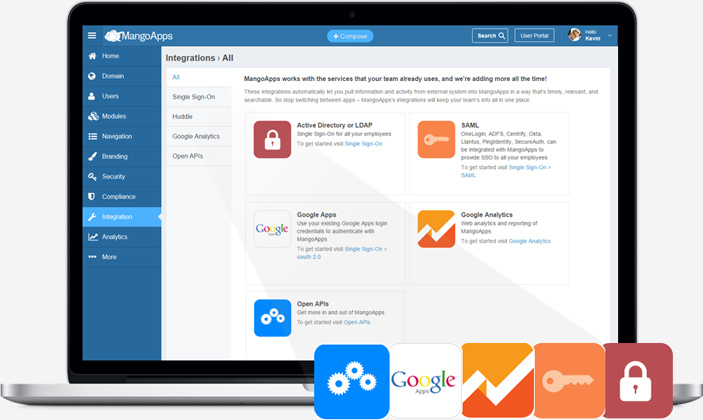 Get regular user engagement reports, content views, monthly ROI and more from the analytics engine in MangoApps.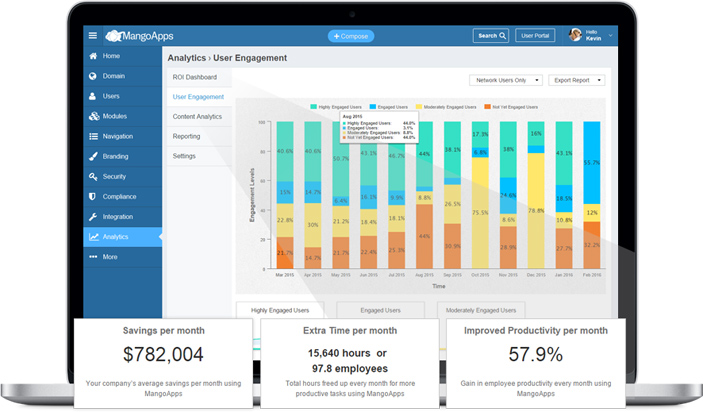 Manage and export data according to company policies with a single click. You also can schedule recurring data exports to meet legal and regulatory compliance requirements.