The Unified Employee Experience Platform For Manufacturing Companies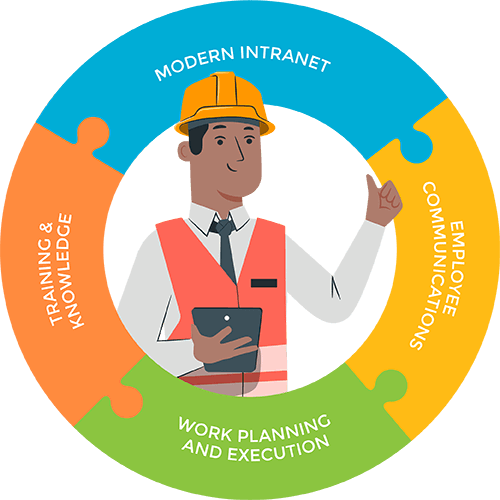 MangoApps is a single system that combines company intranet, internal communication, work management and training into one integrated experience. This helps:
Increase productivity and satisfaction
Optimize communications and operations
Reduce onboarding and training costs
Reduce technology cost and software bloat
Over the last 10 years, we have carefully crafted a deep and wide platform to help organizations of all sizes meet the future with confidence. In addition, the modular design of MangoApps allows companies to start with what they need now and seamlessly add more as needs evolve.
Modern Communications With Your Production Employees
Poor communication around changes to manufacturing processes can lead to accidents and reduced productivity. With MangoApps, targeted mobile alerts ensure your message is received.
Reliable Top-down Communication
Distribute relevant information to targeted employee groups with easy templates, intuitive campaign creation, and read receipts
Instant Access to Resources
With the mobile app, workers are able to provide instant access to files, forms, and other resources needed to be successful on a daily basis.
Increased Safety Awareness & Compliance
Ensure that frontline employees remain compliant with factory updates, changing safety standards, machine alterations, and industry regulations.
Real-time Data From The Factory Floor
Analytics give you insights into employee sentiment and interaction with your content, allowing you to improve over time just like you do with your manufacturing processes
Enhanced Employee Recognition & Company Culture
Improve worker retention with employee shout-outs and more frequent, substantive updates from upper management.
Improve Comprehension Among Diverse Employees
Automatic language translation of both the platform and content saves time and ensures that all employees understand your messages
MangoApps has the potential to change the way a company thinks, and that's a difficult thing to do, but when you have e-collaboration, you have multiple individuals working as a team, and the benefits are seen very quickly. And that's what we noticed when we deployed it.
- Phil Ward, Marketing Manager, Huber + Suhner
Learn How It Works
We prioritize delivering value at every level, putting overall engagement at the forefront
and making sure everyone is connected to the big picture.
Business Leaders
Establish a top-down platform that promotes transparent communication and drives insight to inform essential business decisions and operational changes
Management
Manage and organize factory workers across departments and locations with consolidated tools that improve workplace efficiency and culture
Frontline
Give frontline workers access to your company hub from their personal phones, ensuring they have everything they need to keep your factories running smoothly
Key Features
MangoApps is a modern digital workplace platform designed to help manufacturing
organizations distribute information and training to their frontline workers.
Newsfeed
Keep employees in the loop with a central station for all updates on projects, files, topics, and activities pertaining to the specific user
Segmented Messaging
Create groups for specific departments or locations to organize internal communications
Knowledge Management
Build company knowledge with self-service employee access to content like best practices and policies
Language Translation
Deep translation features ensure that employees can receive updates and materials in their native language, boosting comprehension and efficiency
Crisis Communication
Quickly respond to emergency situations with targeted alerts that reach affected employees instantly through email, SMS, and push notifications
Certifications
Assign refresher courses automatically after a certain period of time. Keep your factory workers sharp as they keep up with constantly evolving equipment, machinery, and processes
Break free from legacy systems and move forward faster with MangoApps.
A unified employee experience saves employees time, improves workplace efficiency and agility.
Talk to a product expert to learn more