Unified digital work hub for 100% of your employees
Whether it is to support work from home, distributed workforce collaboration, or to ensure business continuity MangoApps quickly enables distributed work at enterprise scale.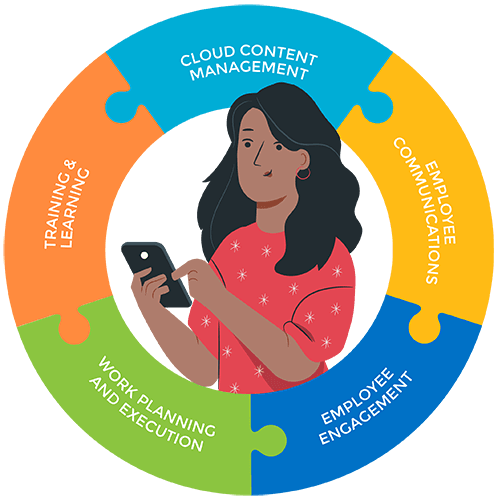 Stay informed through official company Intranet
Vibrant and interactive single source of information that is accurate, up-to-date.
Connect and collaborate from near and far
MangoApps transcends geographical obstacles by allowing you to connect via mobile, web, and desktop clients.
Collaborate on projects with co-workers & partners
Full featured workspaces to discuss, communicate, share, plan, manage and track progress across multiple projects.
Search the company brain
All conversations, files, and profiles are fully searchable and achievable.
Engage in focused communication
Short status updates provide critical information in a succinct and digestible communication.
Create accountability and transparency
You'll have better visibility and gain insight on core business activities, challenges and accomplishments.
Securely share and store files of any size
No need to get stuck emailing large files or worrying about where the most recent version of a document is.
Get up to speed fast
Easy to read activity feeds give you a manageable at-a-glance way to get informed of all the goings-on relevant to you.
Connect with experts
Have a question and unsure of who to ask? Post up a message and get the answers from your company experts.
One click collaboration
One click launches a one-on-one chat or a group chat session so you can review docs in real-time and edit on-the-fly.
10+ years of carefully crafted work hub capabilities in one unified system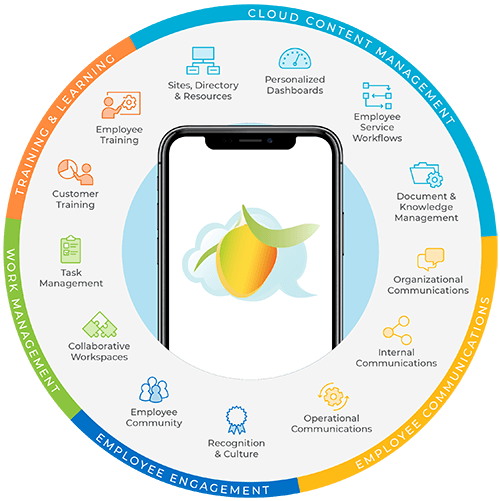 MangoApps was founded on the idea that a single system that combined company intranet, internal communication, team collaboration and training into one integrated experience can significantly increase worker productivity & satisfaction.
Over the last 10 years, we have carefully crafted a deep and wide platform to help organizations of all sizes meet the future with confidence. In addition, the modular design of MangoApps allows companies to start with what they need now and seamlessly add more as needs evolve.
Modernize your toolbox to bring purpose, satisfaction, and savings to work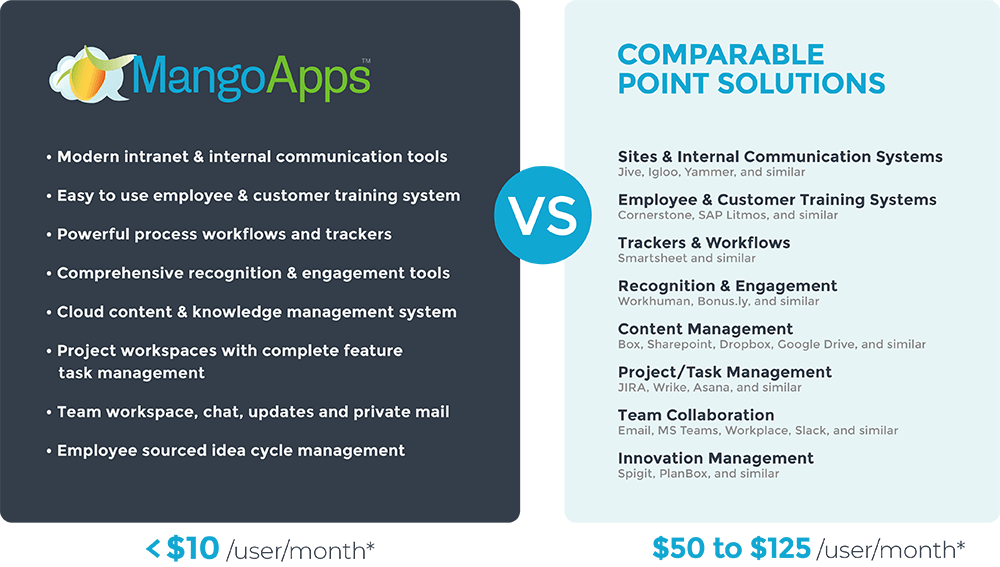 Employee experience is everything.
Get it right with MangoApps!
The MangoApps Platform

Seamless, Organized Experience

One place to find, connect & learn
Fully accessible from mobile
Company knowledge in one place

High Adoption & Increased Productivity

Promotes a collaborative, open culture
Fast & efficient sharing in real-time
Clear tool purpose, little to no training

Inexpensive to Buy, Deploy & Maintain

Easy, point-click, administration
Secure & auditable
Easy extensibility & customization
Save more money by replacing other licenses
Siloed Tools

Frustrating User Experience

No central place to go to find, connect, learn
Company knowledge is all over
Inconsistent mobile access

Low Employee Engagement & Usage

Non-collaborative, meeting-happy, culture
Leads to waiting-around for email & info hoarding
Many tool-related confusion & chaos

Expensive to Buy, Deploy & Maintain

Difficult to administer & manage
Spotty security & auditability
Expensive to customize
License costs add-up quickly
Transform how your teams communicate, collaborate, train & get work done
It has never been this easy to create the perfect employee experience for your office and frontline employees. Contact us to discuss requirements, pricing, rollout and support. Get your free demo today!