A Centralized Repository of Information
With libraries, you can store and organize company resources, for both internal and external use.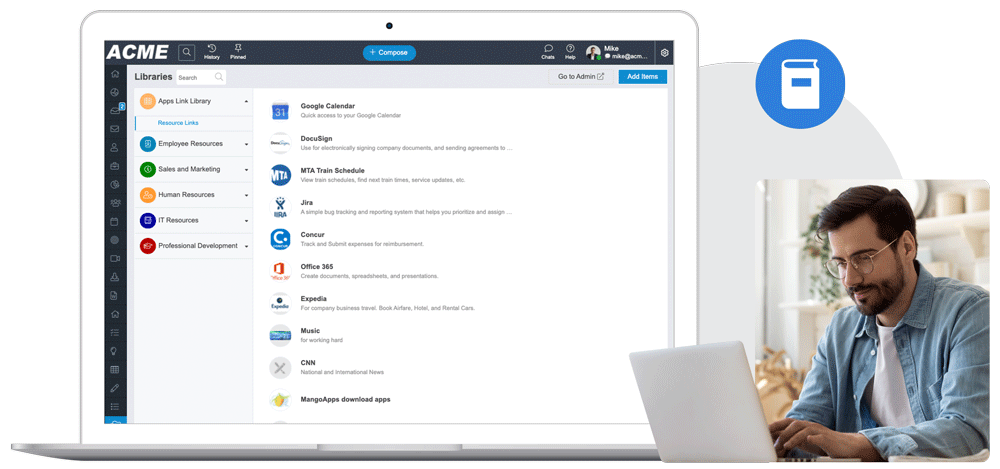 MangoApps has forced us to structure our documentation much better. It makes us more efficient. We're starting to see sharing and collaboration going on, and once we create something, we can share it with everyone.
- Phil Ward, Market Manager for Data Centers, HUBER + SUHNER
Information You Need, At Your Fingertips
With libraries, users have instant access to web apps, employee forms, marketing & sales resources, employee documents, policies, and more.
Simple Configuration
Admins can create unlimited libraries of links and resources, and manage them with name, description, icon/color, and permission settings.
Advanced Permissions Settings
Maintain complete control over who has access to your libraries. With flexible permissions, you can
assign access based on team or location, as well as any other criteria from your directory.
Instant Library Access
Add a library to your MangoApps' dashboard to bring company resources front and center. For instant one-click access to a library, add it to your navigation bar.
Library Showcase
Use the library grid view to showcase a display of mixed content (such as images, forms, files, posts, wikis, and links).
How Our Customers Use Libraries
Save Recurring Searches
Easily access up-to-date and current data by saving regularly conducted searches
Instant Access To Resources
Create a centralized and user-friendly location for external company apps and internal resources
Quickly Search For Information
Utilize information quickly with searchability, list order, and one-click access