The Unified Employee Experience Platform For Healthcare Companies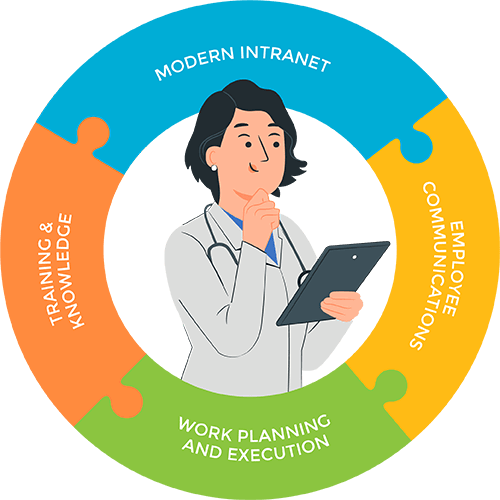 MangoApps is a single system that combines company intranet, internal communication, work management and training into one integrated experience. This helps:
Increase productivity and satisfaction
Optimize communications and operations
Reduce onboarding and training costs
Reduce technology cost and software bloat
Over the last 10 years, we have carefully crafted a deep and wide platform to help organizations of all sizes meet the future with confidence. In addition, the modular design of MangoApps allows companies to start with what they need now and seamlessly add more as needs evolve.
Why Choose MangoApps
Engaging Communications
Unify your workers with one streamlined communications platform to reduce information overload and encourage interaction/feedback.
Reduced Burnout
Prevent burnout in your clinical workers. Encourage connection through collaborative group spaces and easy access to mental health resources.
Team Appreciation
Promote employee recognition to boost morale and create a supportive, inclusive culture.
Critical Alerts
Quickly notify clinical staff about an emergency, without alarming patients. Alerts are pushed to desktop and mobile, and easy to segment.
Better Clinical Scheduling
Medical staff schedules are complicated and constantly changing—keep everyone up to date on the latest version with digital scheduling abilities.
Medical-Grade Security
Our Compliance Cloud deployment option ensures HIPAA compliance and ensures peace of mind for our healthcare customers. Your data is safe with us.
Key Features
Healthcare Intranet
Easily access clinic resources with libraries, rich text pages, and wikis, all nested in a modern, searchable intranet.
Always Up To Date
Collaborative documents allow a single version of each file, so the link your workers have is always the most recent. No email updates required.
Group Spaces
Provide employees with collaborative workspaces where they can communicate with peers using comment threads and emoji reactions.
Secure Internal Communication
Equip your employees with more modern communication tools like real-time chat and messaging.
Crisis Alerts
Mobile device alerts let you reach clinical staff quickly with time-sensitive updates in emergency situations.
Security Solutions
Ensure peace of mind with extensive security certifications (including HIPAA and HITRUST CSF), a wide range of data compliance and retention policies, data loss prevention (DLP) policies, and complete security control.
Our customers achieve amazing results
MangoApps was the best fit for us because of the scale of the platform, the extensibility, the capabilities of the platform, and where we could take it.
- Mike Gager, TeamHealth IT Vice President
Integrations
Integrations with common platforms and SSO allow you to use MangoApps as a single space where staff can go to access resources on one dashboard.
See All Integrations
Break free from legacy systems and move forward faster with MangoApps.
A unified employee experience saves employees time, improves workplace efficiency and agility.
Talk to a product expert to learn more