Built to Enhance Your Workplace
Replace outdated operations with MangoApps' high-adoption, low-cost solution that enables efficiency
and productivity at all levels, from corporate to individual retail locations.
Reach Employee Segments Directly
Distribute relevant information to targeted employee groups with easy templates, intuitive campaign creation, and read receipts.
Get Real-Time Store Visibility
Provide real-time data and analytics for store performance that inform important business decision-making.
Distribute Company Resources
Allow all employees to find important resources such as forms and handbooks in a centralized information hub.
Keep Associates Informed
Facilitate associate training, performance feedback, and coaching, with personalized learning paths, gamification, and employee shout-outs.
Improve Scheduling
Empower associates to communicate and coordinate shift changes and covers with each other to relieve stress on managers and reduce costs of missed shifts.
Foster a Rich Community
Build culture with better distribution of top-down messaging, as well as employee feedback mechanisms that give you insight into best practices and working conditions.
MangoApps gives me a perfect and instant sense of what's happening in our business, what the emotions or the trending topics are. It's the perfect way of getting to know what's going on within our stores.
- Jan Carel Uylenberg, HR Director, A.S. Watson Benelux
Learn How It Works
We deliver value at every level, making sure that everyone has an easier time connecting
with each other and a better sense of the big picture.
Associates
Create an immersive experience by establishing a community where your associates feel valued, improving engagement and productivity.
Managers
Improve store performance by allowing store managers to focus on high-level execution instead of repetitive processes.
Business Leaders
Reinforce company culture and get deep insights into operations and performance from your locations in real-time.
Key Features
Build a platform that grows with your business. See these intuitive MangoApps features that
improve your retail operations across all levels and adapt to your future.
Top-down Communication
Company updates, critical alerts, and newsletters can be easily created with templates and deployed to audience segments by role or retail location.
Resource Library
Give employees a space to share their successes across locations and departments, so company knowledge is organized within a consolidated platform.
Versatile Schedule & Calendar Organization
Allow associates to easily view real-time updates to their shift schedules from anywhere
All-in-one Dashboard
Provide everyone access to their job-critical tools and resources, front and center.
Streamlined Onboarding
Set employees up for success from day one by providing new hires with instant access to training and resources.
Customization & White-labelling
Reinforce your brand and culture with custom design and white-labelling. Your employees likely won't realize it's a third-party app.
Configure Your Essential Integrations
Built-in integrations are easy to use and meant to complement your MangoApps platform. Integrate necessary external applications with SSOs to provide easy and efficient access for your employees.
Simply enable them with a switch and check a few boxes to customize. Don't see something that you need? Go even further with our open APIs and Webhooks.
Our customers achieve amazing results
Rather than just working in an office or working in a store or working on a certain counter, MangoApps opens up this whole new branch of employee engagement. Employees can see all the things that are going on across the business and really get some great ideas on how to do the job well from the very beginning.
- Daniel Bannister, Store Manager
Break free from legacy systems and move forward faster with MangoApps.
A unified employee experience saves employees time, improves workplace efficiency and agility.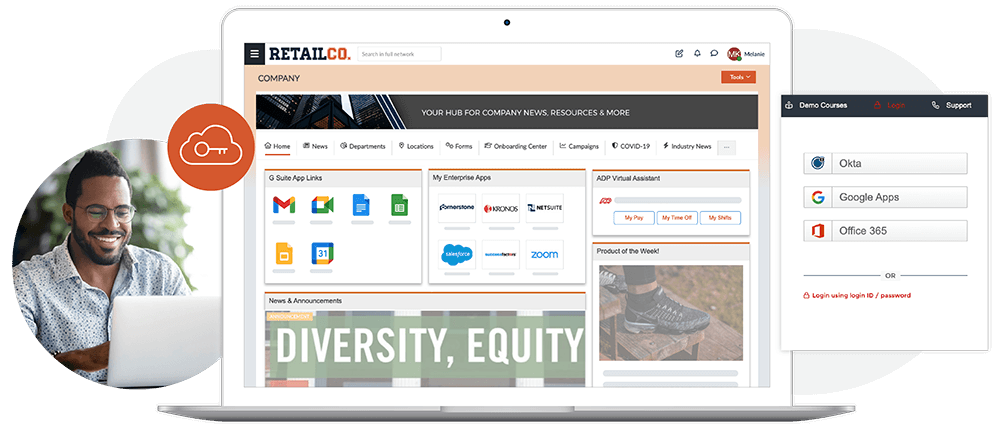 Talk to a product expert to learn more