Why Choose MangoApps
Communication Made Simple
Get everyone in your hotel connected with chat and private messages for real-time communication from mobile or desktop.
Optimize Onboarding
Simplify and standardize the onboarding process to ensure that new employees are well-trained and have reference materials they can refer back to.
Improve Employee Satisfaction
Reduce turnover by giving employees a voice and celebrating their achievements.
Simplify the Scheduling Experience
Give operational staff digital schedules, so each department's team members can see the latest version from anywhere.
Automate Operational Procedures
Modernize task-driven workflows with trackers to automate rote tasks and let your managers focus on more important work.
Quick Access to Company Resources
Quick Access to Company Resources Organize company resources and policies into a centralized location that allows for your operational staff to easily access relevant information.
Key Features
Communication Tools
Send targeted communication to specific teams, with automatic language translation, so your operational teams can stay up to date while out on the floor.
Onboarding
Simplify the learning process for new team members with a comprehensive onboarding experience that prepares them for their demanding hospitality role.
Recognitions
Celebrate the milestones and contributions of your employees to make them feel valued and combat burnout.
Crisis Communication
Ensure the safety and security of your operational staff and guests by notifying employees instantly with alerts during a time-sensitive emergency.
Polls & Surveys
Let your frontline employees know that they have a voice with polls and surveys. Instantly gain insights into your hotel operations with actionable analytics.
Newsfeed
Social media-style newsfeed puts company news and department updates into a digestible format your employees will intuitively understand.
The absolutely killer application for us is that we offer employees their working schedule online. Every employee, 24/7, on their mobile devices, on their way to the store, can actually look at their schedule to make sure they know what the plan for that day is like. And that is the absolute number one for our employees.
- Jan Carel Uylenberg, HR Director, A.S. Watson Benelux
Enhance Your
Platform With
Built-in Integrations.
Built-in integrations are easy to use and meant to complement your MangoApps platform. Integrate necessary external applications with SSO and authentication to provide easy and efficient access for your employees.
Simply enable them with a switch and check a few boxes to customize. Don't see something that you need? Go even further with our open APIs and Webhooks.
Learn More
With MangoApps, we have a digital space for all of our resort employees—a social intranet where they can instantly find the information that they need 24 hours a day, seven days a week.
- Ibrahim Hakan Yilmaz, Group Director of Human Capital, Barut Hospitality Management
Break free from legacy systems and move forward faster with MangoApps.
A unified employee experience saves employees time, improves workplace efficiency and agility.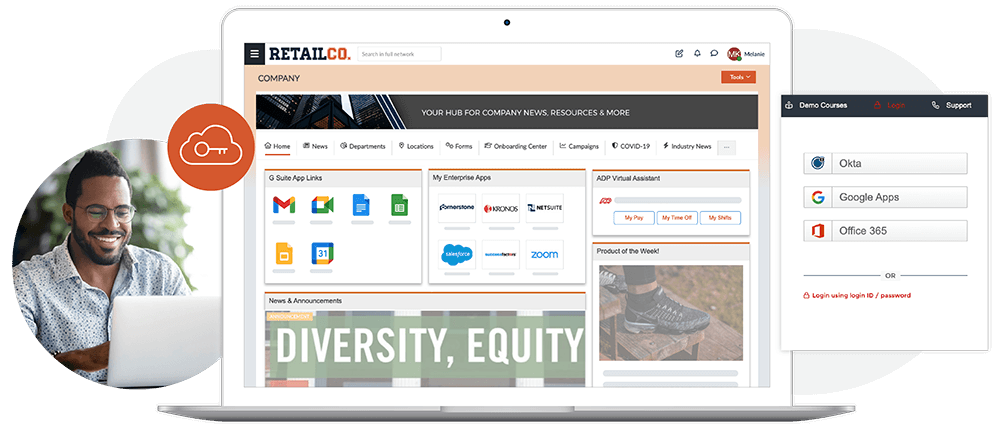 Talk to a product expert to learn more