Standardize Documentation With Wikis
A good wiki serves as a knowledge base that teams can reference and continually update,
creating a living document that centralizes information and files.

Enable Project Collaboration
Collaborate with colleagues by creating comprehensive content with multiple contributors.
Select a team, project, group, or department to share a wiki with.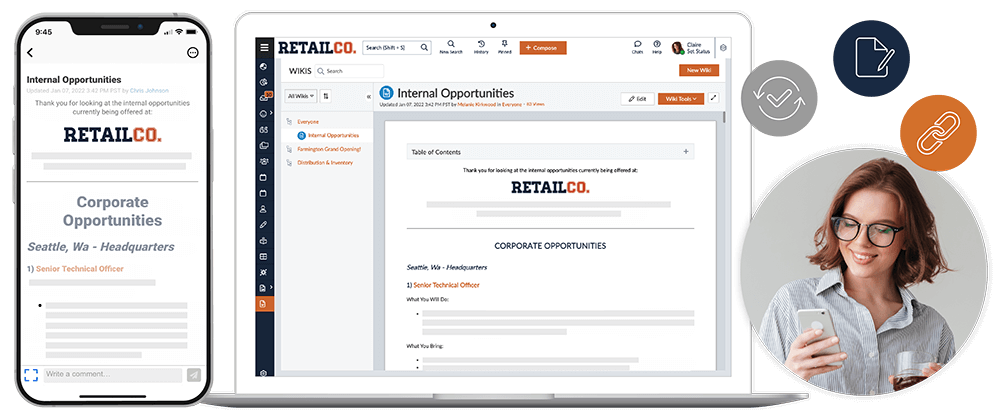 We use Wikis for our internal IT documentation and it makes our jobs a lot easier. We're creating Wikis, maintaining them, and updating them so we can keep track of what we're doing.
- Marcel Tabor, Director of IT, Integral Group
Knowledge Capture
Capture knowledge and important information by immediately storing it in a wiki for the whole project team to view from any device.
Controlled Access
Wikis are made public or private, allowing anyone with access to contribute or view its contents.
Pinned Wikis
Pin frequently-used wikis for immediate access, saving time and keeping valuable information at your employees' fingertips.
Wiki Updates
Every edit to a wiki is saved as a new version, allowing users to quickly identify what's new. Wikis can be reverted to a previous state (by a user with permission) if a mistake was made.
Collaborate
From Anywhere
Users can create, share, and discuss documents, ideas, meeting notes, and project updates on wikis right from their mobile app.
Additional Wiki Features
A full-content search allows users to quickly find what they are looking for by simply typing it in the search bar.
Wikis can be edited to include a table of contents and links to sub-pages.
Wikis can be moved to a designated team. This can be useful as teams re-organize or projects change hands.
Project wikis can be exported to PDFs for printing.
An admin or the author of a wiki can easily delete a wiki from a team at any time.
How Our Customers
Use Wikis
Build Productive Teams
Create wikis for team tasks, lists, and instructions
Instant Collaboration
Collaborate on ideas or co-author content relevant to the team or project
Stay Organized
Include attachments to wikis for reference
Centralize Project Information
Create a collection of useful links relating to a project or process