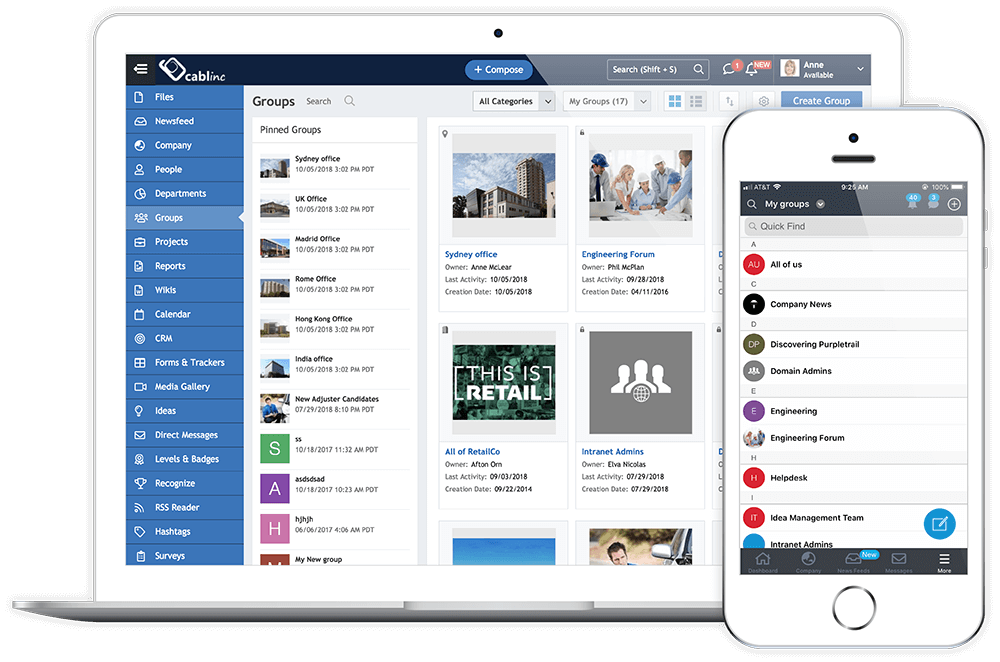 Groups For Teams and Common Interests
MangoApps groups provide easy to use channels for employees to communicate based on office locations, common interests, departments or goals. With different group categories, each containing a multitude of social features, businesses have more ways to tap into employee knowledge, expertise, and ideas.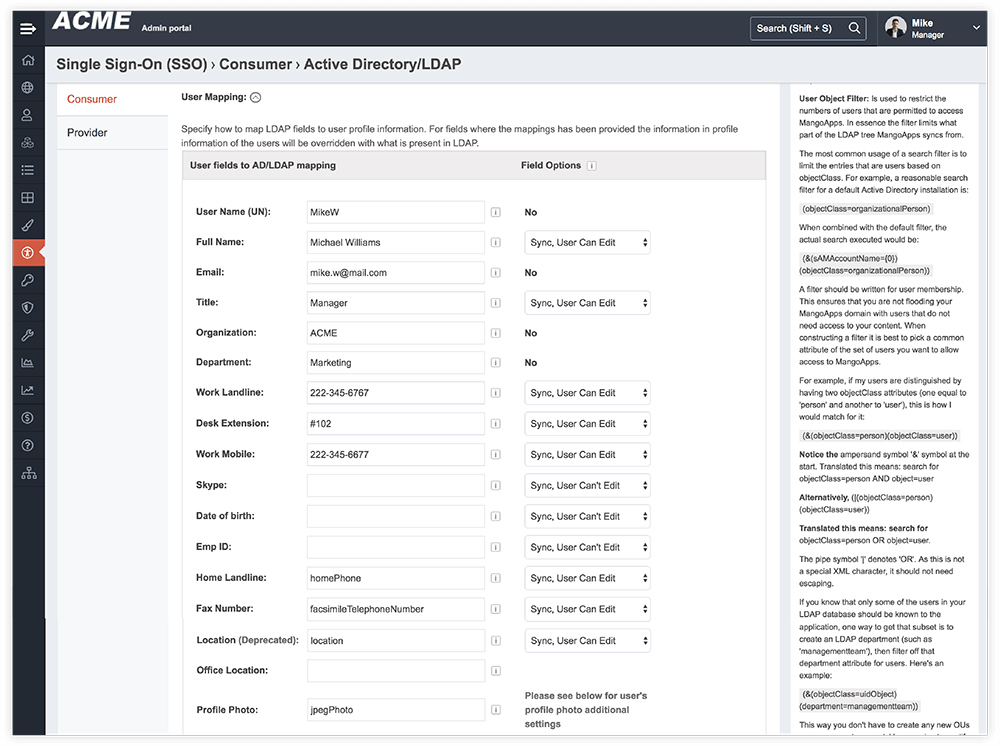 Connect With Active Directory Or LDAP Groups
Keep AD/LDAP groups and membership in sync with MangoApps. Filters allow sync of only subsets of Active Directory groups as needed. Admins can also choose to map specific attributes to MangoApps group custom fields to ensure that only the information that matters is visible in MangoApps.
Folders To Keep Group Files Organized
It is simple to securely share files and folders inside a group. Users simply drag and drop files into the group folder to upload them. Default permissions can be set to limit the visibility and audience of the files to members only, non-members on specific folders, or open to the whole company.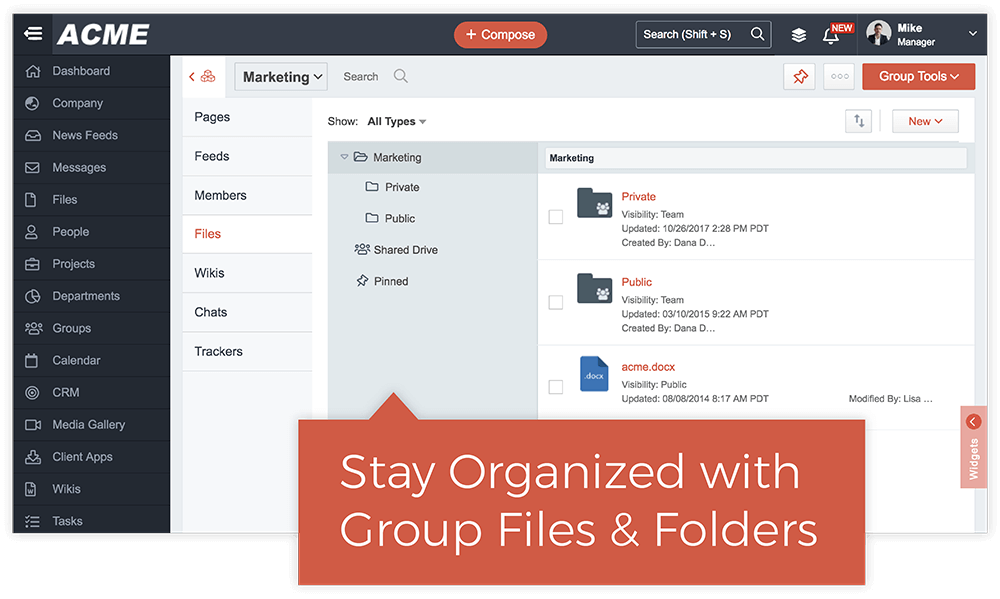 Easily Promote and Invite New Members
With quick access, users have an automatically created quick list of recent and commonly used items through MangoApps. By default, the list is ordered by most recently accessed content along with purposely pinned items including posts, pages, wikis, team spaces, files, hashtags, and more.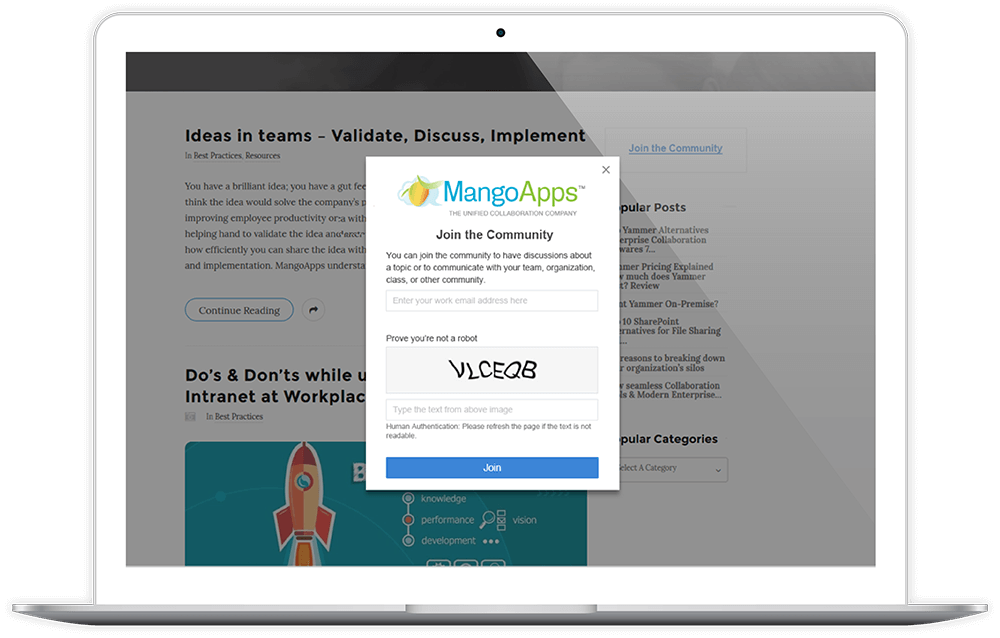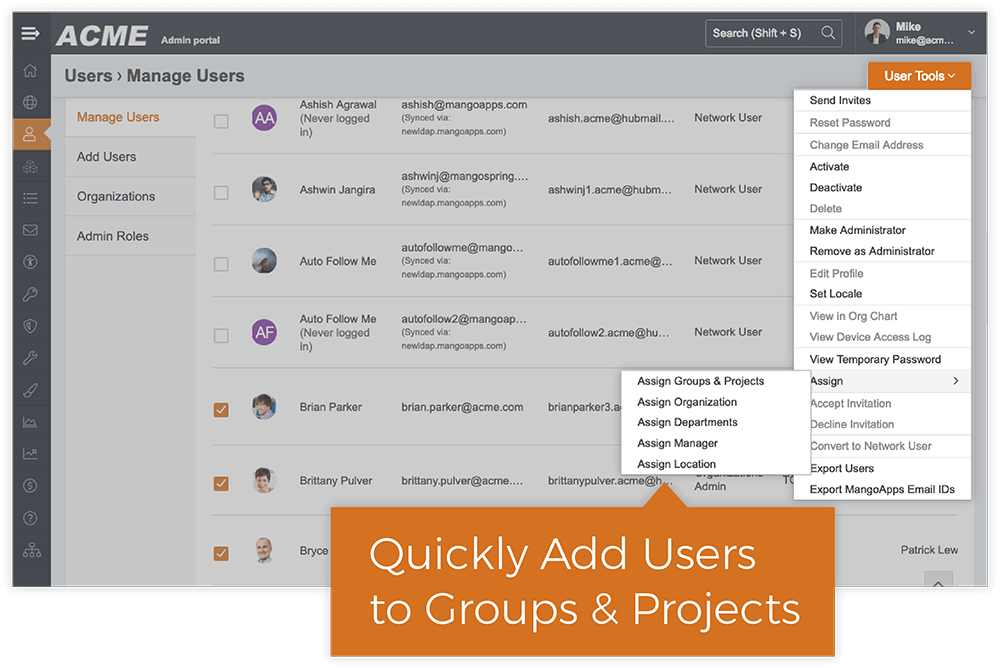 Add Users To Multiple Groups and Projects
Domain admins have the ability to select a list of users from the admin portal and add them to multiple groups and/or projects all in one action. All public and private groups and projects are visible when carrying out this action, and users are notified based on their settings.
Find Anything With Advanced Search and Filters
Search and locate anything you need inside a team space. A simple search using the search box at the top of the team space will deeply search and yield appropriate results. To narrow down the scope, advanced search filters make it easy to perform powerful searches on the content inside the team. These filters include searching by user, date, hashtags, and team or domain-specific custom fields.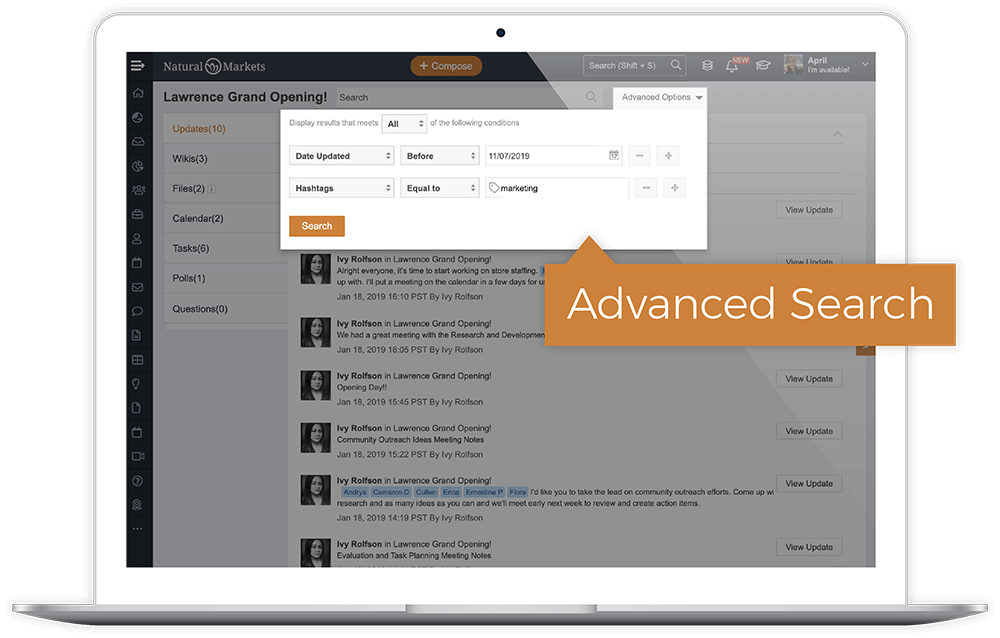 Additional Groups Features
Private, Public, and Unlisted Groups
When creating or editing a group, the permission level can be set to Public, Private, or Unlisted. Public means anyone with access can join the group, or simply participate and view the feed passively. Private groups require membership to view messages or participate, while an unlisted group is an invisible space only accessible to its creator and invited members making it perfect for anything under wraps.
Enhanced Group Organization
When viewing the groups lists, see descriptive information regarding the groups purpose or content based on its description, owner, last date of activity or creation date, and custom fields. Users can opt to sort groups into a list or grid view, or re-order the sorting based on name or last activity.
Export Group Data
Administrators can export all group data, making it a useful way to share group content and collaboration history externally or when to archive the data offline
Integrate Data From Third-Party Systems
Connect MangoApps to all the tools the business uses to avoid the constant switching between apps. Support requests, code check-ins, error logs, sales leads, get them all in one central and searchable location.
Transfer Ownership Or Archive Groups
As a domain admin there is full control over all public and private groups in MangoApps. They can transfer group ownership rights as needed when roles change, or someone leaves the company. If a group is no longer needed but the data may be needed in the future, unused groups can be archived to hide them from view but retain them for future access.
Mention Other Groups Or Non-Members
When it is necessary to involve multiple teams into a discussion, yet keep a single conversation thread, @mentions of other teams or non-members is the way to do it. Collect feedback from marketing or sales departments about a new logo design, or make sure different project teams are always in the loop about upcoming events.
Make New Members Directly Admins
When adding new members to the group or project, MangoApps allows an action to directly add new members as team admins- saving a further step.
Auto-add members
For organizations with a lot of role change or new hires, team membership can be automated so that it's always up to date.
How Our Customers Use Groups
1

Group together employees with similar goals or interests to create the most collaborative and productive environment

2

Sync groups and build membership from existing AD/LDAP directories

3

Keep files organized and relevant using group folders for organization

4

Allow members to submit requests and track/manage them with ease

5

Come together and collaborate to work through ideas or problems, without needing to set meetings
Bring your frontline and office teams together on one common platform
It has never been this easy to create the perfect employee experience for your deskless and deskbound workers. Contact us to discuss requirements, pricing, rollout and support. Get your free demo today!