Dedicated Collaboration Spaces
Put teamwork into modern digital collaboration spaces to reduce email volume,
capture knowledge over time, and speed up the flow of business.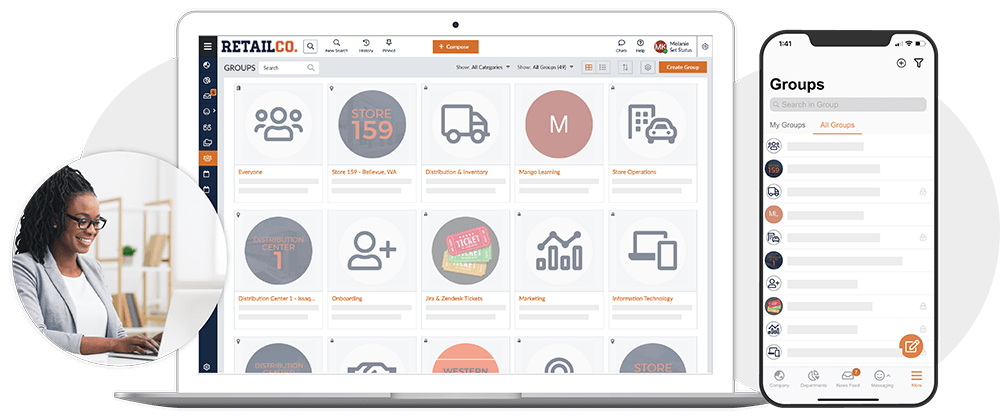 Groups For Teams & Common Interests
Provide different channels for employees to communicate based on office location, department, common interests, or goals.
The collaboration space is the clear favorite. Our employees absolutely love the groups and projects, the fact that they can have all their information in one area and work on it together.
- Carolyn Prendergast, Head of Internal Communications, Tatts Group
Engage In Actionable Conversations
Hash things out quickly by enabling users of a group to share updates, ask questions, and gather feedback without the hassle of meetings, conference calls, or disjointed email threads.
Mention Other Groups
@mention other teams or individuals when it is time to involve another group into a project, or to make sure that different project teams are in the loop about upcoming events.
Quickly Locate What You Need
Advanced search filters make it easy to drill down on content within a group to find exactly what you're looking for. Filters include searching by user, team, date, hashtags, and more.
Office Location Groups
Auto-add users to their local office group, creating a useful space for information such as local working hours, holidays, and building information.
Whenever our employees are busy with an activity or project, they know that they can use their group as a central location to share any files or information needed.
- Rebecca Wolfs, Director of Training, Development, and Compliance
Additional Group Features
Keep AD/LDAP groups and membership in sync with MangoApps. Filters allow sync of only subsets of Active Directory groups as needed.
Plan and coordinate events, group meetings, training, and more. Group calendar events layer seamlessly onto a user's MangoApps calendar.
Coordinate and track any list of requests or submissions with group-specific trackers.
Admins can select a list of users from the admin portal and add them to multiple groups/projects all in one action. Users are instantly notified when added.
When creating a group, the permission level can be set to Public, Private, or Unlisted.
Admins can transfer group ownership rights as needed when roles change, or someone leaves the company. Unused groups can be archived to hide them from view but retain them for future access.
Connect MangoApps to all the tools and applications your company uses in one central and searchable location.
For organizations with a lot of role changes & new hires, team membership can be automated so that it's always up to date.
Admins can export group data, making it a useful way to share group content and collaboration history externally.
How Our Customers Use Groups
Bring People Together
Group employees with similar goals & interests to create a productive environment
'Meeting-free' Collaboration
Collaborate in real-time on ideas and problems, without needing to set meetings
Stay Organized
Keep files/resources organized and relevant using group folders
Sync Groups
Sync groups and build membership from existing AD/LDAP directories
Track Requests
Allow members to submit requests and track/manage them with ease