Migrate Company Communications Out Of Email
Replace company communications traditionally based in email newsletters to rich informative posts and newsletters in MangoApps. Ensure that important messages and announcements aren't lost in the clutter of email inboxes, while increasing engagement and readership.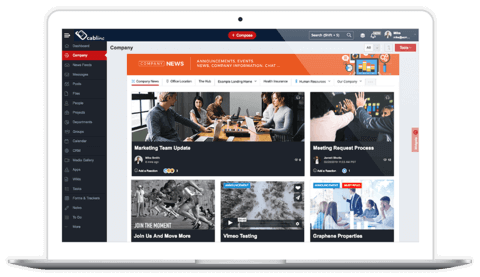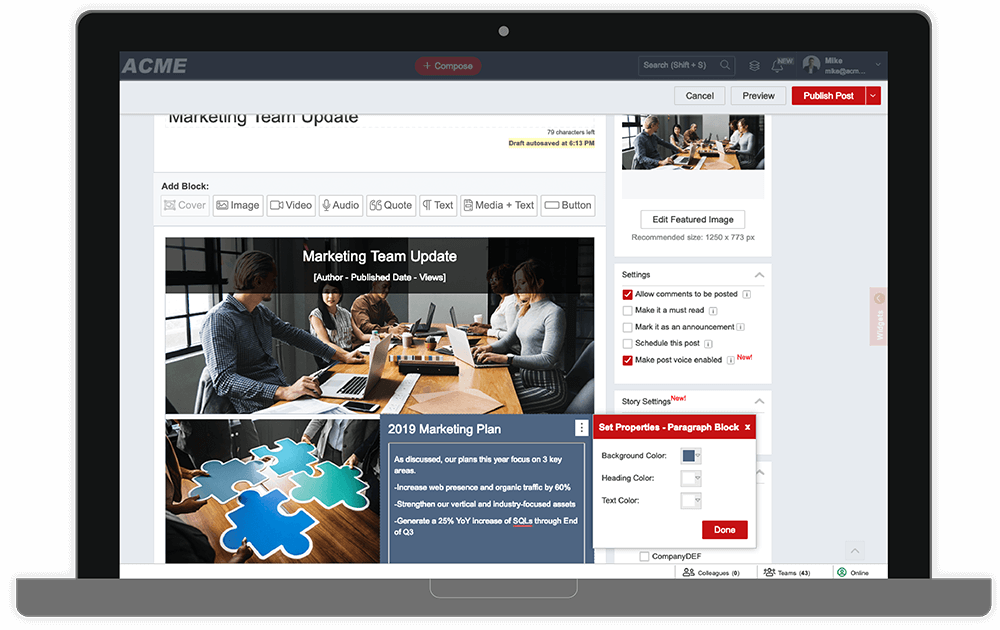 Create and Edit Posts Using a Visual Editor
MangoApps offers an easy-to-use and responsive click & add customizable visual block-based post editor. Users of all skill levels can post and share without HTML/CSS programming or visual design skills. Easily include a feature cover image, text, quotes, video, audio, call-to-action-buttons, and other media. Post drafts also automatically save every 60 seconds so your work is never lost.
Create Engaging Posts With Video and Images
Newsletter templates are designed to connect with your audience with engaging posts. Include a mixture of media (video, image, audio podcast, built-in media gallery), and paragraph blocks for concise text, as no one has the time or patience to read 10,000 words on work time.
Subscribe to Posts as Podcasts
Podcast enabled posts not only make it easier than ever to stay up to date with company news, announcements and newsletters, but allows various digest options fit the listening preference of your users. Adding a podcast widget to the dashboard aggregates all voice-enabled posts for easy listening, or allow users to subscribe to posts in Apple podcasts for listening on the go.
Keep Posts Organized For Easy Access
Organize related posts into categories to easily find relevant content. When browsing previously written posts, filter by categories such as product news, sales wins, and more. Domain & intranet admins can create categories & sub-categories (up to 5 levels) for organizing posts to make it easier for the users to browse and get to relevant posts quickly. View posts by most recent, most liked, most viewed, or as ordered by the admin.
Create, View, and Listen To Posts From Anywhere
Users can create, schedule, and share posts from the app with multiple teams, groups, departments, projects, or the company. Creating posts on mobile is easy, allowing users to quickly select their audience, add text, media, and files right from their mobile device. When viewing posts, users can filter by category or type, and voice-enabled posts can be listened to directly from the post or subscribed to as a podcast.
Important Post or Emergency Announcement? Mark It As "Must Read"
Users can't afford to miss important announcements and breaking company news. Share important emergency situations or office closures, or give credit where its due by spotlighting employees and company successes, and mark these posts with a Must Read label to bring attention to news. Choose from a standard Must Read or an Acknowledgment Required, so you know who has seen the post.
Ensure 100% Engagement By Boosting Posts
The post creator or admins have the ability to boost a post, effectively pushing it to users from the intended audience who have not yet viewed a post. Boosting posts ensures 100% engagement through private message, email, and SMS. Posts can be boosted through private message by the creator or admins, while posts boosted through email and SMS can be done by admins.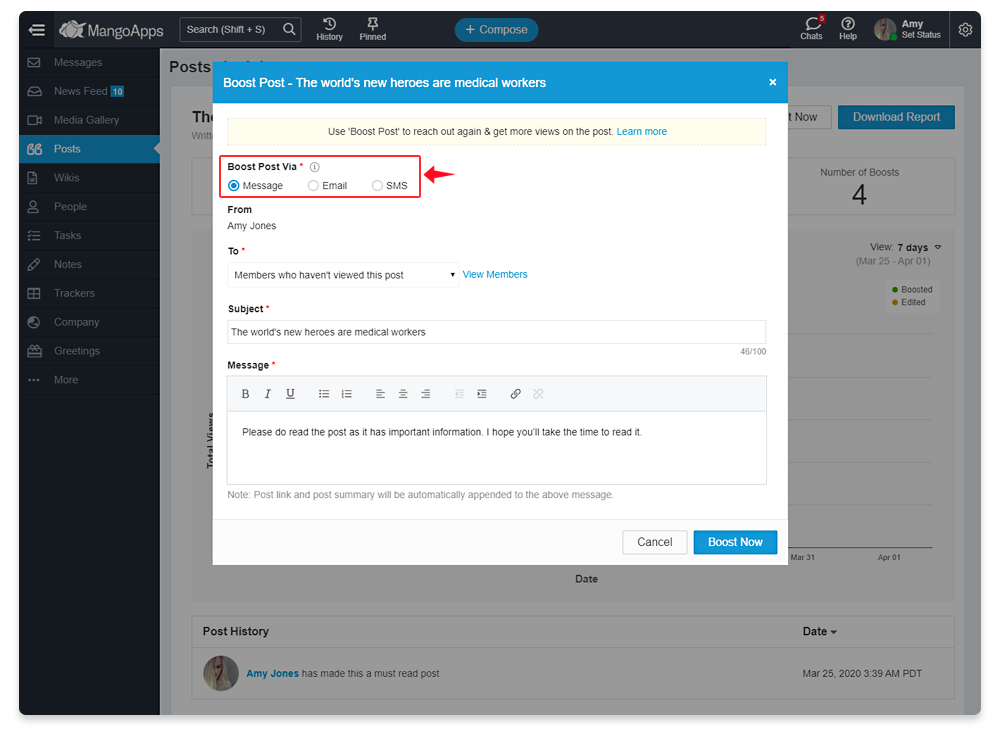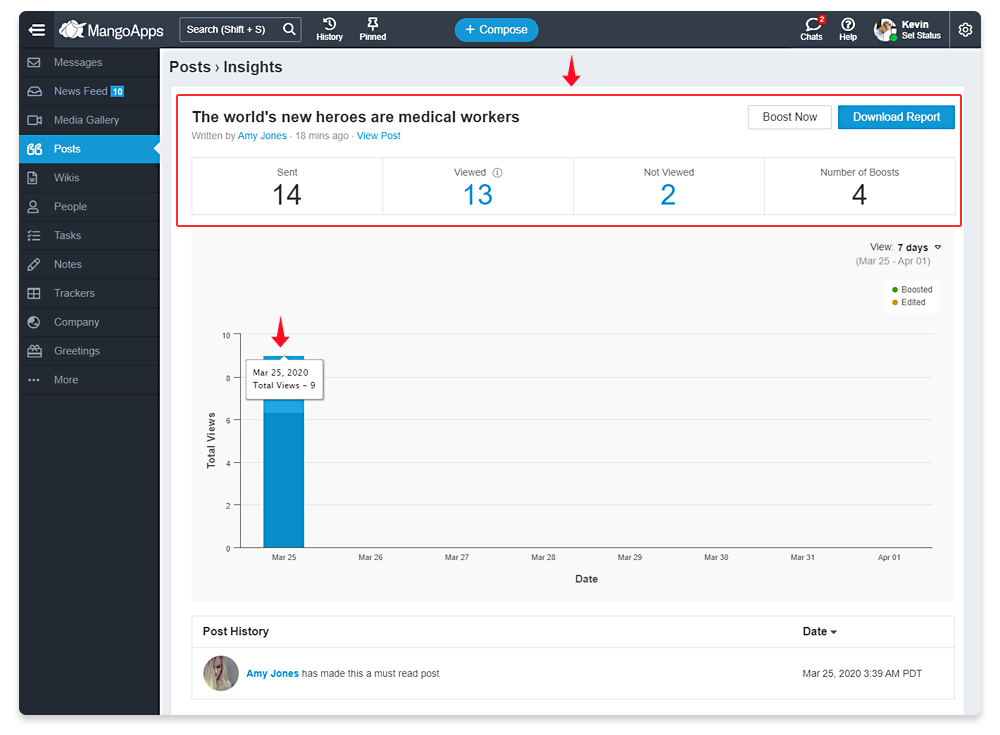 Measure Engagement With Rich Post Insights
Creators & Admins have access to full engagement insights on posts including total user count & reach, users who have viewed, users who have not viewed, and number of times a post has been boosted. These insights include a plotted graph showing views per day for up to a 60-day period post creation. An insight report can be downloaded in XLS format including post history from creation to edits and boost details.
Perfect Featured Images With an Image Adjuster Tool
Featured post images enforce a minimum size of 527x326 pixels. When users select an image from the media gallery or upload their own, the cropper & panning tool ensures that images appear properly and the same under different user resolutions. Posts without a feature image will appear with a default image made up of the title and a background image for consistency in the posts module.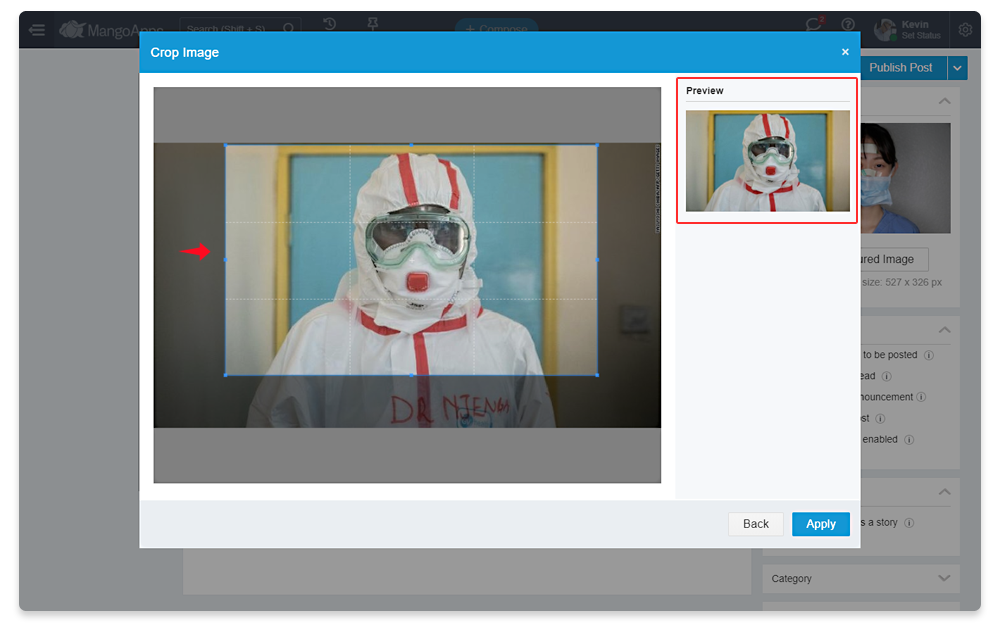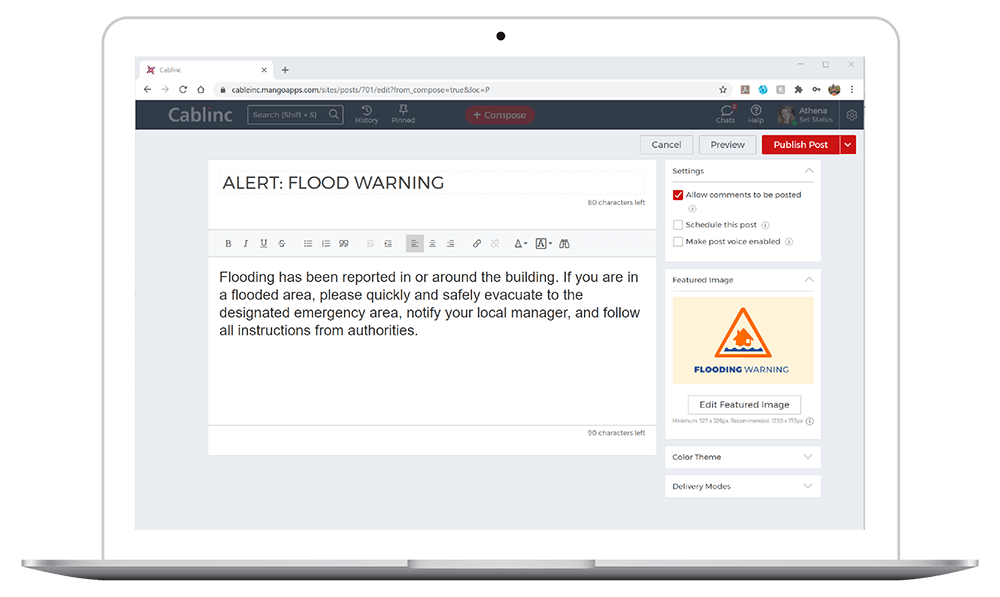 Alerts For Urgent Communication
Use alerts to communicate time-sensitive and crucial information to the entire organization or specific teams and groups. Out-of-the-box templates cover the majority of common organizational alerts or create your own, draft/preview your message visually and select delivery channels prior to distribution.
Additional Post Features
Pin and tag posts for quick access
Pin posts you refer to the most to the top of your feed so you can access them quickly and easily. Add tags to a post to further categorize it so all relevant information is in one place.
Make a post an announcement
Bring attention to a post by marking it as an announcement. Set an expiration date for a post's announcement status, or mark as a Must Read to require acknowledgment to important news.
Clone an existing post to make creating new ones a breeze
Duplicate a post to work from a familiar starting point or to create a post with the similar formatting.
See the number of times a post has been viewed
Track the performance and popularity of a post by its number of total views or unique user views.
Save drafts of your posts until ready to publish
Save and view drafts of your in-progress posts so you don't have to write a post in one go. Revisit a draft as many times as you need until it is ready to share. There is no limit to the number of drafts you can save.
Allow comments to be posted
Encourage interaction and collaboration by enabling comments on a post.
Control who can edit the post
Set permissions for who can make changes to a post.
Search post archive
Efficiently search through posts by typing in keywords featured in a specific post. Past content is archived and accessible to the entire company, so even new employees can view them.
Post Digest To Email
Improve employee engagement and participation by sending users an email digest of company and team posts on a daily or weekly basis highlighting the most recent 5 posts
Auto-Archive
Set posts to auto-archive on a future date, to avoid clutter and outdated information
Send For Review
Send draft posts to another user for them to review before publishing
How Our Customers Use posts
1

Create and send newsletters to the entire company, specific departments, groups, or projects.

2

Create podcasts to share company newsletters and announcements.

3

Spotlight employees, sales wins, and company successes.

4

Organize and filter posts based on their importance and category.

5

Post internal job openings, contests, and photo albums to build company culture.
Read our post on How Customers Use The MangoApps Posts Module »
Bring your frontline and office teams together on one common platform
It has never been this easy to create the perfect employee experience for your deskless and deskbound workers. Contact us to discuss requirements, pricing, rollout and support. Get your free demo today!