Replace Email Newsletters
Replace clunky email newsletters with rich, informative posts in MangoApps. Unlike email,
there's no inbox clutter to fight against, and engagement is trackable.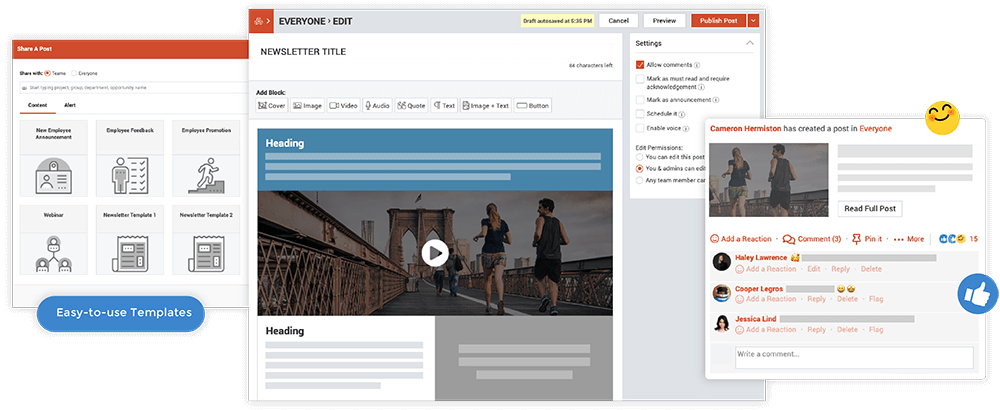 We can just post whenever we want. If someone's got a cool story, like from a job site where a stadium is being built, we can push those pictures out immediately. A person from accounts receivable, who never sees a job site because all they do is deal with people paying bills—now they get to see the stadium that shows up on the invoice.
- Kyle Loafman, VP of Purchasing, Ram Tool

Send Posts To Segmented Groups
Send targeted communications to segmented groups, teams, and departments. Leverage user distribution lists to effectively send out messages to specific individuals.
Visual Editor
Block-based post creation will have even the least tech-savvy users pumping out multimedia posts in minutes. Drafts auto-save frequently so your work is never lost.
Useful Templates
Our 30+ post templates cover a range of layouts and situations. Custom templates can be created or cloned from posts, to ensure company branding and consistency.
Automatic Podcasts
Hear post text read aloud. For your employees that are on the go and need easy access, or you want to ensure accessibility to everyone in your organization.
Superior Organization
Using MangoApps Posts creates a searchable repository of content, with categories and filters so it's organized and easy to find anything.
Full Mobile Functionality
Create, schedule, view, or listen to posts from the convenience of your own mobile device.
Schedule Posts
Scheduling posts in advance allows you to work more efficiently, and keep posting consistent at times when you can't be in the office.
Ensure Your Message is Received
Detailed targeting ensures that posts only go to the intended employees.
There are several ways to indicate urgency and send follow-up notifications.
So much of my job just comes down to communications. It's critical. So many times, people in this industry go to conferences and talk to each other, but then nothing gets out beyond that round table. You really have to bring people along for the journey and push that content out. I don't know how we would do it without MangoApps.
- Megan White, Chief Sustainability Officer, Integral Group
Rich Post Insights
Deep analytics gives creators and admins granular insights into the engagement metrics around their content.
Alerts
Use alerts to communicate time-sensitive and crucial information to the entire organization or specific teams and groups. Out-of-the-box templates cover common scenarios.
Learn more about
Critical Alerts »
Additional Post Features
Quick Access
Pin important posts to the top of your feed for quick access. Add tags to a post to further categorize it so it can easily be found using search.
Announcements
Bring attention to a post by marking it as an announcement. Set an expiration date for a post's announcement status, or mark it as 'Must Read' to require acknowledgment.
Cloned Posts
Cloning a previous post lets you create a duplicate draft so you can save time on formatting and branding.
Save Drafts
In-progress posts are automatically saved as a draft, so you can work on them over time. You can even send a draft to another user for review before publishing.
Flexible Permissions
Every individual post has flexible settings. You can enable specific users to edit your post, allow or disallow comments, and more.
Post as Assistant
Assistants can be granted permissions to post on behalf of their boss, making it easier to get important content out to the company.
Searchable Archive
Our global search crawls the content of each post in the archive, ensuring that employees are able to find content relevant to a keyword.
Auto-archive & Governance
Set posts to auto-archive on a future date, to avoid clutter and outdated information. At the company level, auto-governance can send notifications to review and/or archive old posts.
Sentiment Analysis
Content creators can analyze the sentiment of a post prior to publishing it.
How Our Customers
Use Posts
Podcasts
Create podcasts to share company newsletters and announcements
Knowledge
Get important information into the company's archive of knowledge
Newsletters
Create and send newsletters to the entire company, specific departments, groups, or projects
Organization
Organize and filter posts based on their importance and category
Company Culture
Post internal job openings, contests, and photo albums to build company culture
Recognitions
Spotlight employees, sales wins, and company successes