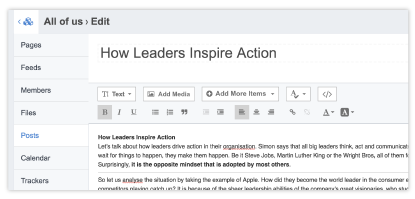 Easily create and edit posts using a Word-like editor
MangoApps offers an easy-to-use content editor so users of all skill levels can post and share company news or announcements. It's as simple as using Microsoft Word!
Templates make creating posts easy
Save time and see better consistency when communicating with employees by using our ready-made templates.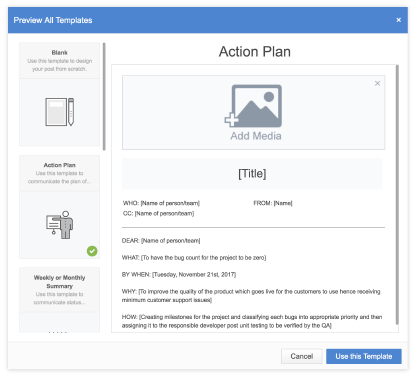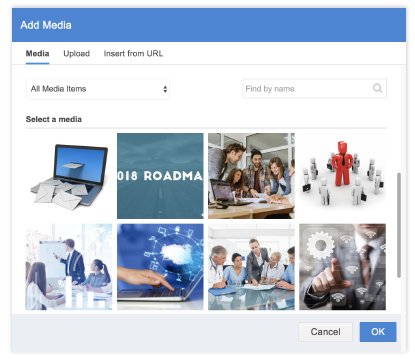 Make posts engaging with video, graphics and images
Connect with your audience with engaging posts. Pull images, audio files, or videos directly from your computer or select from the built-in media gallery.
Share posts company-wide or choose who sees them
Publish a public post for the whole company, or publish within a specific project, group, or team.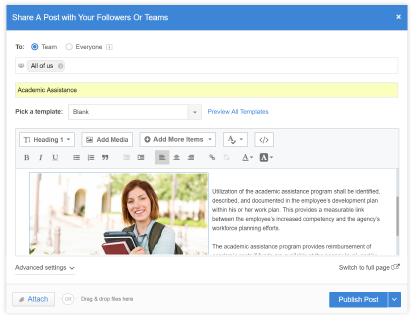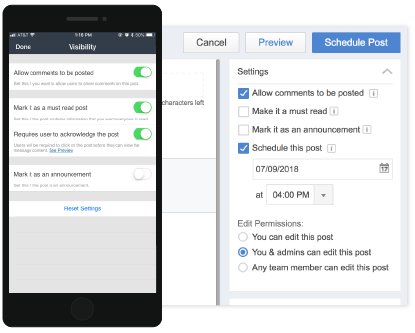 Schedule posts by day and time
Scheduling posts to automatically publish works great when you want to make sure a post goes live at particular date and time. You can also use post scheduling to keep your posting consistent and to post when you can't be in the office.
Important post? Mark it as "must read"
Assign posts with a Must Read label to bring attention to important news. Choose from a standard Must Read or an Acknowledgement Required, so you know who has seen the post.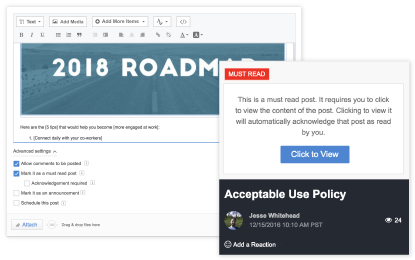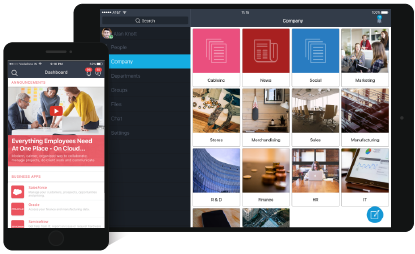 View important company news on the go on your Android or iOS device. Posts are automatically optimized for mobile viewing.
Built-in feed, email and mobile notifications
Receive notifications when new posts are created, or when your posts are viewed, edited or commented on. Notifications can be received through your newsfeed, email, or mobile.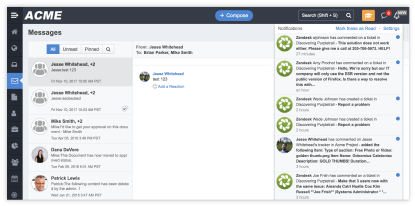 Additional Post Features
Pin and tag posts for quick access
PPin posts you refer to the most to the top of your feed so you can access them quickly and easily. Add tags to a post to further categorize it so all relevant information is in one place.
Make a post an announcement
Bring attention to a post by marking it as an announcement. Set an expiration date for a post's announcement status, or mark as a Must Read to require acknowledgement to important news.
Clone an existing post to make creating new ones a breeze
Duplicate a post to work from a familiar starting point or to create a post with the similar formatting.
See the number of times a post has been viewed
Track the performance and popularity of a post by its number of total views or unique user views.
Save drafts of your posts until ready to publish
Save and view drafts of your in-progress posts so you don't have to write a post in one go. Revisit a draft as many times as you need until it is ready to share. There is no limit to the number of drafts you can save.
Classify posts in categories for organization and easy access
Organize related posts into categories to easily find relevant content. When browsing previously written posts, filter by category to find the topics you are interested in.
Allow comments to be posted
Encourage interaction and collaboration by enabling comments on a post.
Control who can edit the post
Set permissions for who can make changes to a post.
Search post archive
Efficiently search through posts by typing in keywords featured in a specific post. Past content is archived and accessible to the entire company, so even new employees can view them.
How our customers use posts
1

Create and send newsletters to the entire company, specific departments, groups, or projects.

2

Post organized content that is accessible to all and easily searchable by keywords or titles. Archived posts promote long-term knowledge sharing.

3

Share company news, expertise, best practices, and policies.

4

Let everyone know about upcoming company events, company success stories, or community events.

5

Post internal job openings, Employee Spotlight, contests, and photo albums to build company culture.
10+ years of carefully crafted features