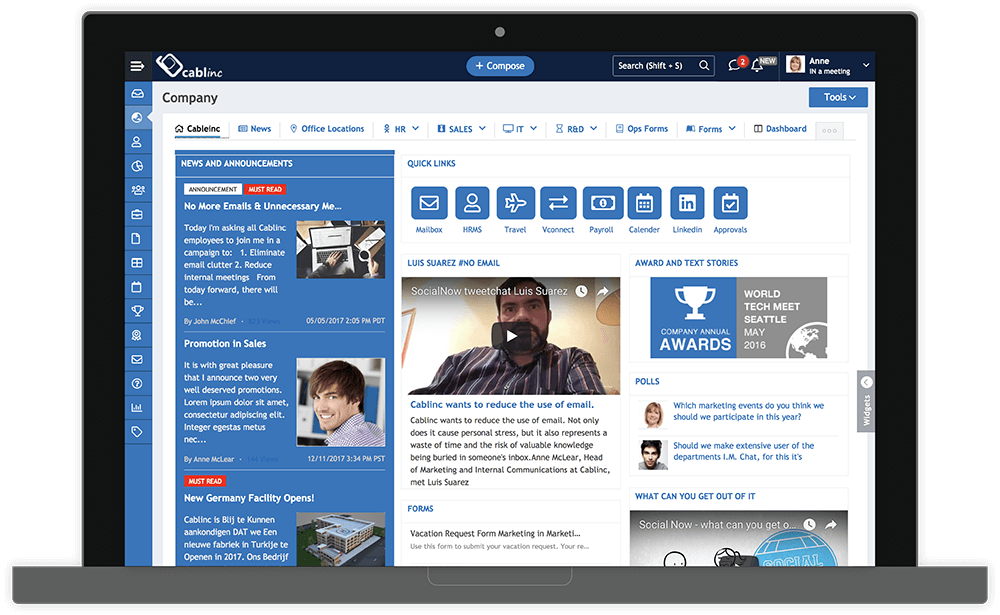 One Place for all Company Information
Company Sites break down information silos between departments, office locations, and employees. Create pages to share crucial documents or policies, the company vision/mission, location details, important dates or holidays, and so on. Give all employees one reliable place to find all company information, important content, and promote a healthy transparent company culture.
News and Announcements for Employees
Rather than sending out company-wide email blasts, the Company News module ensures that all employees receive important updates, news, memos, and announcements. Easily embed videos or multimedia, categorize posts by topic, and measure engagement based on employee views, likes, and comments.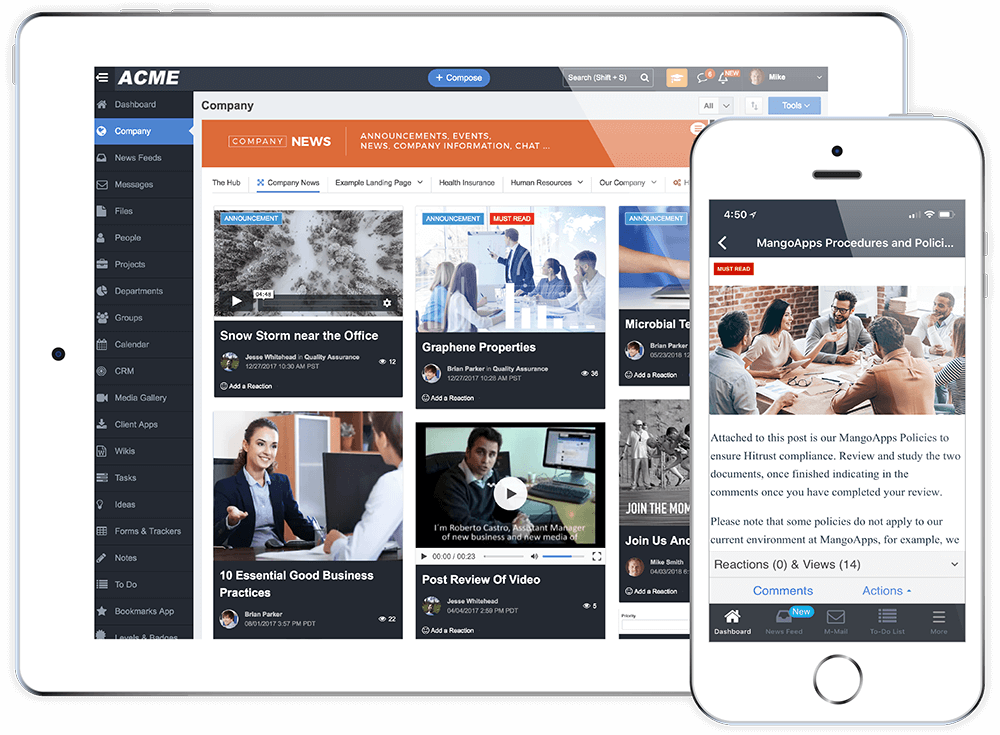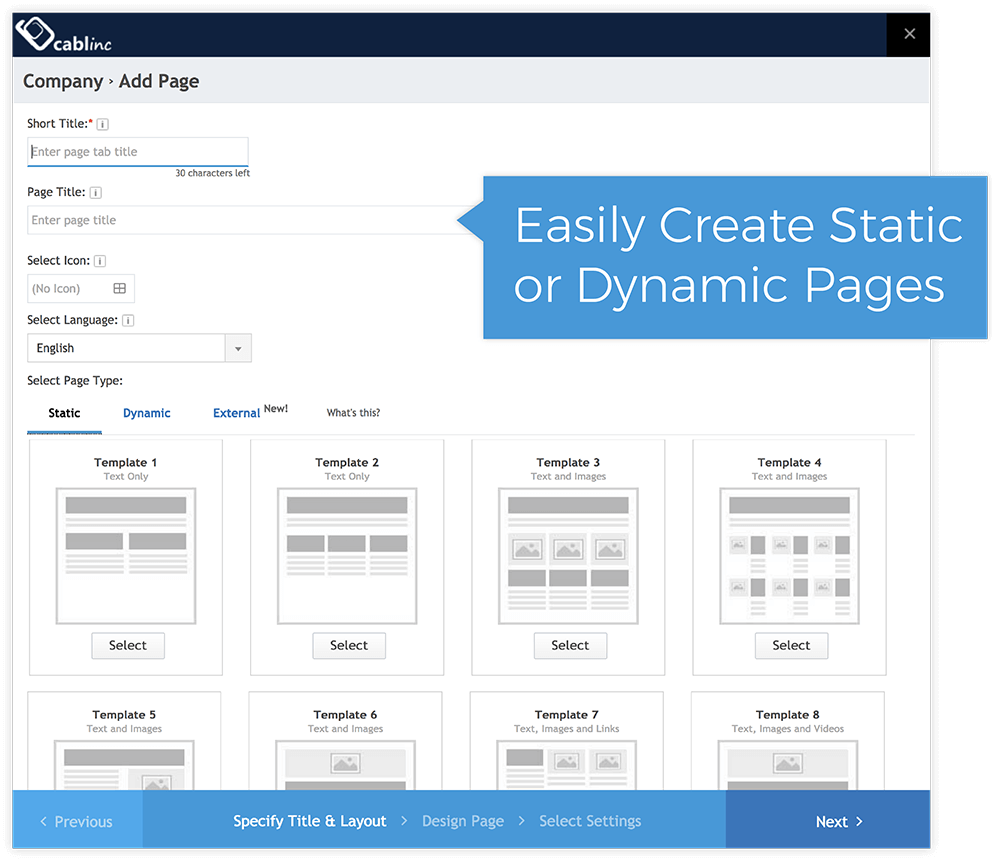 Powerful Pages Using Templates & Widgets
MangoApps offers a refreshingly easy-to-use authoring experience with static and dynamic page templates, turning admins into authors. The page designer provides an editing interface to pick page templates, write text, add images, upload videos, and publish new content quickly and easily. Make employees feel at home by giving the site a familiar name, creating a custom banner above the navigation, and a theme that matches the company's design.
With the power to create any number of pages within the company site it is important to organize them into menus and sub-menus to make navigation easy and intuitive for users. From more focused department and product pages, to HR or hiring pages, the organization options are endless. Using the 'organize menu' action, admins are able to rearrange pages and categorize them into menus and sub-menus that fit for any business.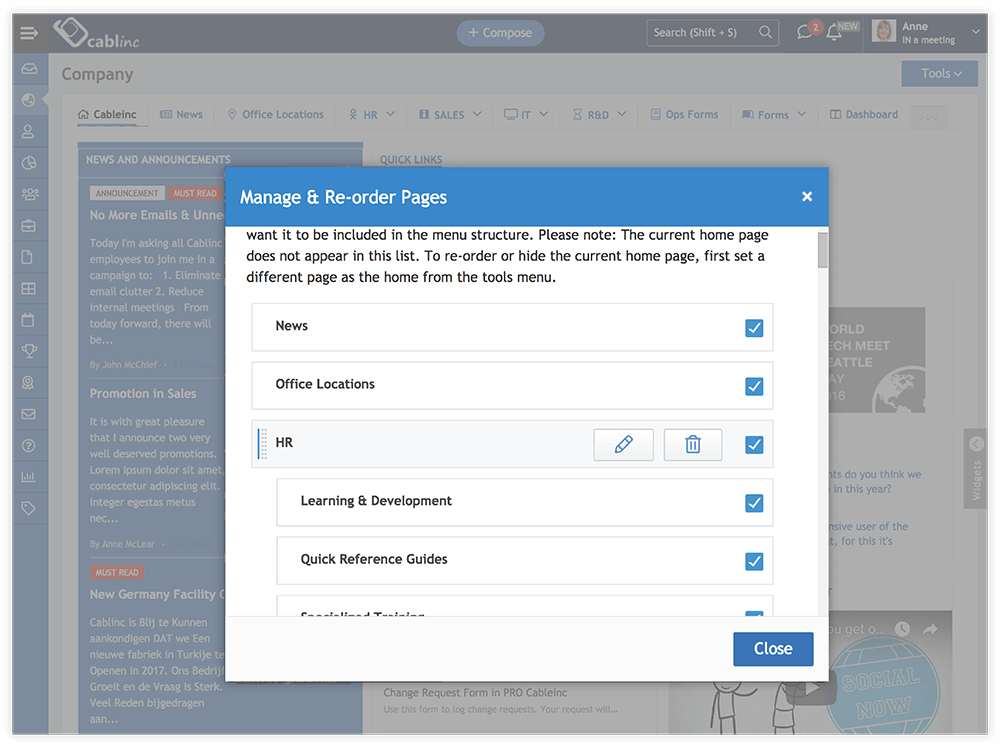 Department Overview Pages
While the company site and pages are mainly organized around topics that apply to everyone in the organization, many companies find it useful to create overview pages for each department in the organization. These pages can provide an overview of the departments purpose, goals and projects, or reference any other important details relevant to employees inside or outside of the department.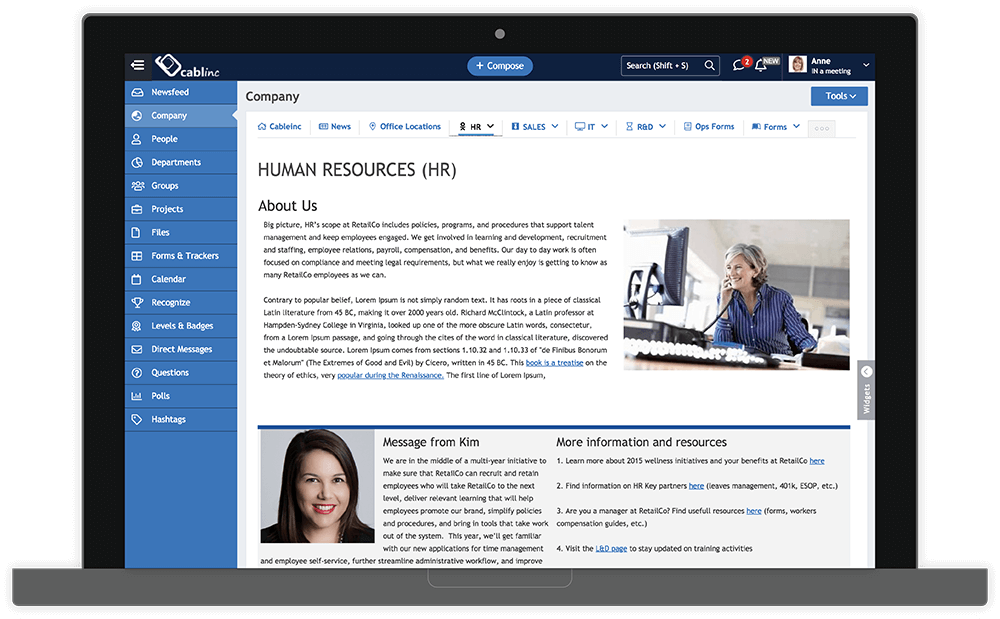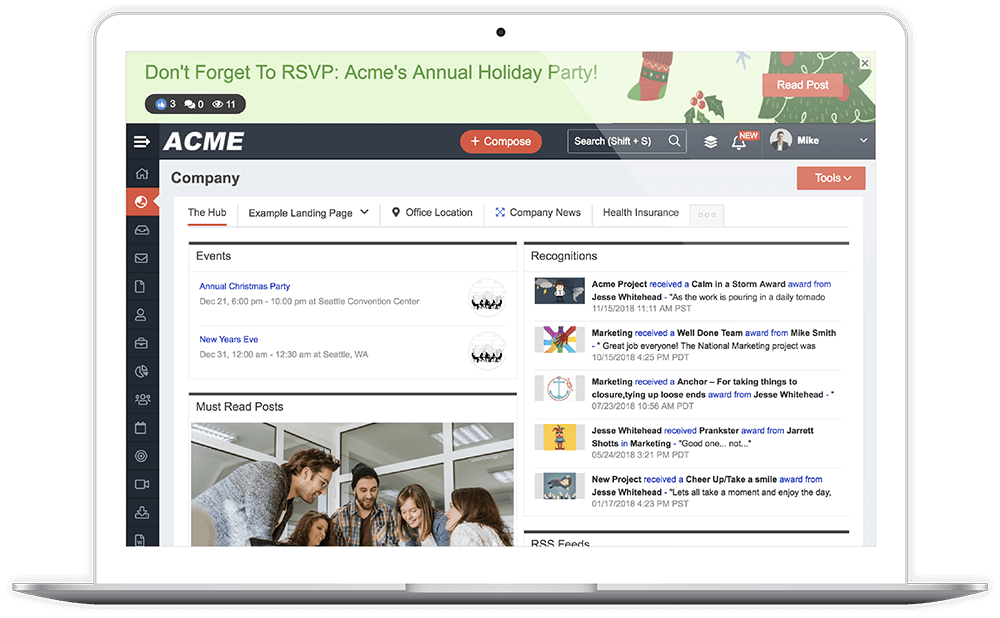 Share a Company Post As a Story
Sharing a post as a story is a great way for intranet admins to make important announcements, promote fresh or urgent content, using text and pre-shipped background banner images. Posts never get missed, and engagement is increased significantly allowing users to comment and react as with any other company post. The story is visible as a site-wide banner for up to 24 hours, but remains intact as a traditional company post.
Additional Company Sites Features
Promote Company News
To avoid duplicating content or communication efforts, MangoApps allows for the sharing of department news on the company site. This ensures that the message is not only consistent, but accessible by the necessary users.
Share External Sites
There are often external online pages that companies would like to share in the company site. This feature allows admins to add any external sites as needed, defining the link path, title and icon.
Collaborate and Keep Company Pages Updated
Admins can work together to create, maintain and update company pages. Drafts allow admins to save their work as needed, as well as allowing for multiple admins to work together on the content. Admins can also set reminders on specific pages to revisit and update content as needed at any choice of regular intervals.
Never Lose Changes with Version History
Company sites come with complete version history for all pages, allowing admins to track every edit. Changes can be seen visually by comparing versions, and tracking each author. If an admin accidentally deletes an important paragraph or page, the changes are reversed with just a couple of clicks.
Find Anything with Indexed and Searchable Pages
Search full content inside pages, posts, and even text within attached documents. Indexing happens right away so search results are always up-to-date. Make information even easier to locate by proactively adding tags to any page or post.
Staying Caught Up with Emailed Digests
Give employees peace of mind when they are away, or too busy to stay up to date on important announcements. with the option to receive daily or weekly digest emails right to their inbox, employees never worry about missing a thing.
How Our Customers Use Company Sites
1

Share One Place for all Company Information, policies, resources and news

2

Easily create, organize and design company sites and pages

3

Share news and announcements that doesn't get lost or missed by employees

4

Create unique pages and content for specific departments throughout the organization

5

New or old employees search and find old news, announcements and documents

6

Manage international offices by duplicating and localizing content language for all employees
Read our post on How Customers Use The MangoApps Company Sites Module »
Bring your frontline and office teams together on one common platform
It has never been this easy to create the perfect employee experience for your deskless and deskbound workers. Contact us to discuss requirements, pricing, rollout and support. Get your free demo today!