An Intranet without bottlenecks
Break down information silos between departments, office locations and employees. Give everyone in your company one place to find the information and content they need to get work done.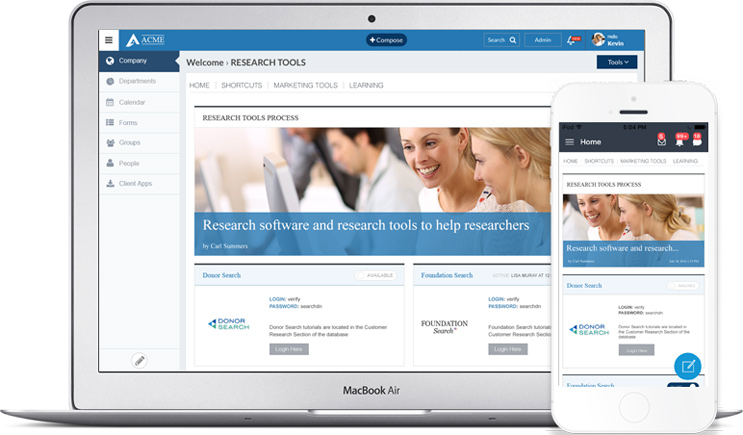 Share resources and information easily and effectively
Admins can set up the default company dashboard for all employees to give them access to company forms, company documents, company events, public groups and more creating a home page that is usable and relevant.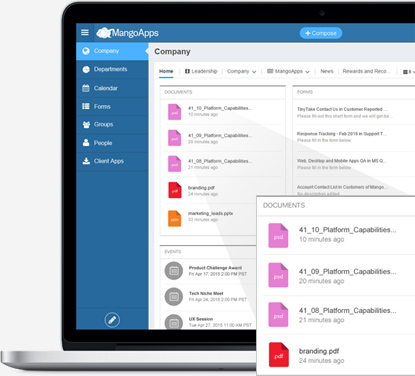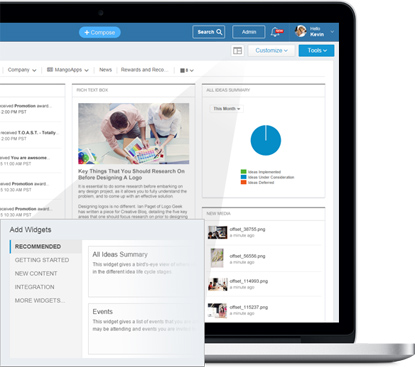 Company dashboard allows personalizing content at the user level. It comes with in-built widget gallery to enable customization of your home page your way. Use a selection of widgets, drag and drop to move content around and resize elements in one click.
Company pages help communicate with clarity and transparency
Communicate your organization's culture and values through your Intranet identity and branding. Company pages are the most effective way to communicate your company strategy, policies, mission/vision and product/service plans to your employees. Customize the look and feel of your company pages with easy built-in tools. The more advanced can add HTML, CSS and JavaScript for even more control.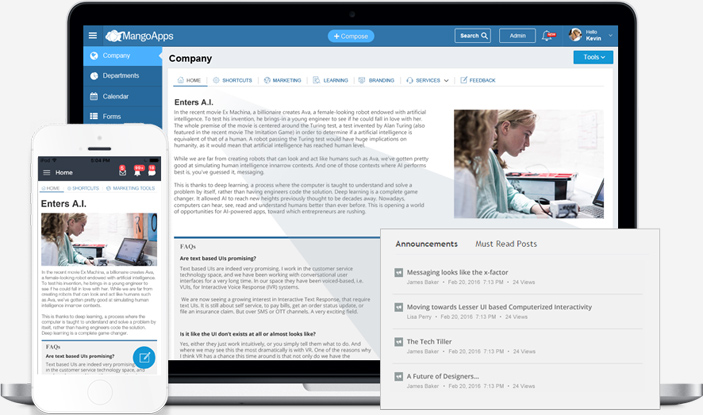 Empower everyone to contribute
with blog posts
Traditional intranets suffer from stale content because they're hard to use. MangoApps social Intranet empowers everyone to contribute to your Intranet with an intuitive and powerful posts editor.
Company announcements, company news, departmental news, new employee announcements, customer wins, employee blog posts can be created and shared on MangoApps intranet.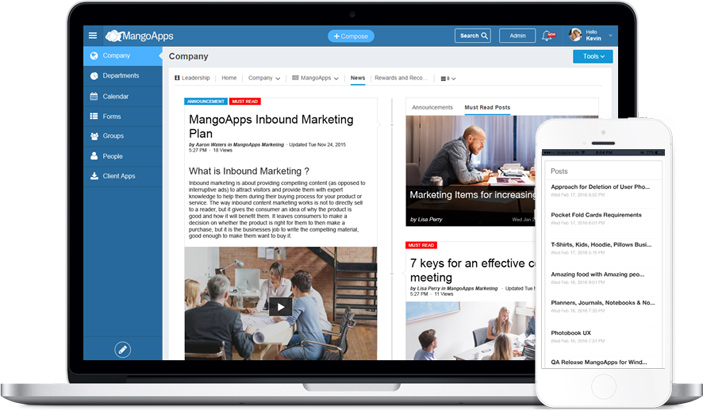 Create and change company
pages easily
Turn Intranet admins into authors. MangoApps offers a refreshingly easy-to-use authoring experience with static and dynamic page templates. The page designer provides an editing interface where Intranet admins can pick page templates, write text, add images, upload videos and publish new content quickly and easily.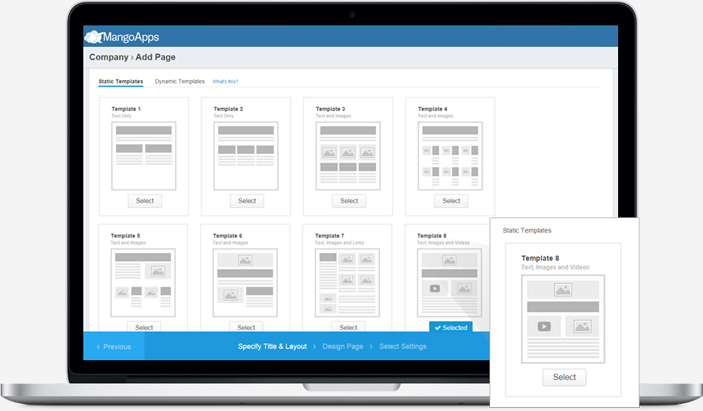 Never lose your changes to company site
Company pages come with complete version history for all pages allowing you to track every edit made. See changes visually by comparing versions. Another Intranet admin accidentally deleted an entire paragraph? No problem! Just reverse it with a couple of clicks.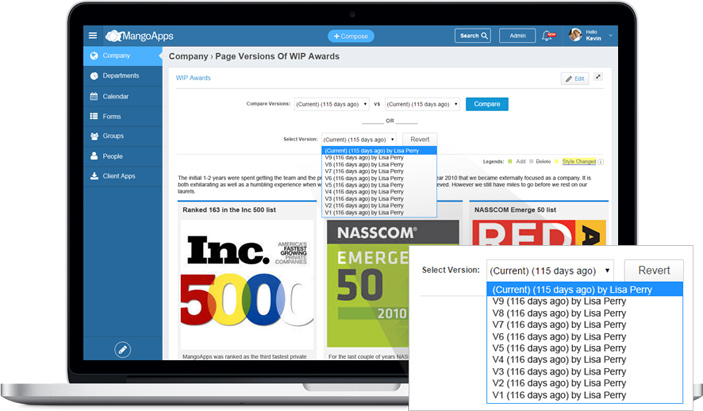 Communicate across languages and borders with multilingual company pages
Intranet admins have the ability to duplicate any page and localize them into multi languages. You'll be proud that your new Intranet is multilingual helping communicate company information & policies across your worldwide offices.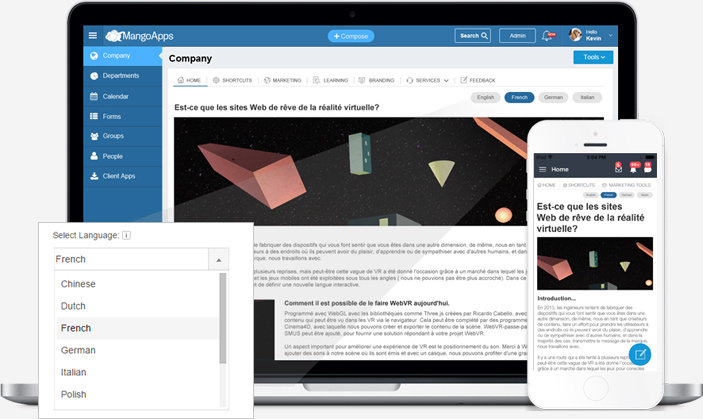 Setup a navigation that is easy to find information
Help employees navigate easily with vocabulary they understand. MangoApps customizable navigation lets you organize content to reflect your unique organization, increasing Intranet adoption, findability and satisfaction.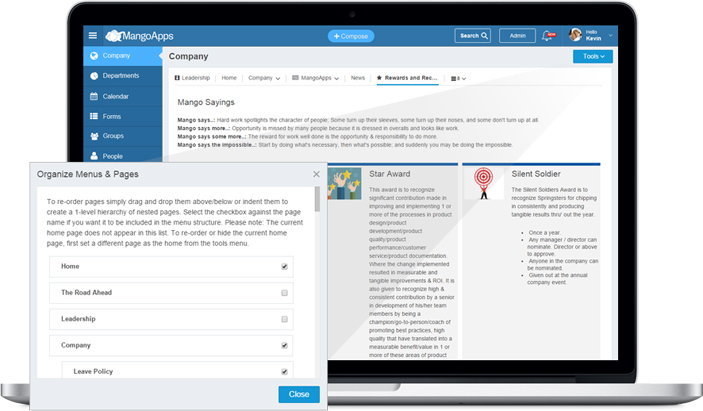 Content hub that works hard to promote content from departments and groups
Automatically shows posts from public departments, groups and employee blog posts. Also selectively mark blog posts in the domain as must read and promote them at the company level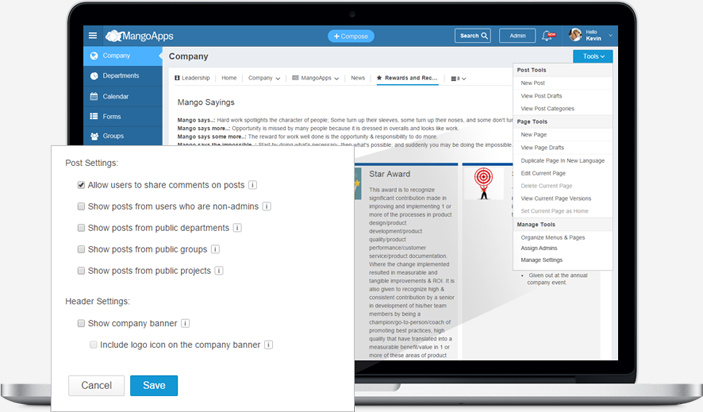 Get notified when things change
Notifications help users keep on top of content. Employees receive updates on changes to company pages via in-browser notifications, mobile push notifications and email.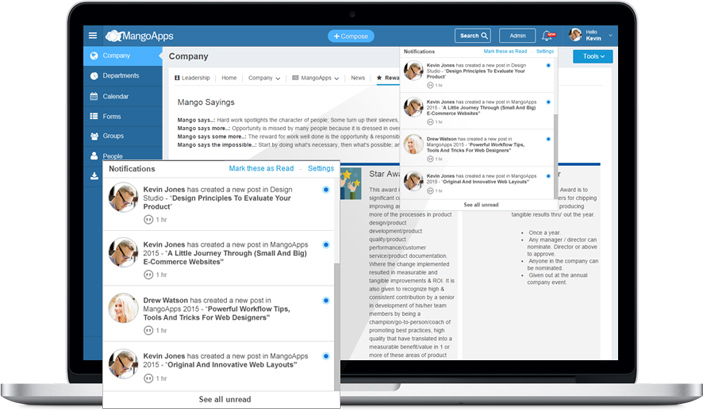 Attach documents with company pages and posts
Uploading files from multiple file repositories to any page or post on your Intranet is effortless. Use various sort options for reordering files and attach as many files to a page or post as you need to.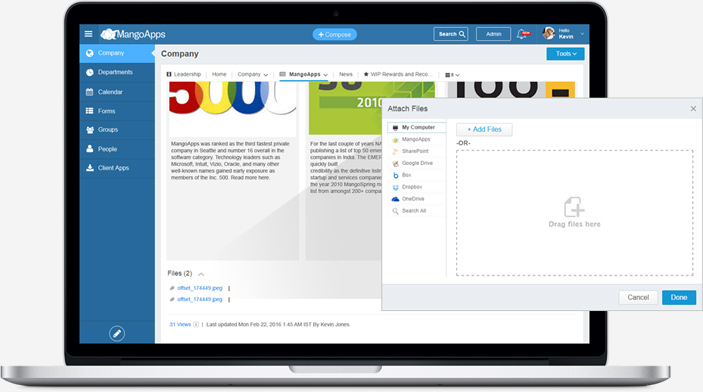 MangoApps mobile Intranet is built for goal-oriented on-the-go employees who access the information quickly from the intranet, read company news, announcements, upload images and comment on time-sensitive discussions.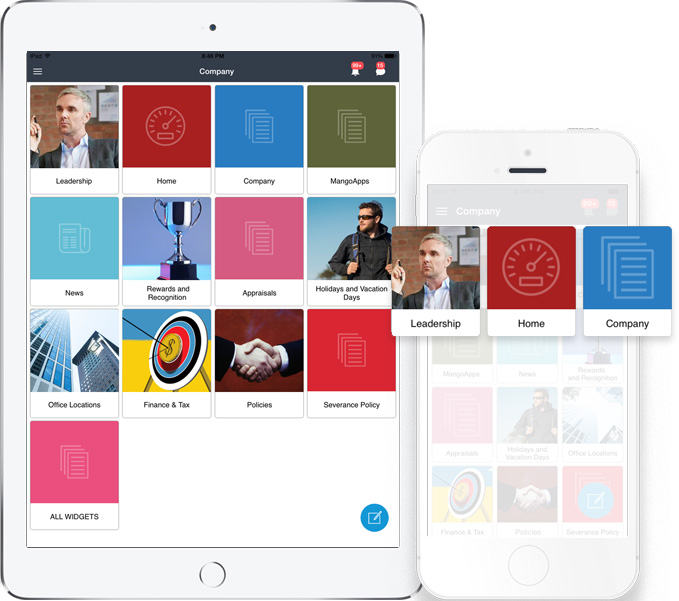 Pages are instantly indexed and searchable
Search full content inside pages, posts and text within attached documents. Indexing happens right away so your search results are always up-to-the-minute. Make information easier to locate by adding tags to any page or post.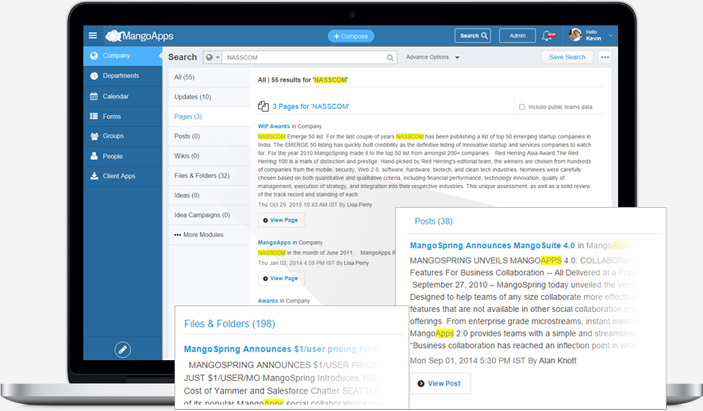 Email digest to catch up on
all company-wide updates
Give employees peace of mind about not missing on anything, with the daily and weekly digest emails.