MangoApps enterprise platform brings together the tasks, the people and the work processes to execute real and meaningful work. It powers a digital workplace where your employees, customers and partners work together in significant better ways. Companies use MangoApps to drive strategic alignment, employee productivity, get competitive advantage and achieve better results.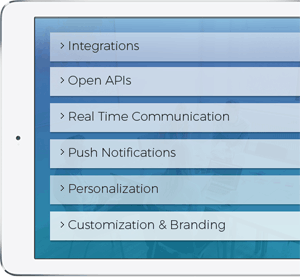 One Platform For Easy Access

MangoApps allows you to integrate business applications via it's integrations and open APIs. Bring people, conversations, and data from your favorite business apps into MangoApps, making information discoverable, meaningful, and actionable

Real Time For Quick Communication

At the heart of great teams is great communication. MangoApps secure collaboration platform connects your teams with the real time communication experience they love - instant messaging, group chat, rich feeds, push notifications and integration with online meeting services.

Customization & Branding

MangoApps platform can be easily customized to reflect your brand. Create a stunning, simple-to-use environment that makes MangoApps an interactive extension of your brand.

Support for all Popular Languages

MangoApps platform provides a crowd sourcing way of translating into any language making your employees, customers and partners feel comfortable in it and being as productive as possible.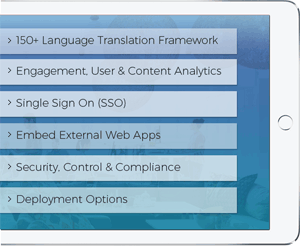 Analytics to Measure ROI

You get ongoing insight with visibility to the return of investment (ROI) each month, list of users who were highly engaged and the content that was read and liked the most - all powered by the MangoApps platform analytics service.

Single Sign On with LDAP, AD & SAML Systems

Get certified single sign on with Active Directory, LDAP and over 10+ SAML 2.0 providers for hassle-free, hands-off user administration

Building Trust with Security, Control & Compliance

MangoApps understands that the confidentiality, integrity and availability of our customer's information are vital to their business operations and our own success. MangoApps platform uses a multi-layered approach to protect that key information, constantly monitoring and improving our application, systems, and processes to meet the growing demands and challenges of security.

Open APIs & Embed External Web Apps

Easily create custom integrations with extensive platform APIs. Use the bookmarks app manager to embed external web apps inside an iFrame in MangoApps and get the convenience of accessing them from a central place.

On Cloud or On-Premise to Suit Your IT Needs

In the cloud or on your services? It's your call. On the cloud, let us do the work for you. We'll host everything securely on AWS cloud. On-premise, self-host and manage your collaboration and social Intranet software your way.