Connecting Experts To Those In Need
Collect and structure answers to questions so employees can quickly find the information they need.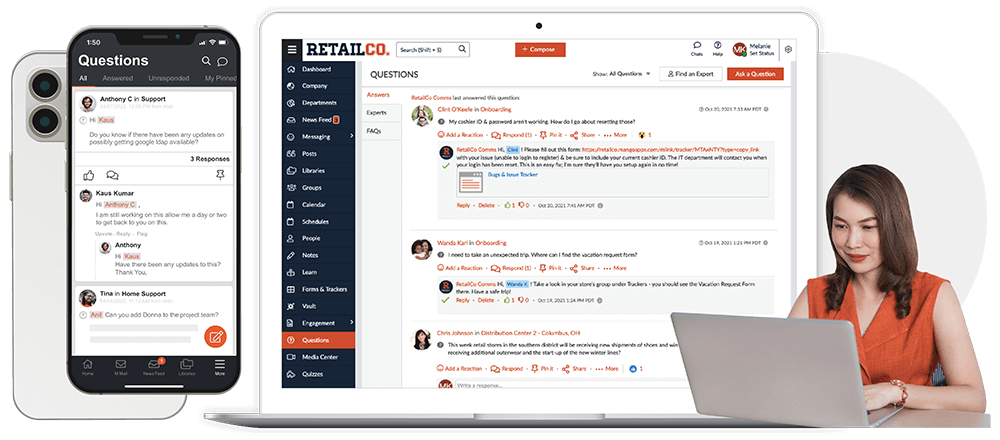 Earn Reputation Points
People who answer questions receive reputation points as their responses are 'upvoted'. Top contributors and influencers get highlighted automatically through the network.
Accepted Answers
The user who asked a question can mark an answer as 'accepted,' indicating that the answer worked or served the person's needs. Accepted answers are automatically visible at the top.
Quickly Identify Experts
Seek out experts in the company based on expertise, specified skills, department, location, or even their rank on the question/answer leaderboard.
Tag Important Questions
Questions can be tagged with their subject areas. Multiple tags can be attached to a question making it easier to find questions in several subjects.
A typical user logs in and they'll either scroll through their newsfeed, or they'll go straight for questions. Usually they'll have questions that need to be answered ASAP. So they'll come in and they'll throw questions out there that they want answers for. Or they'll come in and they'll share something.
- Elizabeth Herrera, Community Manager, YMCA
How Our Customers Use Questions
& Answers
Ask Questions
Creatively ask questions of any audience, including any supplemental files or documents
Filter Results
Narrow down and target experts based on a number of different criteria
Get Quality Responses
Encourage quality responses by driving top contributors and influencers
Connect With An Expert
Connect a network of product experts or others with expertise on any topic, with those in need.