What Are Internal Job Boards?
An internal job board is a place to list openings available within the organization. Job boards keep listings organized and give employees an easy way to learn about new opportunities. Internal job boards are also a great tool to utilized top talent. Quality job boards make both applying for and sharing a position easy, encouraging employees to pursue an opening, or share it with a friend or coworker who might be interested.

Finding Internal Opportunities
Without a centralized area to share information, internal job boards are almost impossible. In an effort to share information, companies can either send out emails they hope cuts through the clutter or post physical flyers in a break room or some other public space. Content shared this way are often outdated, overlooked, difficult to apply to, and eventually forgotten.

Accessing Top Talent
In MangoApps, internal job boards exist in a centralized space, making them a natural and normal part of the work environment. Job boards are accessible and shareable anywhere in the program, making it easy to apply immediately or send a prospective opening to a friend.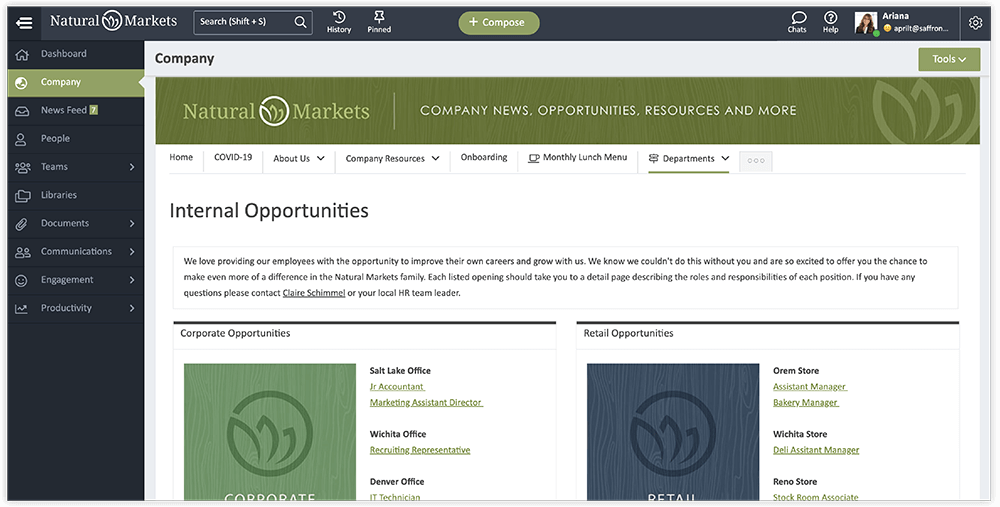 Internal job boards in MangoApps can be quickly updated as well, so employees always have the most relevant and current information. And because MangoApps is entirely digital, job boards are accessible at any time.
How To Make Pages:
1

Company, department, or team pages detail important and engaging information. Pages can only be created by administrators, so be sure you have the proper permissions before you begin.

2

To start, go to the company, department, or team area where you want your page to appear and be sure that pages are enabled.

3

Next, select the 'tools' button and then choose 'new page' from the drop-down menu.

4

Pick your new page layout from several template options, or create a new page entirely from scratch. Adjust the settings for your page and fill it with content.

5

Save and publish your completed page. Published pages can be edited, deleted, duplicated, or rearranged at any time.