What Are Internal Job Boards?
Sometimes the best person for a new or newly open position on your team is someone that already works for the company. They're less of an unknown, they might already have relevant experience or connections within the company, and they will likely have a shorter onboarding time.
The easiest way to create opportunities for internal transfers and promotions is to have an internal job board, so employees know about the opportunities available to them. A quality job board makes it easy to apply or share, and encourages employees to pursue openings they might otherwise have overlooked.
Problem: Finding Internal Opportunities
Without a centralized communication platform, there is no convenient way to have an internal job board that employees actually see and use.
In many organizations, this is handled with email, physical flyers, or some obscure website that no one is really aware of or checking consistently. Content shared in these ways is often easily overlooked and outdated, and it's difficult to actually apply to a position.
The end result is that it's forgotten, meaning you've missed an opportunity to build a better culture, and make use of the talent you already have rather than bringing in someone new and unknown.
Solution: Building A Culture Of Internal Promotion With MangoApps
In a work environment like MangoApps, internal job boards feel like a natural part of the centralized workspace. They are accessible to everyone and shareable, so it's easy for employees to pass a relevant job listing to a friend they think would be a good fit, or apply to it themselves.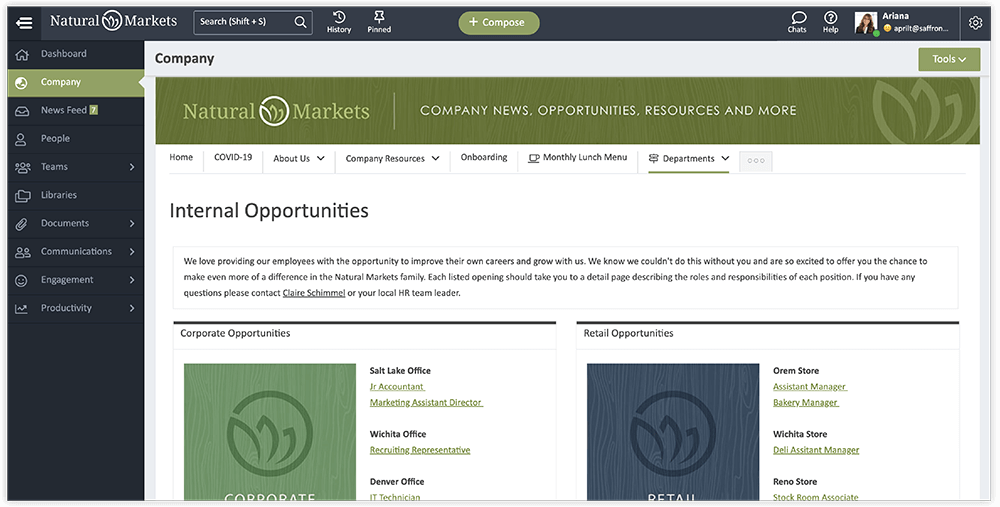 Job boards in MangoApps can also be quickly updated, or simply embedded from an external place where they're already being posted. Our employee directory also makes it easy for recruiters and hiring managers to search for talent from within the company and reach out directly.
How To Make Pages:
1

Company, department, or team pages detail important and engaging information. Pages can only be created by administrators, so be sure you have the proper permissions before you begin.

2

To start, go to the company, department, or team area where you want your page to appear and be sure that pages are enabled.

3

Next, select the 'tools' button and then choose 'new page' from the drop-down menu.

4

Pick your new page layout from several template options, or create a new page entirely from scratch. Adjust the settings for your page and fill it with content.

5

Save and publish your completed page. Published pages can be edited, deleted, duplicated, or rearranged at any time.
Bring your frontline and office teams together on one common platform
It has never been this easy to create the perfect employee experience for your deskless and deskbound workers. Contact us to discuss requirements, pricing, rollout and support. Get your free demo today!