What Are Bugs and Defects?
Bugs and defects are the technical problems inevitable in any product, and it's important to have a plan in place to quickly address unexpected issues that arise, especially when they affect the customer experience.
Problem: Addressing Unexpected Bugs
Most companies expect bugs to occur, but don't have a great way to find out when they happen and then respond quickly. As a result, bugs can persist under the radar, disrupting work and causing frustration for employees and customers alike.

Once problems have been identified, poor communication often exacerbates and prolongs the original issue. A good bug response and communication plan addresses problems quickly, and informs employees and clients about the issue, how it's being addressed, and any upcoming outages or other details they need to be aware of.
When properly handled, bugs aren't a big deal, and can actually reinforce the idea that your company is on top of things and cares about its customers, working proactively to address problems as quickly as possible.
Solution: Better Tracking With MangoApps
MangoApps has a suite of tools designed to address problems of this nature. Tracker and forms make it easy for logging, managing, and addressing bugs or known issues. Users can fill out a handcrafted form to report an issue, and the information is instantly added to a tracker that gets it in front of the right employees, who can work to resolve the issue, update it as they progress, and report back to the user.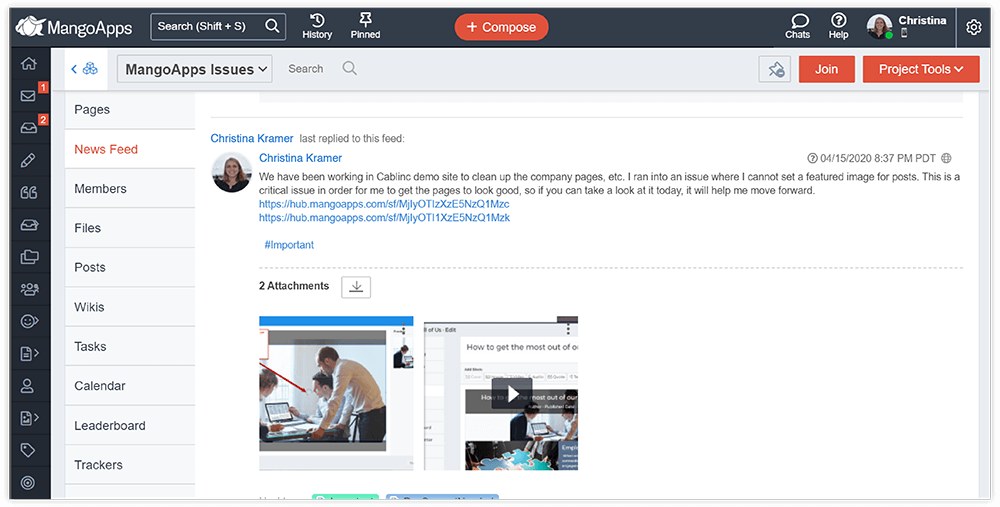 These features can be paired with MangoApps Groups, which ensure that all the right people will see a report and be able to address it quickly. It's easy to create a dedicated support space for customers and employees alike, and integrations with apps like ZenDesk allow customer support tickets to be added, triaged, and responded to all within MangoApps.

All of the above is mobile-friendly, so IT staff can instantly address issues and keep ahead of possible problems from wherever they are.
MangoApps makes working out bugs and defects super simple. Whenever we run into a challenge we haven't encountered before, we can send out a message to the team and get a response right away.
How To Create Groups:
1

Groups give employees across the company a specific space to meet together, collaboration effectively, and create a successful mentor experience. To create a new group, make sure the groups module is enabled in your domain, then go to the groups area and select the 'Create A Group' button.

2

Give your group a name and establish some of its basic details. Provide a description, establish permissions, enable or disable features, and more.

3

You're now ready to add users and get to work. Select the group tools button and then 'Invite Network Users' to start adding group members.

4

Once a member has been added to a group, he or she can immediately begin posting, sharing, asking questions, submitting documents, and participating in everything groups have to offer.
How to Create Trackers and Forms:
1

Trackers and forms save time, simplify data management, and improve overall organization by collecting, storing, and analyzing information. To create a new tracker, first visit the department, group or team area where you want your tracker to be.

2

Be sure that forms and trackers are enabled in the area and then select the trackers option from the left-hand navigation bar.

3

Next, select 'New' to start a new tracker and choose from either a wide variety of available templates or start from scratch with a blank tracker.

4

Add and remove content however you need until you're ready to publish.

5

Once a tracker is published, users can easily input or view data at any time, and submissions are collected and organized all in one place.

6

To create a new form for your tracker, select the associated tracker and then choose the 'Tracker Tools' button.

7

Choose the 'Create New Form' button from the drop down menu. From here you can name your associated form, change details, work from detailed templates, or create something completely new.

8

Whenever your form is filled out and submitted,the results will automatically be sent directly to the associated tracker.