What Are Bugs and Defects?
Bugs and defects are technical problems that occasionally occur due to unexpected issues, new products, or temporary glitches. Bugs and defects can happen internally with employees or externally with customers or clients within the products and services that you offer. Bugs will always be a part of successful innovation and development, but whenever they do happen, it's important to have a plan in place to help fix any issues.

Overcome Occasional Bugs
Companies know bugs are to some degree inevitable, but they also struggle to know how and when they happen, making it hard to address issues and resolve problems quickly. As a result, bugs persist and problems perpetuate, disrupting work, and increasing frustration for everyone. Poor communication around problems also makes it difficult to get the word out, helping employees or clients know about existing issues, prepare for upcoming outages, and stay assured that their problems are being addressed as quickly and efficiently as possible.
MangoApps makes working out bugs and defects super simple. Whenever we run into a challenge we haven't encountered before, we can send out a message to the team and get a response right away.
How MangoApps Improves The Issue
MangoApps Groups connect people together across the company, making it simple to reach out to whoever you need. With a designated area for IT teams to learn about issues and share important updates, it's easy to create a dedicated support space for both customers and employees. Mobile-friendly capabilities also let anyone see posts and report problems both from a desktop and on the go, helping IT staff instantly address issues and keep ahead of possible problems. With dedicated bug communication, everyone stays supported and on the same page.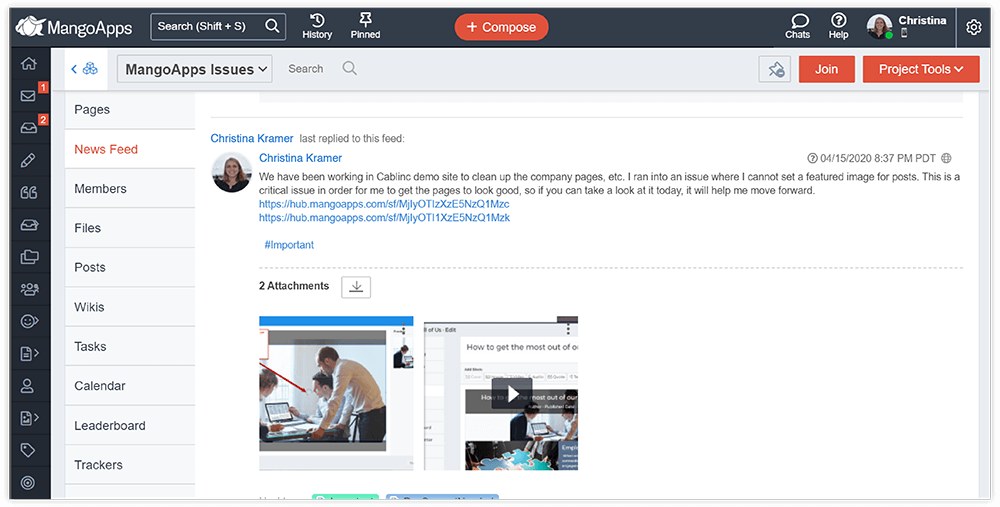 Tracker and Forms in MangoApps are another fantastic tool for logging, managing, and reporting any kind of bugs or issues. Trackers are detailed and searchable tabled areas where users can report existing problems and update their progress along the way through hand crafted forms hand crafted to collect just the right information. Trackers and forms make reporting bugs and organizing information easy, helping everyone not only keep track of issues but also monitor each stage in the repair process.

How To Create Groups:
1

Groups give employees across the company a specific space to meet together, collaboration effectively, and create a successful mentor experience. To create a new group, make sure the groups module is enabled in your domain, then go to the groups area and select the 'create a group' button.

2

Give your group a name and establish some of its basic details. Provide a description, establish permissions, enable or disable features, and more.

3

You're now ready to add users and get to work. Select the group tools button and then 'invite network users' to start adding group members.

4

Once a member has been added to a group, he or she can immediately begin posting, sharing, asking questions, submitting documents, and participate in everything groups have to offer.
How to Create Trackers and Forms:
1

Trackers and forms save time, simplify data management, and improve overall organization by collecting, storing, and analyzing information. To create a new tracker, first visit the department, group or team area where you want your tracker to be.

2

Be sure that forms and trackers are enabled in the area and then select the trackers option from the left-hand navigation bar.

3

Next, select 'new' to start a new tracker and choose from either a wide variety of available templates or start from scratch with a blank tracker.

4

Add and remove content however you need until you're ready to publish.

5

Once a tracker is published, users can easily input or view data at any time, and submissions are collected and organized all in one place.

6

To create a new form for your tracker, select the associated tracker and then chose the 'tracker tools' button.

7

Choose the 'create new form' button from the drop down menu. From here you can name your associated form, change details, work from detailed templates, or create something completely new.

8

Whenever your form is filled out and submitted,the results will automatically be sent directly to the associated tracker.