What Are Employee Outings?
Lunch or after work employee outings are any kind of social event, get together, or activity employees have during lunch or after work hours. Outings can be as informal as weekly team drinks, as spontaneous as catching the latest movie, as formal as an office-wide retirement party, or as organized as a monthly book club meeting. It just depends on how employees decided to have fun and spend time together. While employee outings aren't technically work-related, they're a great way for coworkers to have fun, build friendships, feel engaged, and enjoy the overall company culture.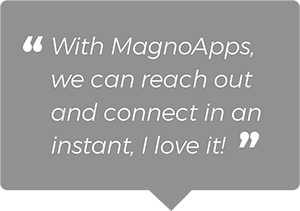 Creating Inclusive Communication
Coworkers want to plan events and have a good time together, but communicating with everyone can be a big hassle. Last-minute plans are often limited to whoever happens to be in earshot, making events feel accidentally exclusive and creating coordination confusion. Pre-planned activities and regularly scheduled events can be tricky to manage as well. Without an effective way to share important changes or create event awareness, employees are stuck sending out emails and depending on verbal communication.

Perfect Planning With MangoApps
MangoApps is designed for coordinating and sharing specific information, making everything from planning detailed events to last-minute get together simple and straightforward. MangoApps groups are organized by geographical location or employee interest, making them the perfect place to invite everyone out for the evening, schedule a last-minute get together, or make changes to preexisting plans. With a simple news feed post, everyone in your group is instantly up-to-date and can collaborate and communicate in the comments section to organize rides, set times, and arrange any other details.

For more established events like birthday celebrations or retirement parties, employees can create a group calendar event. Calendar events let you establish specific details like event times and locations and provide detailed information like photos and maps, as well as a comments and questions area. Calendar events also have an RSVP option, and can remind workers about the event a few hours or even a few days in advance.
How To Make Location-Based Groups:
1

Location-based groups can connect together and make event and party planning easy. To create location-based groups, first, ensure the module is enabled in your platform.

2

Once location-based groups have been enabled, just add the different areas you'd like groups created for.

3

Once you've saved your existing locations, employees will automatically be filtered into the appropriate group based on the location listed on the employee profile.

4

Your location groups are now ready to go. You and other employees can begin posting content, uploading files, creating wikis, and enjoying everything else groups have to offer.
How To Create Calendar Events:
1

Company calendars give you a master list to keep everything organized and centralized, from company events to personal reminders. To create a company calendar, first, ensure that the calendar feature is enabled on your domain.

2

Next, select the calendar icon from the navigation menu on the left.

3

You can also create an event by using the compose button at the top of your screen and then selecting the calendar icon from the drop-down menu.

4

Events can also be created from within a specific department or team area by going into the area and selecting the calendar option from the options menu.

5

To start adding calendar events, select the 'calendar tools' button and then 'create an event' from the drop-down menu.

6

Choose what kind of event you want to create (company, team, personal, etc.) and then start adding in the details.

7

Once your finished, select 'create event' to publish it on all of the applicable calendars. Employees can now view your event, RSVP, comment, and more. And if you ever need to update your even or alter details, editing is as simple as selecting the 'edit' button within your event.