What Is Joint Document Authoring?
Joint document authoring is when multiple people are able to edit and contribute to a digital document that is stored in one place and tracks everyone's edits in real time. This technology is used for everything from formal papers to scratch notes from meetings and employee resource repositories. Regardless of the document, joint authorship allows multiple people to contribute their expertise without making it difficult to keep track of the various versions that are floating around.
Problem: Working With Multiple Authors
When multiple people try to contribute to a single file and don't have access to a tool like MangoApps, it becomes a huge hassle. Only one person can work at a time, and every time the file goes back and forth, it has to be updated, named, and manually tracked. It is very easy to get confused or for multiple competing versions to mess up a project's cohesion.

Relying on email, hard copies, or USB drives to send files back and forth is not only a hassle, but can create security risks when sensitive information is being exchanged. There is no tangible way to know who has sent or received a document this way, and it's possible for information to be leaked, whether by accident or on purpose.
Let's say I've got a strategy idea, and I'm not sure if it's the right way to go. I'll start a document, invite people to collaborate on it, we'll share ideas, we'll see the edits and revisions, and then at the end we'll have a fantastic document because it's not just me doing it, it's a whole team with their expertise.
-Phil Ward, Market Manager for Data Centers, HUBER+SUHNER
Solution: Writing Made Easy With MangoApps
MangoApps is designed to connect contributors and eliminate difficult file-sharing strategies. Employees can create a document directly in the platform, removing the need for third-party programs and making it easy to share with coworkers. Authors can work simultaneously and see changes in real-time, significantly improving the work process.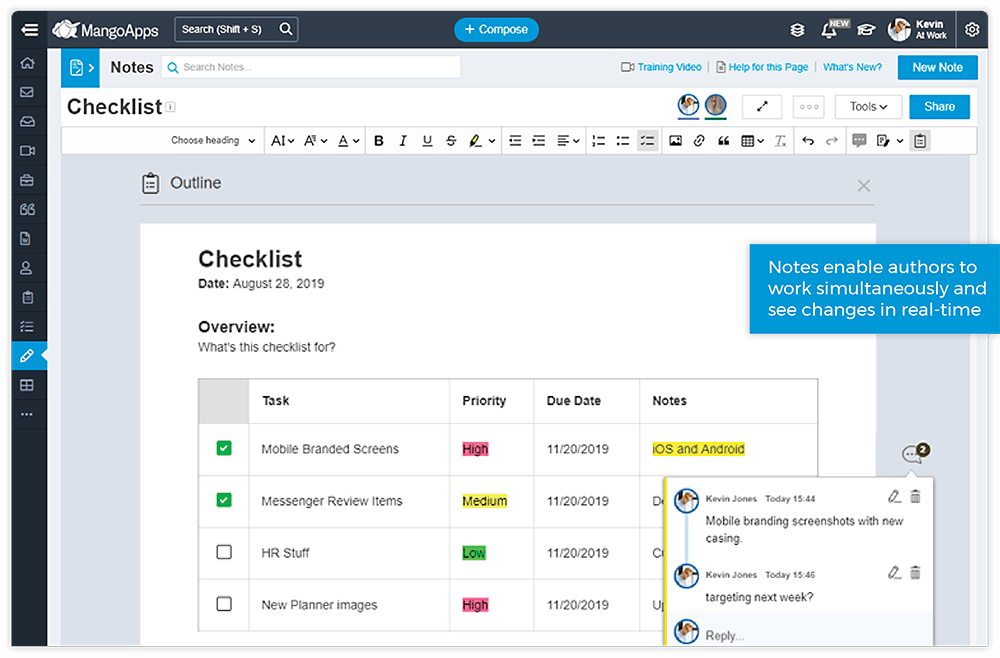 Our powerful search function makes it easy to find documents that already exist, avoiding duplication of efforts, and whether you're sharing a draft with another author or distributing it to a department or the company at large, it's easy to manage permissions and pass information along.

Perhaps most importantly, MangoApps keeps work documents safe and secure. Because documents never leave the platform, your work is never at risk of leaking. Document authors can control who has permission to see, edit, or download a document, keeping sensitive information completely confidential.
How To Create A File:
1

Creating files in MangoApps gives users complete freedom over their work. From joint document authoring to easy accessibility, MangoApps files and documents make almost anything possible.

2

To create a new file in MangoApps, first ensure the files feature is enabled in your unique platform.

3

You can then access the files area using the 'Files' link on the left hand side.

4

To create a new file, select the 'New' drop down on the upper right side of the files area.

5

From here you can choose to create all kinds of new files directly within MangoApps or even upload new files or organize the existing entries.
Bring your frontline and office teams together on one common platform
It has never been this easy to create the perfect employee experience for your deskless and deskbound workers. Contact us to discuss requirements, pricing, rollout and support. Get your free demo today!