What Is Joint Document Authoring?
Joint document authoring is the process of creating a single document with multiple authors contributing to its contents. Joint documents can be formal papers like research reports and presentations or informal documents like employee resource repositories. Whether formal or informal, joint authoring allows a document to benefit from the knowledge, writing style, and experience of multiple authors.
Being able to add details and edit an article at the same time as your teammates has been a serious time saver.
Working With Multiple Authors
Joint document authoring offers a lot of advantages, but it can also be a huge hassle. Different authors inherently means juggling multiple versions of the same document and keeping everything straight isn't always easy. Without the most recent document, authors are working with inaccurate information and sometimes end up missing or duplicating work.
Authors typically rely on email, hard copies, document sharing programs, or USB drives to send documents. But these practices increase a company's overall security risk and create a confusing chain of information. They also mean that only one author is able to work at a time, forcing all other contributors to wait to add content.

Writing Made Easy With MangoApps
MangoApps is designed to connect contributors and eliminate difficult file-sharing strategies. With MangoApps, employees can create a document directly in the platform, completely removing the need for a third-party program. Documents built into MangoApps also enable authors to work simultaneously and see changes in real-time, significantly improving the work process.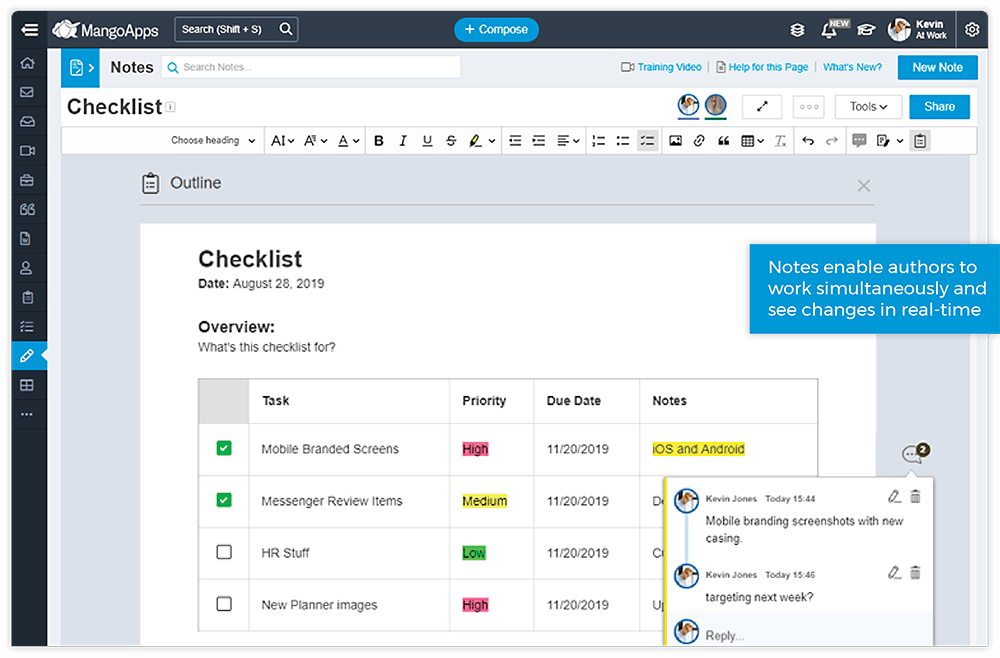 Searching for and sharing documents in MangoApps is easy as well, whether you're sharing an unfinished draft with another author or distributing a completed paper to an individual, group, project or the entire organization.

Perhaps most importantly, MangoApps keeps work documents safe and secure. Because documents never leave the platform, your work is never at risk of leaks, breaches, or similar security threats. And managing documents is easy within MangoApps as well. Document authors can control who has permission to see, edit, or download a document, keeping sensitive information completely confidential.
How To Create A File:
1

Creating files in MangoApps gives users complete freedom over their work.  From joint document authoring to easy accessibility, MangoApps files and documents makes almost anything possible.

2

To create a new file in MangoApps, first ensure the files feature is enabled in your unique platform.

3

You can then access the files area using the 'Files' link on the left hand side.

4

To create a new file, select the 'new' drop down on the upper right side of the files area.

5

From here you can chose to create all kinds of new files directly within MangoApps or even upload new files or organize the existing entries.