What Makes An Effective FAQ?
Frequently Asked Questions or FAQ areas, offer helpful, beneficial, and detailed answers to commonly asked questions. Both customers and employees depend on FAQ's to offer straightforward information, provide support, and save time. In order to be as helpful as possible, FAQ's should be specifically tailored to the kind of user interacting with them and should include links, documents, and forms where applicable.
FAQ pages give us the freedom to inform employees. Now we can provide quick answers and resources for them to make work easier, better, safer, and more effective.
Frequent FAQ Flaws

FAQ's are only helpful if they accurately and easily provide answers to commonly asked questions. That means not only do they need to address important issues, but answers also need to be easy to navigate and find. FAQ pages also need to be updated often and give accurate information; otherwise, they just end up confusing, misleading, or frustrating users even more.
Actually Finding Answers
MangoApps makes utilizing FAQ's super simple by keeping content searchable and up to date. With MangoApps, leaders can create and edit as many FAQs as they need, addressing the unique questions and concerns of everyone in the organization. Users can quickly find FAQ's in company, department, or team pages, or even on their dashboard.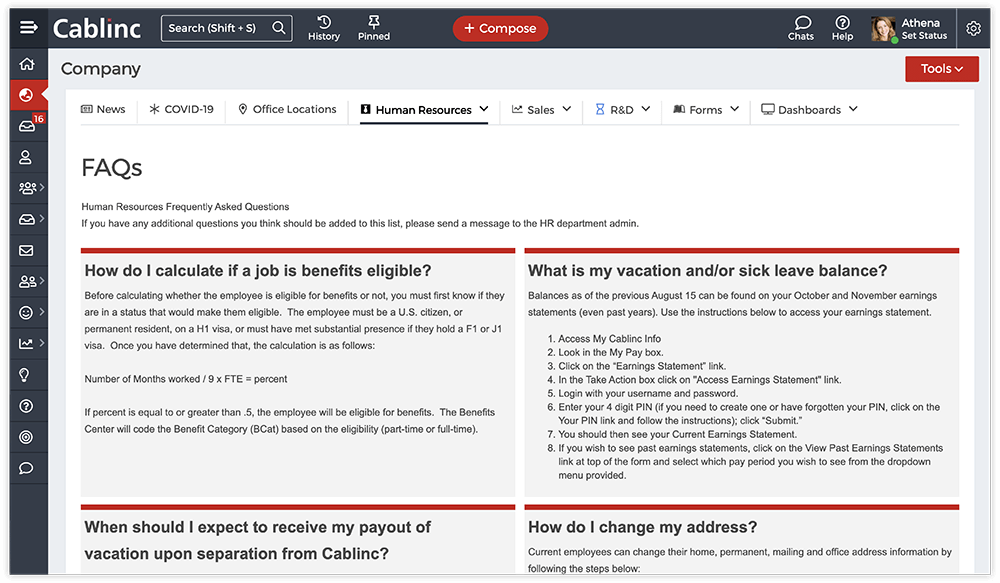 Because of MangoApps' in entirely centralized, FAQ's can also redirect you to whatever page, form, document, or other kinds of information you need all without leaving your central work station. And updating information in MangoApps is only a click away, ensuring FAQ's are always accurate and consistent.
How To Make Pages:
1

Company, department, or team pages detail important and engaging information. Pages can only be created by administrators, so be sure you have the proper permissions before you begin.

2

To start, go to the company, department, or team area where you want your page to appear and be sure that pages are enabled.

3

Next, select the 'tools' button and then choose 'new page' from the drop-down menu.

4

Pick your new page layout from several template options, or create a new page entirely from scratch. Adjust the settings for your page and fill it with content.

5

Save and publish your completed page. Published pages can be edited, deleted, duplicated, or rearranged at any time.