What Makes An Effective FAQ?
FAQ (Frequently Asked Questions) pages offer an index of common questions and their answers. If done right, this page can save support staff countless hours of addressing simple, repeated questions by putting the answers somewhere they can be found before the questions are even asked.
The best FAQ pages are specifically tailored to the kind of user interacting with them, and should include links, documents, and forms where applicable.
Problem: Unhelpful Or Misplaced FAQs
An FAQ page is only helpful if it's easier to find than the person you would be asking a particular question, and answers the exact question needed.

If the page is out of date, hard to find, or mistargeted, it will waste time instead of saving it, as the question will likely still need to be asked. An out-of-date or inaccurate FAQ page is more frustrating than no FAQ page at all.
FAQ pages give us the freedom to inform employees. Now we can provide quick answers and resources for them to make work easier, better, safer, and more effective.
Solution: Actually Finding Answers
MangoApps makes utilizing FAQ pages simple by keeping content searchable and up to date. Users can quickly find FAQ's in company, department, or team pages, or even on their dashboard, and can be confident that they are looking at the most recent version.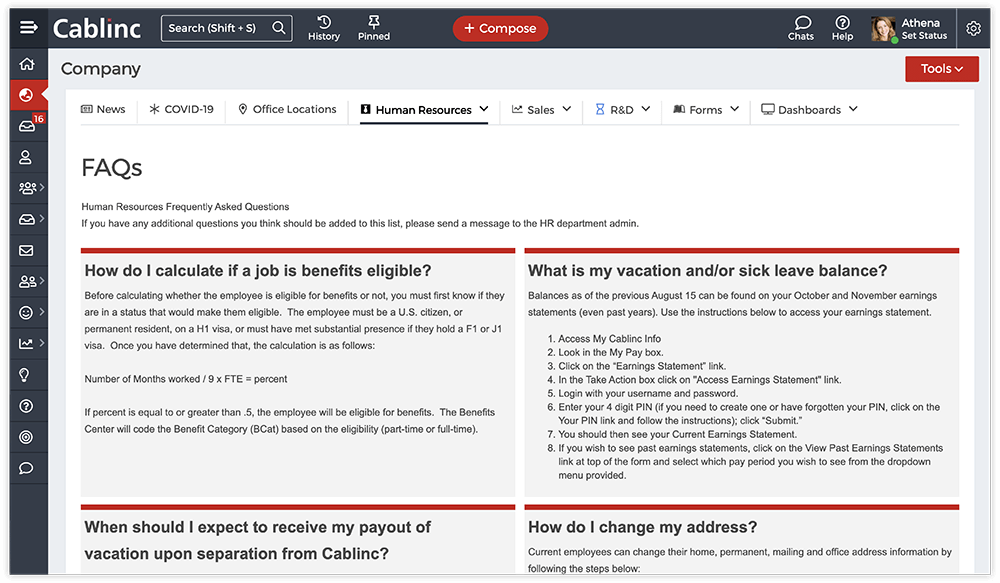 Because MangoApps is entirely centralized, FAQ pages can also redirect you to whatever page, form, or document you need all without leaving your central digital workspace. For the people making the FAQ pages, updating information in MangoApps is only a click away, ensuring FAQ's are always accurate and consistent.
How To Make Pages:
1

Company, department, or team pages detail important and engaging information, and are the best place for FAQs. Pages can only be created by administrators, so be sure you have the proper permissions before you begin.

2

To start, go to the company, department, or team area where you want your page to appear and be sure that pages are enabled.

3

Next, select the 'Tools' button and then choose 'New Page' from the drop-down menu.

4

Pick your new page layout from several template options, or create a new page entirely from scratch. Adjust the settings for your page and fill it with content.

5

Save and publish your completed page. Published pages can be edited, deleted, duplicated, or rearranged at any time.
Bring your frontline and office teams together on one common platform
It has never been this easy to create the perfect employee experience for your deskless and deskbound workers. Contact us to discuss requirements, pricing, rollout and support. Get your free demo today!