How Company Calendars Help
Company calendars provide a centralized area for people to post meetings, dates, and other important events. Because company calendars are universal, they keep employees informed, accountable, and organized, and instantly update everyone if details change. Workers can even use company calendars to add their own personal reminders and meetings, so whether it's a one- time event, regular meeting, or occasional activity, your schedule is always easy to find and up to date.

I can't imagine what it would be like without an organized calendar area. It just makes everything so much easier and simplified. It puts everything we need in one spot.
Scheduling Setbacks 
While company calendars are an awesome tool for keeping everything organized, they only work in a centralized and digital area. Without a synched space, employees have to keep their own individual calendars and try to personally keep track of all of the events going on. With so many separate calendar spaces, information inevitably gets overlooked, as employees struggle to share information via email, posted messages, or word of mouth.
Creating A Master Calendar
At MangoApps, our primary goal is to help companies communicate, collaborate, and work together successfully. And we know that keeping everyone on the same page is one of the best ways to make that happen. With MangoApps' universal company calendar, events are automatically synced and shared with all applicable employees, so new events or changes to existing plans automatically appear on your calendar.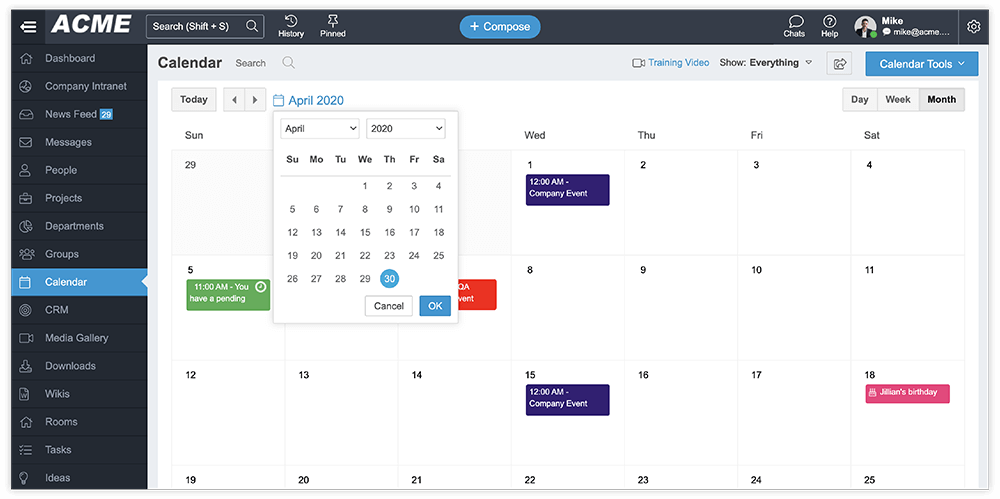 Calendar events can include much more than just dates and times as well. Every created event can go into additional detail and provide information like addresses, phone numbers, and specific instructions. Employees can even RSVP, post comments, or ask questions, helping everyone prepare and coordinate in advance. And because calendars are entirely digital, you can access them at any time.

Company calendars also allow employees to include their own personalized events, making it a true master calendar for team, department, company, and individual needs. MangoApps calendars even sync well with commonly used third-party calendars, so incorporating external events and sharing schedules is never an issue.
How To Make Company Calendars:
1

Company calendars give you a master list to keep everything organized and centralized, from company events to personal reminders. To create a company calendar, first ensure that the calendar feature is enabled on your domain.

2

Next, select the calendar icon from the navigation menu on the left.

3

You can also create an event by selecting the compose button at the top of your screen and then selecting the calendar icon from the drop-down menu.

4

Events can also be created from within a specific department or team area by going into the area and selecting the calendar option from the options menu.

5

To start adding calendar events, select the 'calendar tools' button and then 'create an event' from the drop-down menu.

6

Choose what kind of event you want to create (company, team, personal, etc.) and then start adding in the details.

7

Once your finished, select 'create event' to publish it on all of the applicable calendars. Employees can now view your event, RSVP, comment, and more. And if you ever need to update your even or alter details, editing is as simple as selecting the 'edit' button within your event.