Why Are Work Events Important?
Employee hangouts and events are casual opportunities for coworkers to get together and have a good time. These activities might be regularly occurring, like a monthly lunch outing or holiday potluck, or more spontaneous, like drinks after work. Either way, work events break up the work week and build engagement, as employees have something fun to look forward to during the day and a chance to get to know each other better.
Problem: Trying To Stay Spontaneous
Much like other kinds of parties, nothing kills an employee event like too much structure. By their nature, after work hangouts and casual workplace gatherings are loosely planned and often spontaneous. Employees planning such activities may only want to invite a handful of people, and it can be hard to find a way to do so without making others feel excluded.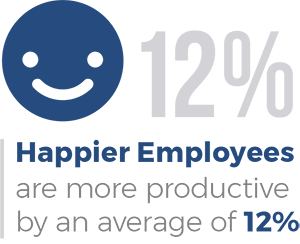 For larger, more inclusive gatherings, it's important to have a way to distribute information, including last-minute changes, to everyone, without it becoming overbearing instead of fun, defeating the whole purpose.
We've got such a large workforce in a number of different locations, and Mango's just brought everybody together. One of the biggest comments I've heard is. 'I feel like the business got smaller because I can contact more people, and I've got friends that I didn't even know existed before.' It has been absolutely transformational for us.
-Jo Mackie, Customer & People Director, Superdrug
Solution: Easy, Casual Communication
MangoApps has a host of useful communication tools for these situations. For regular events, employees can create recurring events on a master office calendar, helping everyone invited stay aware and receive a reminder about the event.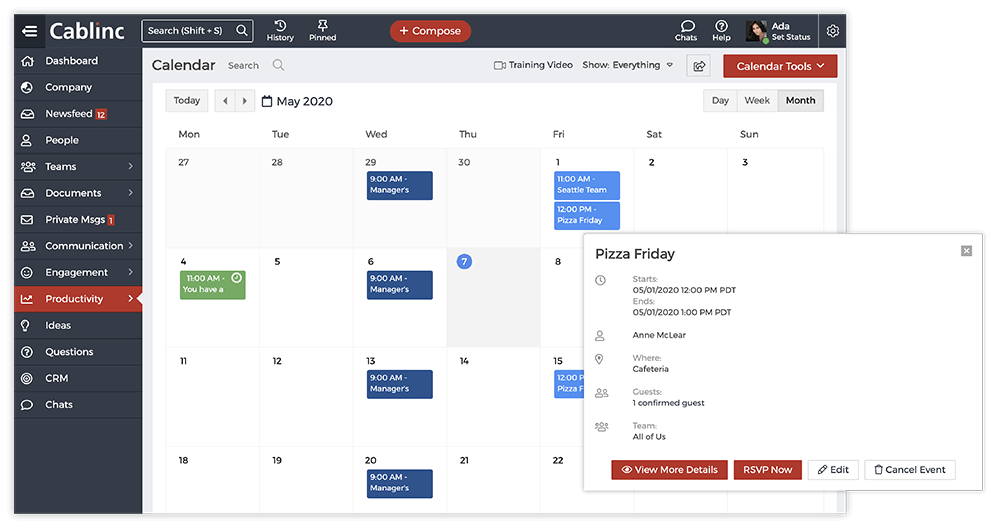 Last-minute hangouts are easy to orchestrate as well. For general office activities, users can post announcements and updates in the group news feed, instantly updating everyone in the group and giving coworkers a place for comments and discussion. For smaller interactions, friends can discreetly communicate in private through group instant or direct messages.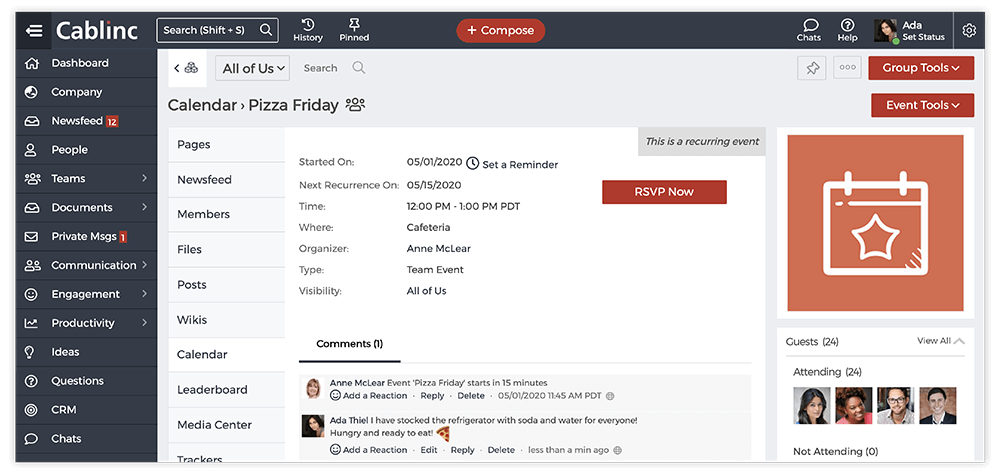 How To Create Calendar Events:
1

Company calendars give you a master list to keep everything organized and centralized, from company events to personal reminders. To create a company calendar, first, ensure that the calendar feature is enabled on your domain.

2

Next, select the Calendar icon from the navigation menu on the left.

3

You can also create an event by using the Compose button at the top of your screen and then selecting 'Event' from under 'Work.'

4

Events can also be created from within a specific department or team area by going into the area and selecting the Calendar option from the Options menu.

5

To start adding calendar events, select the 'Calendar Tools' button and then 'Create An Event' from the drop-down menu.

6

Choose what kind of event you want to create (company, team, personal, etc.) and then start adding in the details.

7

Once you're finished, select 'Create Event' to publish it on all of the applicable calendars. Employees can now view your event, RSVP, comment, and more. And if you ever need to update your event or alter details, editing is as simple as selecting the 'Edit' button within your event.
How To Make Location-Based Groups:
1

Location-based groups make event and party planning easy. To create location-based groups, first, ensure the module is enabled in your platform.

2

Once location-based groups have been enabled, just add the different areas you'd like groups created for.

3

Once you've saved your existing locations, employees will automatically be filtered into the appropriate group based on the location listed on the employee profile.

4

Your location groups are now ready to go. You and other employees can begin posting content, uploading files, creating wikis, and enjoying everything else groups have to offer.
Bring your frontline and office teams together on one common platform
It has never been this easy to create the perfect employee experience for your deskless and deskbound workers. Contact us to discuss requirements, pricing, rollout and support. Get your free demo today!