What Are Office Parties?
Office parties and events are any kind of celebration or get together among employees. These events can highlight either a company celebration, like a holiday party, a team success, like accomplishing a specific goal, or an individual celebration, like a retirement party. Regardless of why office parties occur, celebrations create a fun and inviting environment where employees can increase engagement, happiness, and company culture.

Party Planning Problems
For most companies, planning parties and office events comes in addition to existing projects and responsibilities, so finding time to plan effectively is often a challenge. Party planning committees either have to fit other meetings around existing schedules or rely on messy and hard to follow mass emails. And even when activities are orchestrated, it can be hard to inform everyone about the event or keep employees informed about last-minute changes.
Planning events in MangoApps is really intuitive, and it's easy to get used to, even if you've never used a platform like it before. Our old intranet wasn't very user-friendly, so this has been a real upgrade for us.
Enjoying Your Environment
With regional employees connected together in MangoApps location groups, office party planners can easily collaborate and coordinate together in a digital environment designed around everyone's unique needs. Location groups provide employees with a universal calendar for scheduling events and activities, giving everyone a centralized space to see upcoming activities and additional details, like maps and addresses, extra instructions, or the opportunity to RSVP, helping planners establish a good headcount in advance. Once an event is planned, notifications immediately alert coworkers, giving them plenty of time to prepare.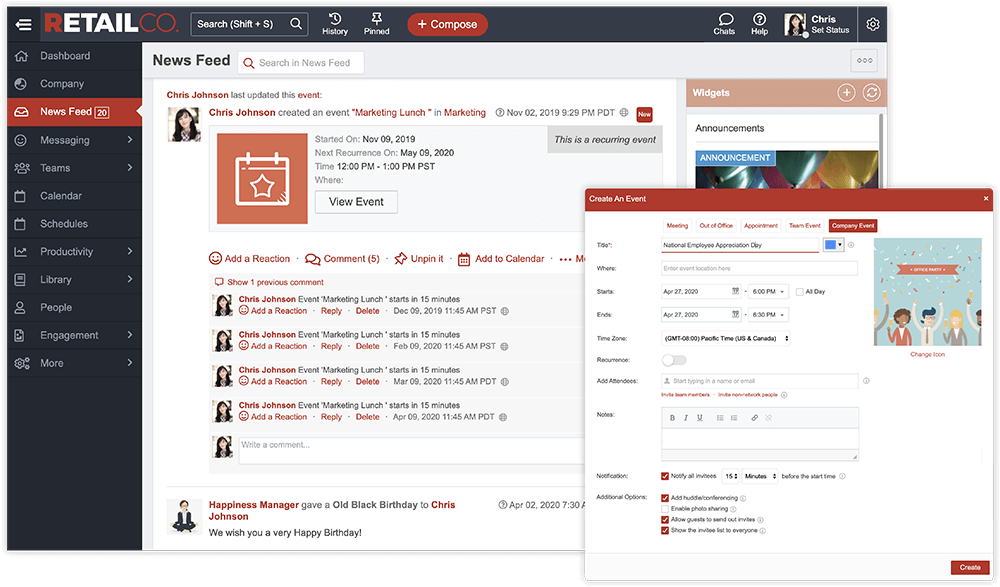 How To Make Location-Based Groups:
1

Location-based groups can connect together and make event and party planning easy. To create location-based groups, first, ensure the module is enabled in your platform.

2

Once location-based groups have been enabled, just add the different areas you'd like groups created for.

3

Once you've saved your existing locations, employees will automatically be filtered into the appropriate group based on the location listed on the employee profile.

4

Your location groups are now ready to go. You and other employees can begin posting content, uploading files, creating wikis, and enjoying everything else groups have to offer.
How To Create Calendar Events:
1

Company calendars give you a master list to keep everything organized and centralized, from company events to personal reminders. To create a company calendar, first ensure that the calendar feature is enabled on your domain.

2

Next, select the calendar icon from the navigation menu on the left.

3

You can also create an event by selecting the compose button at the top of your screen and then selecting the calendar icon from the drop down menu.

4

Events can also be created from within a specific department or team area by going into the area and selecting the calendar option from the options menu.

5

To start adding calendar events, select the 'calendar tools' button and then 'create an event' from the drop down menu.

6

Choose what kind of event you want to create (company, team, personal, etc.) and then start adding in the details.

7

Once your finished, select 'create event' to publish it on all of the applicable calendars. Employees can now view your event, RSVP, comment, and more. And if you ever need to update your even or alter details, editing is as simple as selecting the 'edit' button within your event.