What Are Office Parties?
Office parties can be anything from an office-wide holiday gathering to a celebration of a team success, or even an individual birthday or retirement. Regardless of the occasion, office parties contribute to creating an inviting company culture where employees are engaged and happy.
Problem: Party Planning Issues
At most companies, party planning is delegated to a person or group of people with other responsibilities that are more important to the direct needs of the business. Planning things out can require scheduling meetings around conflicting schedules, or be relegated to a messy, ineffective email chain. Then, once an event is planned, the bigger challenges are ensuring that everyone is informed, figuring who will and won't attend, and keeping everyone informed about any updates or changes.
Planning events in MangoApps is really intuitive, and it's easy to get used to, even if you've never used a platform like it before. Our old intranet wasn't very user-friendly, so this has been a real upgrade for us.
Solution: Tools For Planning & Informing
MangoApps groups make it easy for party planners to collaborate in a digital space that keeps everyone on the same page. Furthermore, once an event needs to be communicated out to everyone, location-based groups have a universal calendar, and will push out updates and key information to every relevant employee's news feed. RSVP can also be implemented, giving the planners a headcount in advance.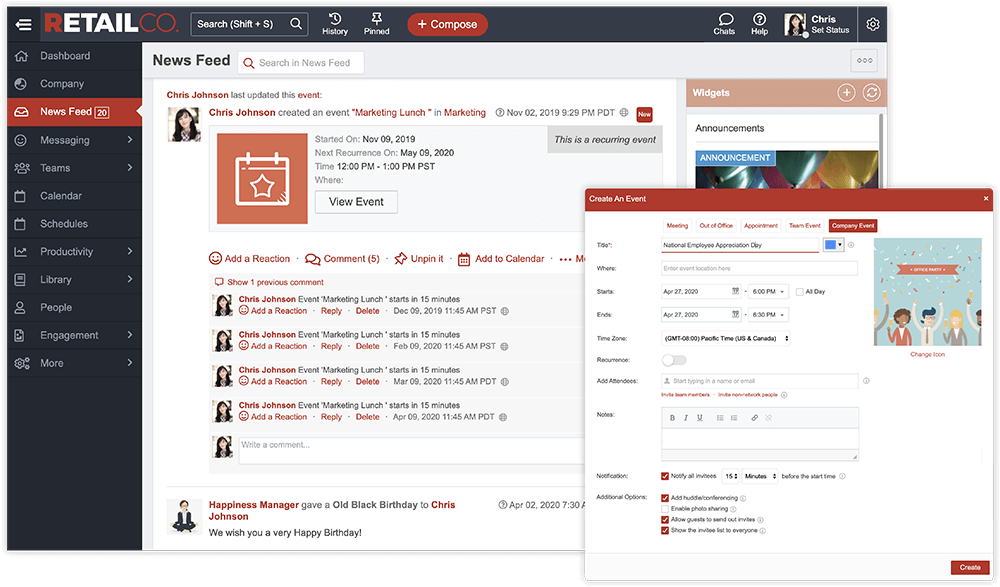 How To Make Location-Based Groups:
1

Location-based groups can make event and party planning easy. To create location-based groups, first, ensure the module is enabled in your platform.

2

Once location-based groups have been enabled, just add the different areas you'd like groups created for.

3

Once you've saved your existing locations, each employee will automatically be filtered into the appropriate group based on the location listed on their employee profile.

4

Your location groups are now ready to go. You and other employees can begin posting content, uploading files, creating wikis, and enjoying everything else groups have to offer.
How To Create Calendar Events:
1

Company calendars give you a master list to keep everything organized and centralized, from company events to personal reminders. To create a company calendar, first ensure that the calendar feature is enabled on your domain.

2

Next, select the calendar icon from the navigation menu on the left.

3

You can also create an event by selecting the Compose button at the top of your screen and then choose 'Work' and then 'Event.'

4

Events can also be created from within a specific department or team area by going into the area and selecting the calendar option from the options menu.

5

To start adding calendar events, select the 'Calendar Tools' button and then 'Create An Event' from the drop down menu.

6

Choose what kind of event you want to create (company, team, personal, etc.) and then start adding in the details.

7

Under the Add Attendees field, the 'Invite Team Members' button allows you to add people to the event by project, group, or department, which makes it easy to target the right audience for the event.

8

Once you're finished, select 'Create Event' to publish it on all of the applicable calendars. Employees can now view your event, RSVP, comment, and more. If you ever need to update your event or alter details, editing is as simple as selecting the 'Edit' button within your event, and if needed, you can send a new notification to update everyone with any changes.
Bring your frontline and office teams together on one common platform
It has never been this easy to create the perfect employee experience for your deskless and deskbound workers. Contact us to discuss requirements, pricing, rollout and support. Get your free demo today!