What Is An Employee Marketplace?
An employee marketplace is a local online e-commerce marketplace made up of company employees. Think of it like Facebook Marketplace or Craigslist, but within the office and exclusively for coworkers to buy, sell, trade, and barter. This is a great way for workers to find deals, share interests, and get to know each other in a fun and informal environment.
Problem: Reaching Out To Everyone
Without a centralized space to easily access information, it's difficult for any kind of employee marketplace to thrive. Marketplaces depend on coworkers being able to share items for sale, offer services, and communicate easily with each other, but in most offices, the only options are putting flyers on a bulletin board or sending out mass emails. Both are easy to miss, and more likely to contribute to clutter than build any meaningful connections.

Solution: A Centralized Space To Share
Within MangoApps, it's easy to create a location-specific hub for employees to post digital classifieds and communicate with each other about selling goods and services outside of work, whether or not they would normally interact based on role and schedule. Furthermore, a space solely for this purpose can be established, keeping clutter out of work-related channels and allowing employees to opt in or out.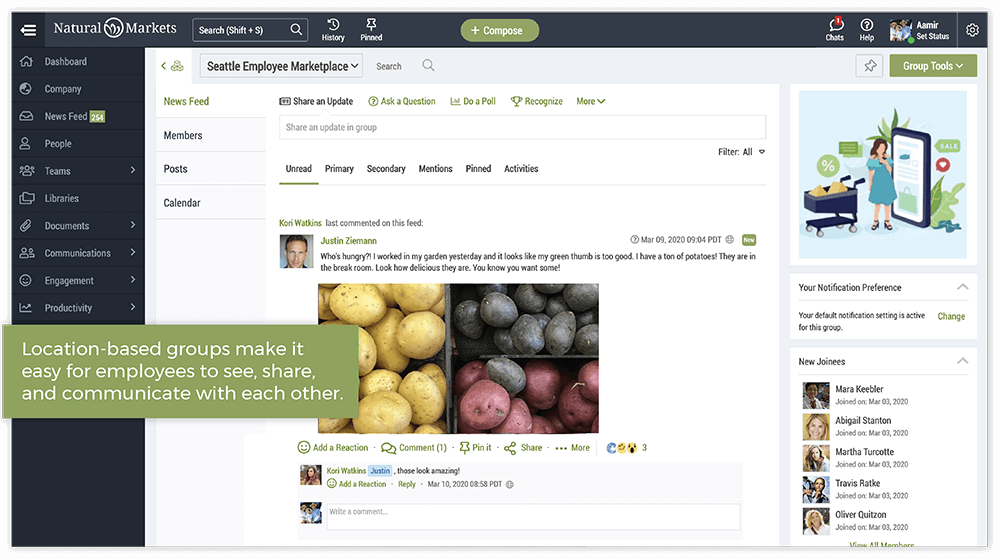 Whether you're selling an old movie collection, looking for a new babysitter, or advertising your weekend dog walking services, you'll be able to see photos and descriptions right in your MangoApps news feed, and communicate in the comments section.
Private chats are built into the platform as well, making it easy for employees to message each other to learn more about a product or arrange sales details. There's no need to track down contact information, and the platform is accessible from any internet-enabled device, so employees can browse and communicate at any time.
How To Make Location-Based Groups:
1

To create location-based groups, first, ensure the module is enabled in your platform.

2

Once location-based groups have been enabled, just add the different areas you'd like groups created for.

3

Once you've saved your existing locations, employees will automatically be filtered into the appropriate group based on the location listed on the employee profile.

4

Your location groups are now ready to go. You and other employees can begin posting content, uploading files, creating wikis, and enjoying everything else groups have to offer.
How To Create Chats
1

Chats let you send secure, internal, instant messages to anyone in MangoApps, which can be accessed from the online portal, mobile app, or desktop app. To start a new chat, select the 'New Chat' button.

2

Type in the name or email address of another user and select 'Start Chat.' A new chat box will open for your conversation and display the online/offline status of the other person.

3

Alternately, if you see a classified ad that you want to respond to, you can click on the person's name, and then press 'Send IM.'

4

Continue your chat at any time, add gifs or images, attach files, or even search through old conversations.