What Is Company Knowledge Discovery?
In many ways, a company's success rides on its ability to accumulate knowledge and use it to win business. Every employee learns things over time that contribute to their success, and a codified way to document that knowledge and share it among teams ensures that colleagues can learn from each other and bolsters the company's ability to succeed.
Company knowledge discovery is the opportunity for employees to explore and learn about other members of their team or other areas of the organization, and gain insights from each other. This helps people understand each other's roles and see potential opportunities for transfer, improves transparency, and lets people see more of the big picture of the organization.

When employees know how their work fits into the greater company and how others are contributing, they feel more knowledgeable and connected, and are able to perform better in their roles. Knowledge discovery can also help workers implement new ideas and think more creatively as they see different perspectives and ideas.
Problem: Struggling to Share Knowledge
Most modern companies want to create an interconnected, informed workforce, but few have a system in place that makes this possible. Instead, learning efforts feel sporadic, and are difficult for employees to facilitate on their own. There's no reliable way for employees to reach out to different departments and learn from each other.
MangoApps is an easy way for us to share our best documents, where employees can learn from each other, see what we're doing across the firm, and use those examples as inspiration for our clients. We always like to tell our clients that they have the knowledge and learning of the firm behind them through the employee that's working with them and MangoApps allows us to do that.
-Arshia Sultan, Director of Knowledge, CCS
Solution: Encouraging Company Knowledge Discovery With MangoApps
At its heart, MangoApps is designed to centralize content and bring employees together in every possible way, making it a natural platform for the spread of company knowledge. Employees may not consciously think about this idea, but having access to everything going on in the organization, they will naturally find themselves more plugged into the flow of information and more likely to explore other departments and see the bigger picture.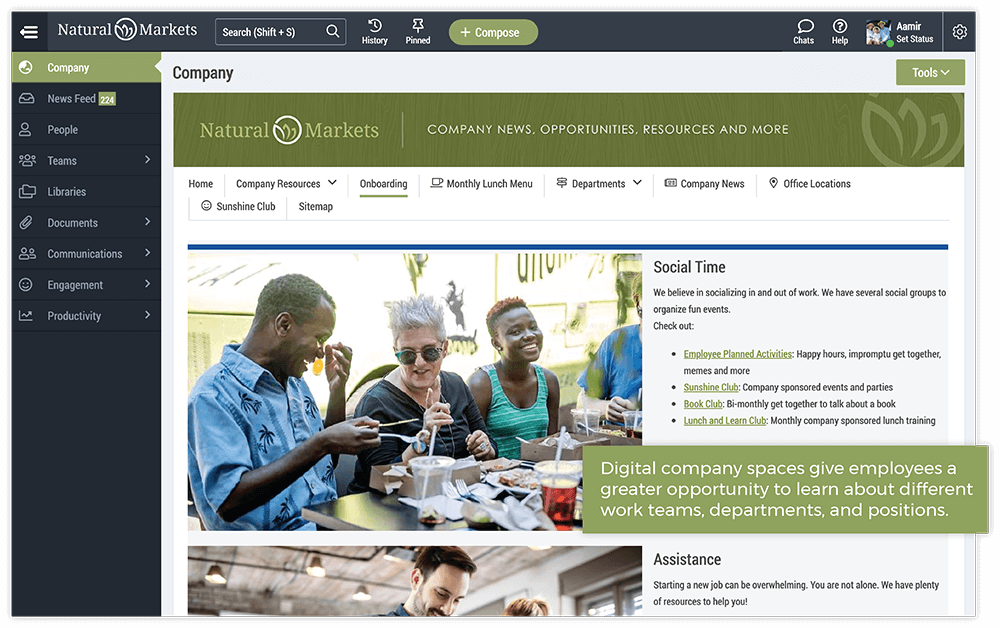 In MangoApps, groups and projects are created to keep teams and departments informed about things that are relevant to them. With the exception of groups that contain sensitive information, these are open and viewable to everyone in the organization, making it easy to see what's going on in other parts of the company and potentially gain inspiration from them or see new opportunities for collaboration.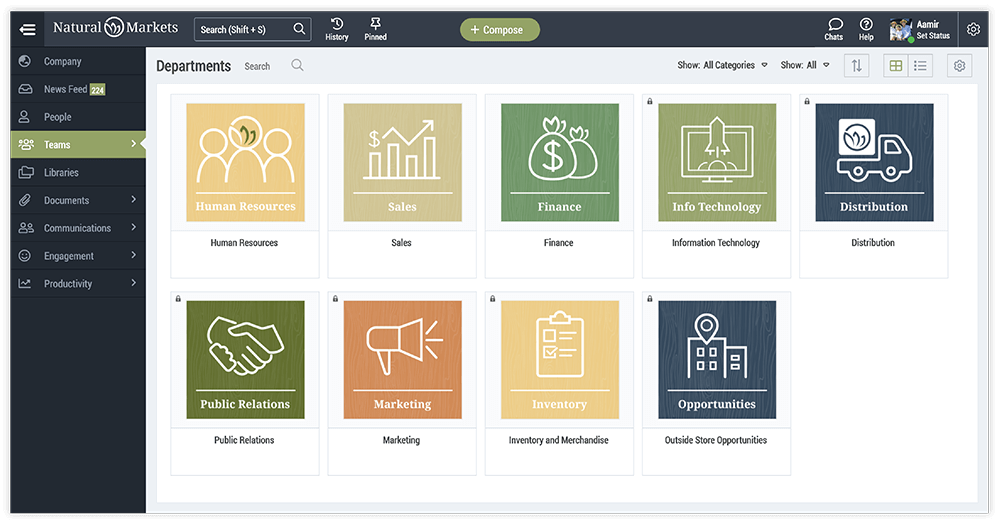 This type of information is normally hard to access because of geographical distance, language barriers, work schedules, or other obstacles, but with MangoApps, it's all at each employee's fingertips.
How To Create Groups:
1

Groups give teams a specific space to meet together, collaboration effectively, and work on topics without a specific end date or goal in mind. To create a new group, make sure the groups module is enabled in your domain, then go to the groups area and select the 'Create A Group' button.

2

Give your group a name and establish some of its basic details. Provide a description, establish permissions, enable or disable features, and more.

3

You're now ready to add users and get to work. Select the group tools button and then 'Invite Network Users' to start adding group members.

4

Once a member has been added to a group, he or she can immediately begin posting, sharing, asking questions, submitting documents, and participating in everything groups have to offer.
Bring your frontline and office teams together on one common platform
It has never been this easy to create the perfect employee experience for your deskless and deskbound workers. Contact us to discuss requirements, pricing, rollout and support. Get your free demo today!