What Are Peer Mentoring Programs?
Peer mentoring programs are an opportunity for employees to learn new skills, explore new areas, and learn from experienced coworkers. Peer mentoring can be incredibly beneficial to onboarding employees and experienced workers looking to sharpen new skills, pursue a management position, or transition to a new area in the organization. Peer mentoring programs make learning personalized, supportive, and help companies invest in long term employee success.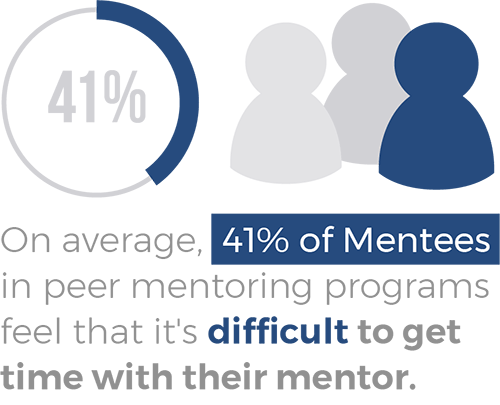 Establishing An Effective Program
When peer mentoring programs are effective, they strengthen your company and build community, but unfortunately, they typically end up discouraging and disappointing. Many companies struggle to establish a reliable communication system with mentors and peers, making it difficult to communicate, share, and learn together. And connection problems only increase when mentors and peers don't work in the same area or have the same schedule. Unreliable communication also makes it difficult for companies to evaluate interest levels and success from their peer mentor programs.
MangoApps enables us to speak together and to create friendships and working relationships that we wouldn't otherwise be able to establish. - Vikki Nye, Internal Communications Manager, CCS
Mentoring That Makes A Difference
In MangoApps, our main focus is on helping customers stay connected, so successful peer mentoring is a natural fit. With a designated peer mentoring group in MangoApps, it's easy for anyone in the organization to be quickly matched to a mentor that meets their needs. A connected, company-wide group also makes it easy to gauge interest, see program success, and send out general information like program requirements or application dates and deadlines.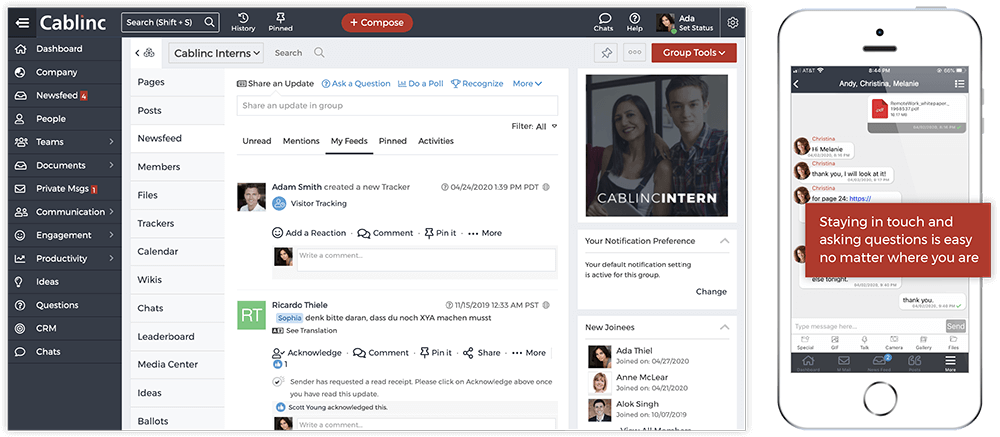 A centralized workspace also makes it easier for mentors and peers to keep in contact whatever way works for them. Instant messaging, group messages, direct messages, video conferences, screen shares, and all kinds of other communication are all possible in MangoApps. And with easy file and document sharing capabilities, it's a snap to share resources, ask questions, and create a truly valuable mentoring experience.
How To Create Groups:
1

Groups give employees across the company a specific space to meet together, collaboration effectively, and create a successful mentor experience. To create a new group, make sure the groups module is enabled in your domain, then go to the groups area and select the 'create a group' button.

2

Give your group a name and establish some of its basic details. Provide a description, establish permissions, enable or disable features, and more.

3

You're now ready to add users and get to work. Select the group tools button and then 'invite network users' to start adding group members.

4

Once a member has been added to a group, he or she can immediately begin posting, sharing, asking questions, submitting documents, and participate in everything groups have to offer.
How To Communicate with Direct Messages:
1

Direct messages operate as your company's internal email system, making mentor and mentee communication simple and easy. To send a message, click on the envelope icon from the left side bar and then select the 'new message' button.

2

Alternatively, you can start a message by selecting the compose button from the top toolbar and then selecting the envelope icon from the drop-down menu

3

You can now create an internal message just like you would with email. You can add users, enter your subject, and write a message.

4

In addition to traditional text messages, users can also easily incorporate images, attachments, and even GIFs.

5

Once your message is complete just select send and it's on its way.