What Are Peer Mentoring Programs?
Peer mentoring programs give a chance for experienced employees to take some newer under their wing, help them excel, and ensure that they have someone they can go to when they are struggling or need guidance.
This practice can be useful for onboarding, as well as helping train up employees looking to sharpen their skills or pursue a management position. It makes learning personalized and supportive, and helps companies build good will among employees and invest in their people's long term success.
Problem: Hard To Establish An Effective Program
It is challenging to establish a reliable system of mentoring, and when poorly done, it can be discouraging for the employees it's meant to empower.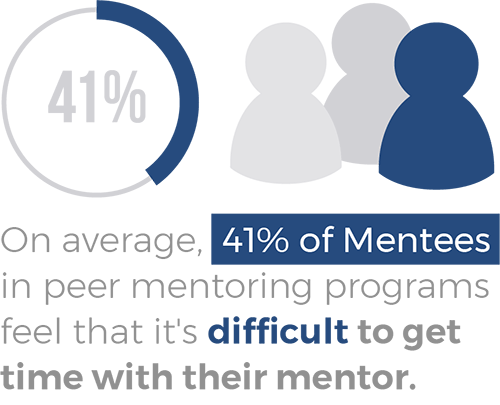 When a company doesn't have a reliable communication system and a framework for what the mentoring relationship should look like, it's difficult for mentors and mentees to communicate, share, and learn together, especially if they don't work in the same office or on the same schedule.
Furthermore, without a solid process in place and a good platform, it is nearly impossible for the company to do any real evaluation of their scattered mentors' effectiveness or the interest levels among employees.
We're hugely spread out as a company with over 800 stores, we cover the whole of the U.K. and Ireland. Because of that, you end up with 12,000 people who kind of operate in little silos and never really talk to one another. MangoApps enables us to speak as one and to create friendships and working relationships that we wouldn't otherwise be able to establish.
-Vikki Nye, Internal Communications Manager, Superdrug
Solution: Mentoring That Makes A Difference
MangoApps is built to create communication opportunities among your team by creating a centralized collaboration environment. Successful peer mentoring is a natural fit.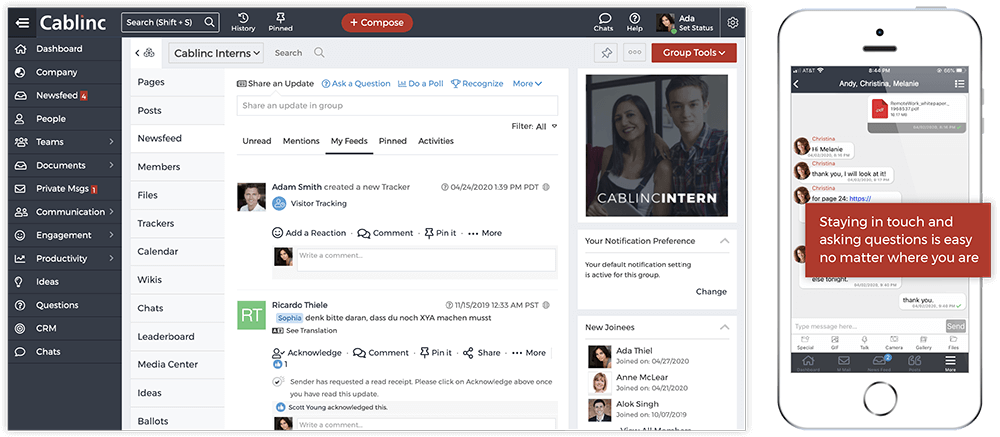 You can create a designated group in MangoApps for this purpose, allowing people in the organization to be matched with a mentor that meets their needs. A group also makes it easy to track the program's success, and create structure with program requirements and deadlines. Better yet, employees on both sides of the mentor relationship can bounce ideas off of each other, ask questions, and provide support.
On an individual level, mentors and mentees can use our platform to keep in touch in whatever way fits their needs. They can instant message, video conference, share resources, ask questions, and more, ensuring that they have each other's backs and the mentor can help guide their mentees to success.
How To Create Groups:
1

Groups give teams a specific space to meet together, collaboration effectively, and work on topics without a specific end date or goal in mind. To create a new group, make sure the groups module is enabled in your domain, then go to the groups area and select the 'Create A Group' button.

2

Give your group a name and establish some of its basic details. Provide a description, establish permissions, enable or disable features, and more.

3

You're now ready to add users and get to work. Select the group tools button and then 'Invite Network Users' to start adding group members.

4

Once a member has been added to a group, he or she can immediately begin posting, sharing, asking questions, submitting documents, and participating in everything groups have to offer.
How To Communicate with Direct Messages:
1

Direct messages operate as your company's internal email system, making mentor and mentee communication simple and easy. To send a message, click on the envelope icon from the left side bar and then select the 'new message' button.

2

Alternatively, you can start a message by selecting the compose button from the top toolbar and then selecting the envelope icon from the drop-down menu

3

You can now create an internal message just like you would with email. You can add users, enter your subject, and write a message.

4

In addition to traditional text messages, users can also easily incorporate images, attachments, and even GIFs.

5

Once your message is complete just select send and it's on its way.
Bring your frontline and office teams together on one common platform
It has never been this easy to create the perfect employee experience for your deskless and deskbound workers. Contact us to discuss requirements, pricing, rollout and support. Get your free demo today!