What Are Leadership Learning Centers?
A massive piece of company culture is ensuring that the leaders of various departments have a consistent commitment to your values and access to the tools they need to learn how to manage and lead people effectively.
A leadership learning center is a designated workspace where management is taught and leaders have access to best practices, training opportunities, and an area to collaborate together and share their struggles and experiences.
Problem: Lacking Centralized Leadership
In many organizations, management can feel like a toss up. Every leader is left to their own devices, and the employee experience varies wildly between departments. This can breed resentment among employees, and also be challenging for leaders who lack the guidance and resources that they, like anyone else, need in order to be successful.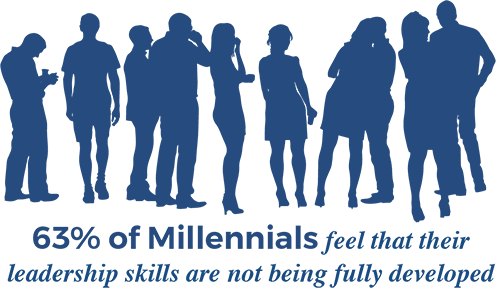 For leaders to do their best work, they need an area to openly share and learn from each other, and some kind of framework within which they can operate to ensure consistency across the organization. In most companies, there is no easy way to create a good environment for this, leaving leaders with one-way communication out to their teams, and no real interaction with their peers among leadership outside of big, formal meetings.
This leaves leaders limited to impersonal information, with no way to collaborate or support each other.
We're able to get all of our leaders into one group where they can talk to and support each other and know that they're not alone.
Solution: A Foundation For The Future
MangoApps makes it easy to create learning centers of all kinds, and for leaders, it's easy to designate an area where leadership can collaborate and discuss ideas, as well as receive updates and collateral that will help all of them keep on the same page in regards to the company values and leadership development.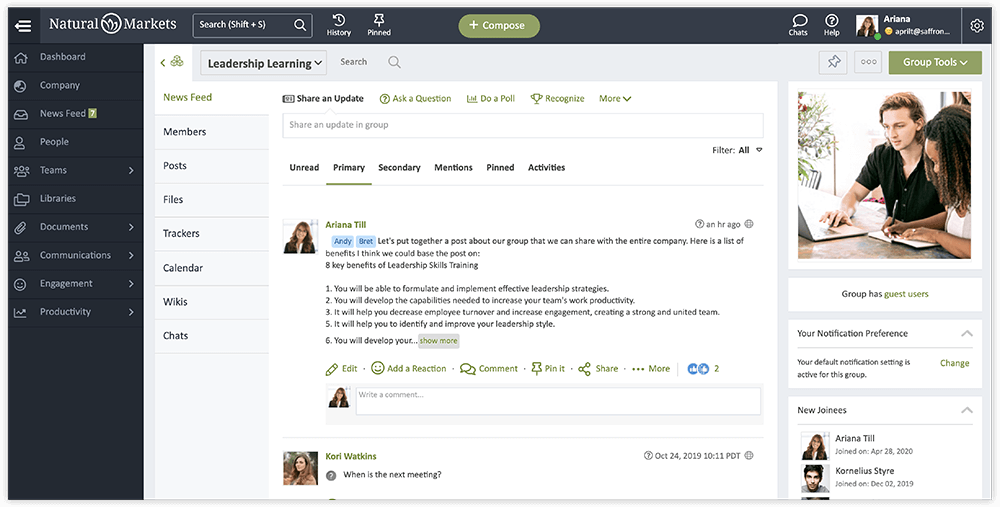 MangoApps groups are perfect for this purpose, and can be made accessible and visible only to those in the group, allowing them to support each other and share their experiences in a safe space.
Mango Libraries are also great for leadership learning. Libraries provide an organized place for storing files, hyperlinks and images, among other useful resources. This creates a categorized, logical index that can be searched and is easy to navigate, so leaders can be sure to have access to everything they need to be successful.
How To Create Groups:
1

Groups give teams a specific space to meet together, collaboration effectively, and work on topics without a specific end date or goal in mind. To create a new group, make sure the groups module is enabled in your domain, then go to the groups area and select the 'Create A Group' button.

2

Give your group a name and establish some of its basic details. Provide a description, establish permissions, enable or disable features, and more.

3

You're now ready to add users and get to work. Select the group tools button and then 'Invite Network Users' to start adding group members.

4

Once a member has been added to a group, he or she can immediately begin posting, sharing, asking questions, submitting documents, and participating in everything groups have to offer.
How To Setup Libraries:
1

Libraries make storing, accessing, and managing documents quick and easy. To create a new library, first make sure that the libraries module is enabled, then select the libraries icon from the left navigation menu.

2

Next, choose the 'Add Items' button

3

Pick the library, category, and item type where your new addition belongs and then choose your item from existing resources in the 'Find And Add Item' area.

4

Select one of the save item options and then add any other additional library items.
Bring your frontline and office teams together on one common platform
It has never been this easy to create the perfect employee experience for your deskless and deskbound workers. Contact us to discuss requirements, pricing, rollout and support. Get your free demo today!