What Are Milestones and Releases?
Milestones and releases are any kind of accomplished project, goal, or update within the organization. Employees who work on milestones and whose work is impacted by them need to be able to track and search their progress and plan accordingly. Depending on the milestone or release content, customers also need a way to be aware of influential updates.

Coordinating Milestones and Releases
When it comes to completing milestones and releases, accomplishing the task is only part of the process. After a milestone is finished, employees still need to find a way to widely share that information. For most companies, that means relying on word of mouth or mass emails, almost guaranteeing someone will accidentally be excluded or misplace the initial information, impacting future work and planning across the company. Emails also make it difficult for workers to look back on old milestones and releases to reference information and see previous progress.
MangoApps allows us to engage with each other quicker and stay up to date on milestones and releases as they become available.
Making Milestones Matter
Project spaces in MangoApps let users easily create tasks and milestones within a centralized and secure work area. Employees can break up bigger projects into manageable milestones and tasks, making it easier to see progress and keeping everyone engaged and encouraged from start to finish. Tasks and milestones also allow employees to share completed goals with coworkers and customers, keeping everyone updated and informed on current project progress.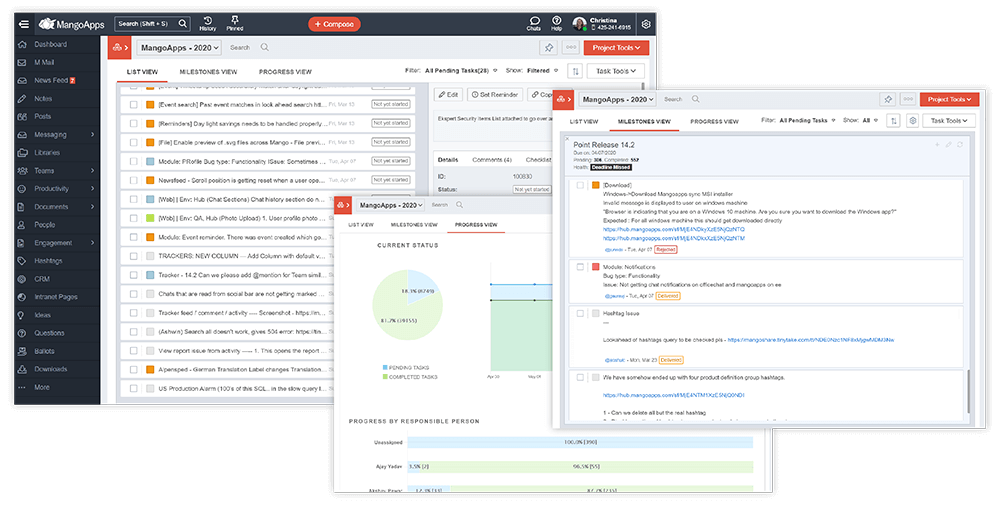 How To Make Tasks:
1

Tasks help break down complicated projects into achievable steps and goals. You can assign a task to yourself or another user. To create a new task, first, go to the project where you want your task to take place. Make sure tasks are enabled in your project area and then select the 'tasks' button from the left sidebar.

2

To start a new task or milestone, select the 'task tools' button and then choose to 'add a new task' or 'add a new milestone.'

3

Outline your task or milestone, assign it to a project, and then designate any specific details like due dates, task approvers, checklists, and more.

4

Once published, tasks will detail your specific instructions and let you submit updates, set reminders, and turn over a completed task for approval.