What Are Local Employee Questions?
When you're a part of an office community, especially as a new employee, you can find yourself looking for guidance from the people around you. Something as simple as asking a coworker where to go for lunch or what's going on over the weekend can help build friendship and connection among colleagues.
Furthermore, when an office has this kind of information available on hand, that creates a feeling of warmth and belonging, which contributes to retention as well as productivity.
Problem: Unable To Find Answers
In most organizations, the only feasible way to ask these kinds of questions is in person, maybe in the break room, which isn't always possible. It can feel awkward and like a waste of resources to email them, and there's usually no other digital workspace.

Without a wide-reaching, unobtrusive way to ask, local questions are often left unspoken, leaving new employees potentially feeling alienated.
Solution: Finding Help From Friends
With MangoApps, employees are automatically filtered into location groups based on geographical location. These groups keep local coworkers connected in a centralized and digital space where they can chat together, ask questions, and find friends.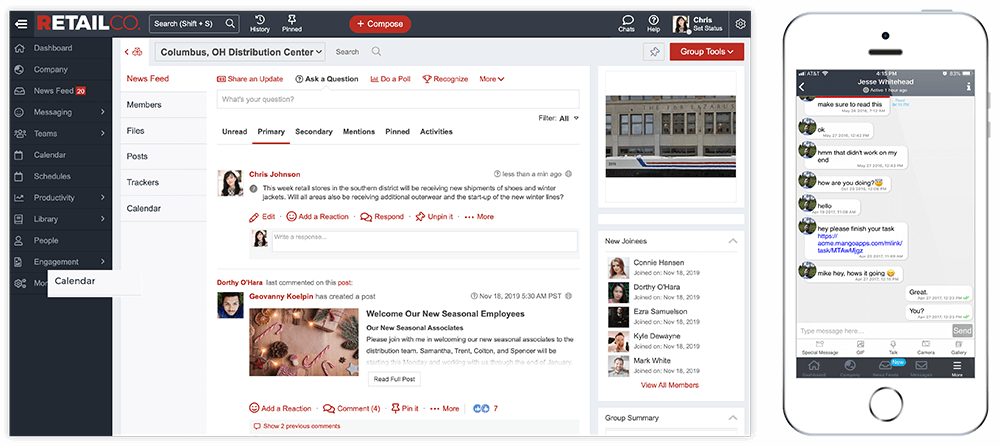 Posting questions in the local group is comfortable and casual, and colleagues can answer in the comments as fits their schedule, as well as respond to each other. This not only creates a sense of community as people chime in and provide ideas, but also crowd sources the answers to the questions. This means you are likely to receive a larger pool of answers with more context than if you had simply taken someone aside in the break room.
We use MangoApps for people to just kind of ask questions, look for information and expertise. It acts as an unofficial support. Email inboxes get pretty messy, you know? You can lose the thread of discussions when other conversations come up. Information is lost, stuff is stored in attachments, it's all in a silo in your individual inbox. In MangoApps, it's out there for everyone to see.
-Tim Middlecote, Head of ICT, Wildlife Trusts
How To Create Location-Based Groups:
1

Location-based groups connect coworkers and employees together based on their geographical work area. To create location-based groups, first ensure the module is enabled in your platform.

2

Once location-based groups have been enabled, add the different areas you'd like groups created for.

3

Once you've saved your existing locations, employees will automatically be filtered into the appropriate group based on the location listed on the employee profile.

4

Your location groups are now ready to go. You and other employees can begin posting content, uploading files, creating wikis, and enjoying everything else groups have to offer.
Bring your frontline and office teams together on one common platform
It has never been this easy to create the perfect employee experience for your deskless and deskbound workers. Contact us to discuss requirements, pricing, rollout and support. Get your free demo today!