What Are Local Employee Questions?
Local employee questions are any kind of questions employees have about events or resources within the community. Questions could be anything from where to try for lunch to what events are going on that weekend. While location questions aren't technically work-related, they are a great way for coworkers to make friends, feel connected, and enjoy a positive work experience.

Unable To Find Answers
Without a centralized space to openly share questions, employees don't really have a good way to ask anyone. Local questions are casual and typically unrelated to everyday work, so emailing them is awkward. Coworkers can really only ask questions in face to face, casual settings, which aren't always easy to find in the work environment. In order for local questions to work, employees need a wide-reaching, easy, and unobtrusive way to ask and answer each other.
Never in my time here have I seen something launch with so much positivity around it. People love being able to ask questions and connect with friends. And as far as I'm concerned, you couldn't hope for more than that.
Finding Help From Friends
With MangoApps, employees are automatically filtered into location groups based on their geographical areas. These groups keep local coworkers connected in a centralized and digital space where they can chat together, ask questions, and find friends. Posting questions in location spaces is comfortable and casual, and workers from around the office can answer inquiries whenever it works with their schedule. Coworkers can also respond off of each other, creating authentic input and a real conversation.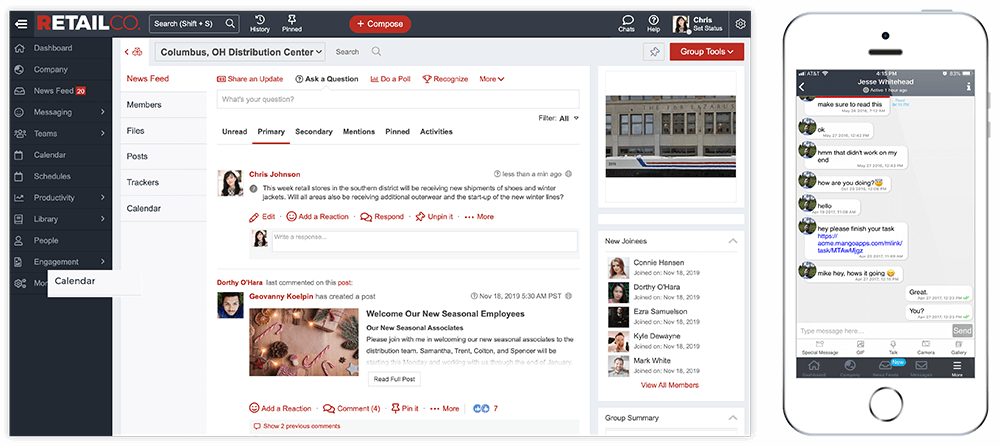 How To Create Location-Based Groups:
1

Location-based groups connect coworkers and employees together based on their geographical work area. To create location-based groups, first ensure the module is enabled in your platform.

2

Once location-based groups have been enabled, add the different areas you'd like groups created for.

3

Once you've saved your existing locations, employees will automatically be filtered into the appropriate group based on the location listed on the employee profile.

4

Your location groups are now ready to go. You and other employees can begin posting content, uploading files, creating wikis, and enjoying everything else groups have to offer.