Are Trade Shows Important?
Trade shows are any kind of exhibition, conference, or organized event for businesses within a particular industry. Trade shows give organizations with similar interests the opportunity to come together and promote relevant products and services, make connections, meet prospective clients, and learn about upcoming market trends. A successful trade show event can make the difference between business growth and company struggles.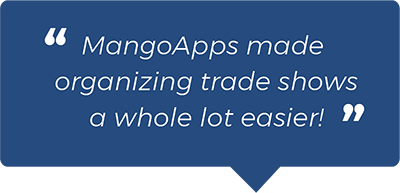 Trade Show Trouble
Trade shows can offer organizations exceptional advantages, but only when circumstances are right. For most companies, trade shows are tricky to find and even more difficult to organize. Submitting paperwork, finding attending employees, making travel accommodations, and ensuring any other preparations are in order can feel like hurdles hardly work the work.

Even when companies do successfully attend a trade show, making it worthwhile still takes a decent amount of effort. Trade show employees rarely have more than a pencil and paper on hand, making it difficult to share notes with coworkers back at the office or access company details, and significantly increasing the risk of lost or misplaced information.
Making The Most Of Trade Shows
MangoApps is a mobile-first communication and collaboration platform, specializing in uninterrupted contact for every employee. With MangoApps' on-the-go abilities, employees can quickly share resources, access data, take notes, and update coworkers whether they're in the office, traveling, at a trade show, or anywhere else. With MangoApps, trade show attending employees can share findings in real-time, allowing everyone the opportunity to see results, connect potential clients and industry partners, and collaborate about ideas in real-time.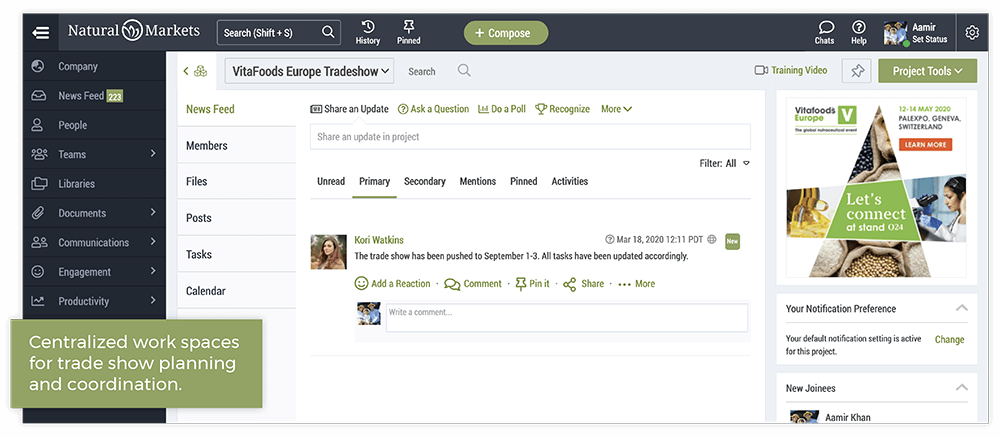 MangoApps makes trade show preparation and organization easy as well. With universal calendars, designated project areas to plan and share, and built-in form submission spaces, sending trade show details to the right people, completing paperwork, and coordinating any additional details, can all happen in one centralized workspace.
How To Create Calendar Events:
1

Company calendars give you a master list to keep everything organized and centralized, from company events to personal reminders. To create a company calendar, first, ensure that the calendar feature is enabled on your domain.

2

Next, select the calendar icon from the navigation menu on the left.

3

You can also create an event by using the compose button at the top of your screen and then selecting the calendar icon from the drop-down menu.

4

Events can also be created from within a specific department or team area by going into the area and selecting the calendar option from the options menu.

5

To start adding calendar events, select the 'calendar tools' button and then 'create an event' from the drop-down menu.

6

Choose what kind of event you want to create (company, team, personal, etc.) and then start adding in the details.

7

Once your finished, select 'create event' to publish it on all of the applicable calendars. Employees can now view your event, RSVP, comment, and more. And if you ever need to update your even or alter details, editing is as simple as selecting the 'edit' button within your event.