Why Are Trade Shows Important?
When businesses in an industry gather for a conference or trade show, they are creating a valuable opportunity for networking and growth. Organizations with similar interests can come together to promote relevant products, make connections, meet potential clients, and learn about upcoming market trends.
All this opportunity adds up to make a compelling package, and a successful trade show can be the difference between business growth and company struggles.
Problem: Trade Shows Require A Lot Of Planning
Trade shows can be tricky to find and even more difficult to organize. Submitting all the paperwork, deciding who will attend, and making travel arrangements all require some time and investment, and that's before you even get into the actual plan for what you'll do at the show itself.

During a trade show, employees often only have a pencil and paper on hand, so it's difficult to share notes with colleagues back at the office or access company information, and there's a high risk of losing key information that could have been turned into revenue.
Solution: Mobile Access Makes Trade Shows A Breeze
MangoApps lets employees access all of their digital materials and communication from their mobile phones, meaning that at a trade show, it's easy to have back and forth with colleagues back at the office, and access data to show to new connections in real time. New information learned at the trade show can be put into an actionable platform right away, saving you the hassle of jotting it down and having to make sense of it later.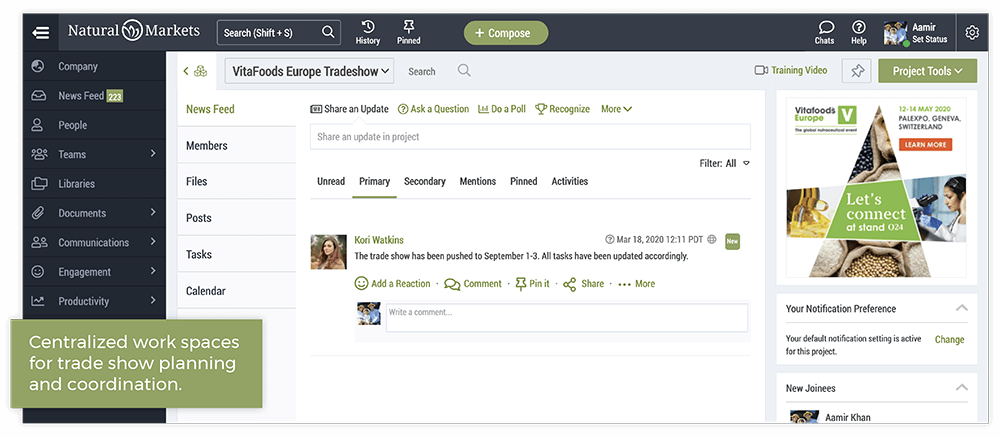 Employees at trade shows can share findings in real time, allowing the rest of the team back at the office to see results, connect with potential clients and industry partners, and collaborate about ideas.
Sending employees to a trade show without a platform like MangoApps is a little bit like NASA sending astronauts into space without a way for them to reach Houston.
With regards to all of the pre-planning that trade shows require, MangoApps also makes it easy to collaborate in designated project areas, where employees can keep track of all of the details, and coordinate to ensure that everything is taken care of in an efficient manner.
How To Create Calendar Events:
1

Company calendars give you a master list to keep everything organized and centralized, from company events to personal reminders. To create a company calendar, first, ensure that the calendar feature is enabled on your domain.

2

Next, select the calendar icon from the navigation menu on the left.

3

You can also create an event by using the compose button at the top of your screen and then selecting the calendar icon from the drop-down menu.

4

Events can also be created from within a specific department or team area by going into the area and selecting the calendar option from the options menu.

5

To start adding calendar events, select the 'calendar tools' button and then 'create an event' from the drop-down menu.

6

Choose what kind of event you want to create (company, team, personal, etc.) and then start adding in the details.

7

Once you're finished, select 'create event' to publish it on all of the applicable calendars. Employees can now view your event, RSVP, comment, and more. And if you ever need to update your event or alter details, editing is as simple as selecting the 'edit' button within your event.