What Are Employee Surveys?
An employee survey is any questionnaire sent out to employees to gather opinions about a specific topic, with the ultimate goal of measuring opinions in an actionable way.
This can be something as simple as learning everyone's dietary needs for an upcoming potluck, or as complex as attempting to measure employee engagement and performance. Surveys can be conducted publicly, but most are anonymous, as weighty topics like employee engagement benefit from confidentiality.
Problem: Another Third-Party Tool
Employee surveys can be an excellent way to gather data and read the pulse of the workforce, but are often hampered by inefficient distribution and participation. At most companies, surveying has to be done with a third-party tool that is expensive, has a learning curve, and ultimately becomes another contributor to tool sprawl.

Even setting those issues aside, surveys are usually sent via email and require the user to log into the survey platform, meaning that many employees either won't see it, or won't be willing to jump through the hoops required to make their opinions known.
Solution: Simplifying Surveys With MangoApps
MangoApps makes it easy for anyone in the organization to make and send out surveys, with customized tailoring and an intuitive creation process. Our survey library includes templates for the most common business surveys, and they require no technical expertise to create. For example, we have templates for internal surveys, like employee engagement or training and development feedback, which make it easy to get actionable feedback from your team.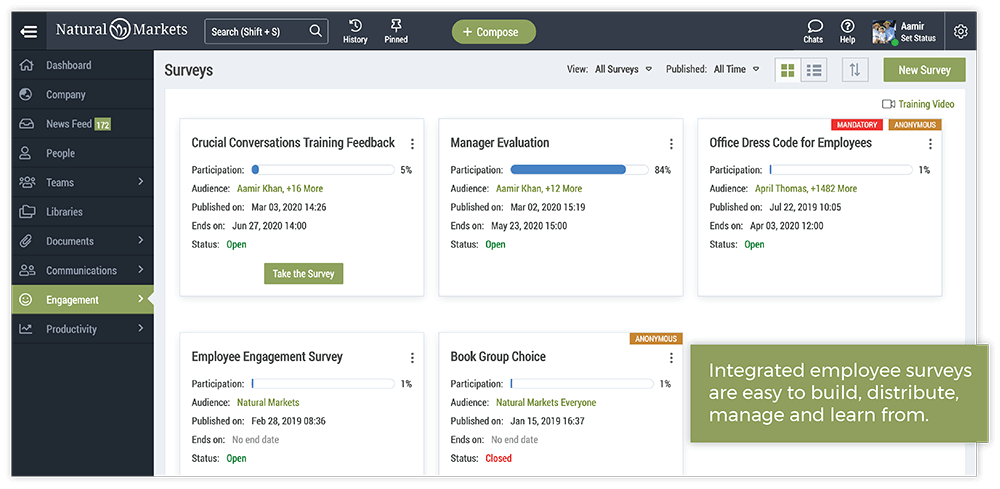 Because this tool is integrated into MangoApps, surveys can be received and filled out within the work environment where employees already are, saving time and confusion. Once a survey has been distributed, there are detailed analysis tools that help the survey's creator, and anyone else with access, understand and act on the information they've received.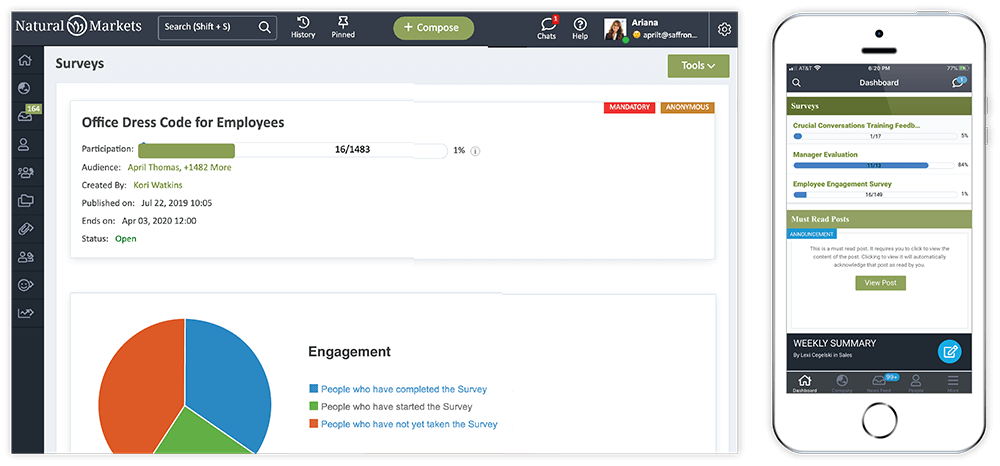 MangoApps can also be used for external surveys, so we have templates for topics like product launches and customer satisfaction, which will help you gain insight into your customers' experience and stay ahead of any potential issues.
It's been a transformational experience really, to not only understand but also be able to act on what really matters to our employees.
How To Create A Survey:
1

To start a new survey, first, go to the group, department, or project where you want your survey to be held.

2

Next, hover over the More drop-down menu and select 'New Survey.' You can also start a new survey by selecting the 'Compose' button from the top navigation bar and selecting 'Survey' from the menu, under 'Feedback.'

3

Preview and select your survey type—you can start from one of our templates or a blank form. Edit, rearrange, add, or delete questions until your survey is just right.

4

Publish your survey to a specific team or share it individually. After employees have taken the survey, you'll gain access to a comprehensive data analysis you can view at any time.
Bring your frontline and office teams together on one common platform
It has never been this easy to create the perfect employee experience for your deskless and deskbound workers. Contact us to discuss requirements, pricing, rollout and support. Get your free demo today!