What Are Employee Surveys?
Employee surveys are questionnaires designed to gain feedback about a specific topic or issue. While the survey subject could be anything from break room decorations to management style preferences, they all strive to measure the overall opinion of employees. Employee surveys are also commonly used to measure employee engagement and performance at a general level. Surveys can be conducted either publicly or anonymously, but because surveys are typically interested in overall patterns or trends, and it helps employees answer honestly, they are generally conducted confidentially.

Common Survey Struggles
Employee surveys are an excellent tool for understanding opinions and gathering data, but only when they work easily and effectively. For most companies, trying to survey employees means incorporating yet another tool to manage. Third-party survey software costs money, takes time, and ultimately becomes another contributor to tool sprawl. And survey distribution is difficult too. Employees either have to log into a separate system or watch for surveys sent via email. Most of the time, it's just too much hassle, and what should have been a useful employee survey ends up forgotten, incomplete, or ignored.
It's been a transformational experience really, to not only understand but also be able to act on when really matters to our employees.
Simplifying Surveys With MangoApps
MangoApps helps coworkers, managers, and everyone in between easily send surveys to whoever they need. With customized tailoring and an intuitive creation process, employee surveys are a breeze to build, distribute, manage, share, and learn from. Our extensive survey library contains expertly crafted templates for some of the most commonly used business surveys, simplifying the overall survey process.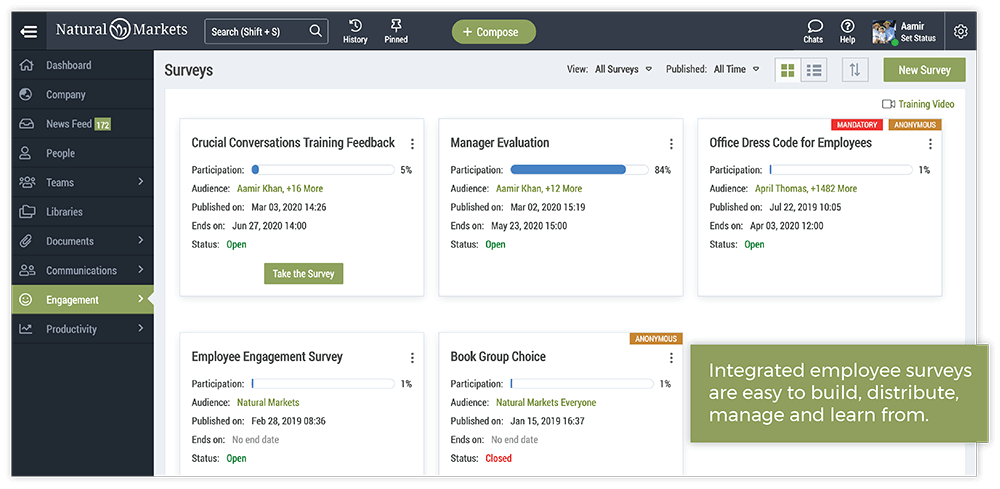 And as an integrated part of your centralized workspace, surveys are automatically distributed to employees in their existing work environment, removing the need to waste time with email or manage more software. Employee surveys in MangoApps even include a detailed analysis area, helping survey creators understand, assess, and make the most out of their information.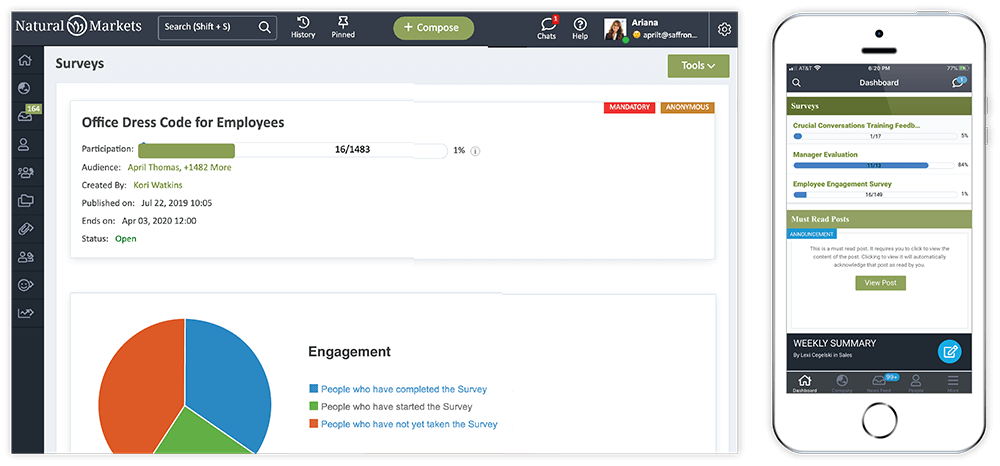 How To Make Surveys Happen:
1

Surveys help employees easily gather information and gain important insight. To start a new survey, first, go to the area where you want your survey to be held.

2

Next, hover over the more drop-down menu and select 'New Survey'. You can also start a new survey by selecting the 'compose' button from the top navigation bar and selecting 'survey' from the drop down menu.

3

Preview and select your survey type from more than 10 unique templates or create your own survey with a blank form. Edit, rearrange, add, or delete questions until your survey is just right.

4

Publish your survey to a specific team or share it individually. After employees have taken the survey you'll gain access to a comprehensive data analysis you can view at any time.