What Are Employee Shout Outs?
Employee shout outs are a casual way to recognize an employee for something, whether it be work-related, or something like a birthday or wedding announcement. Think of this as the digital equivalent of someone in the office or a meeting simply standing up and letting everyone know something exciting about a particular coworker.
This kind of shout out helps build friendships among colleagues and an overall air of engagement and encouragement.
Problem: Trying To Share Success
Without a centralized communication source, shout outs are dependent on emails or other forms of one-way communication, making it hard to widely share news or allow others to celebrate and participate in the success.

This can quickly turn a well-intentioned idea into a reply-all nightmare, or become an announcement that feels like it was sent off into the void with no reactions. Either way, many shout outs are put off or forgotten, and opportunities to uplift a colleague and provide a positive experience are lost.
Solution: Recognizing Friends From Anywhere
MangoApps connects everyone in the company together, helping teams interact and celebrate each other's successes. Recognition is built right into the platform, including a variety of templates, which allows shout outs to happen instantly and be visible on both desktops and mobile devices. With commenting and emoji reactions, teammates can share in the celebration quickly too, without causing disruption.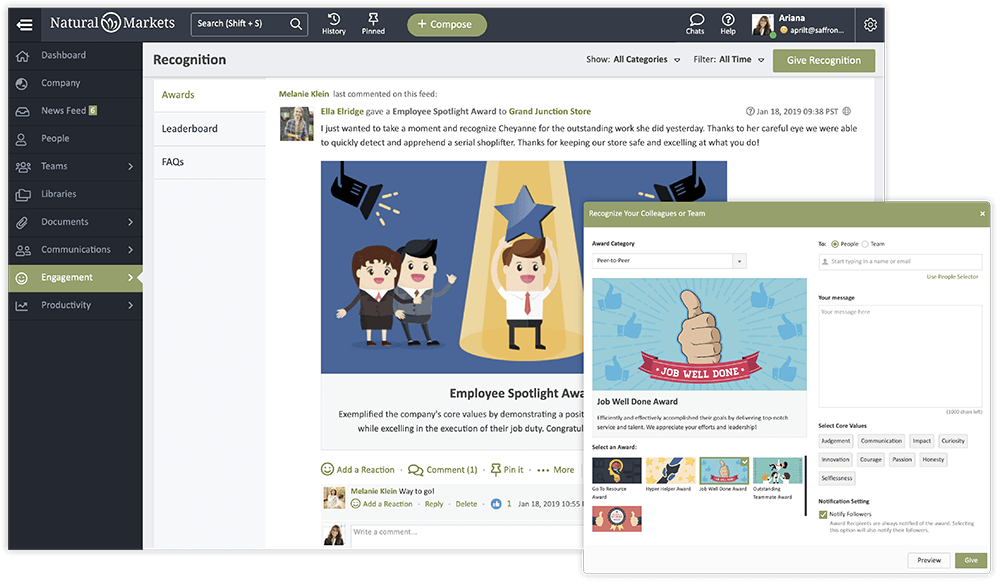 Our intuitive and easy to use design means shout outs never get delayed or forgotten, helping people feel appreciated, build friendships, and celebrate success.
How To Share Recognitions:
1

Recognitions are a great way to create shout outs and highlight employee success. To send an employee recognition, make sure they're enabled in your platform, select the Recognitions icon on the left side navigation, and then choose the 'Give Recognition' button.

2

You can also select the Compose button from the top navigation bar and then select the Recognition icon (under Engage), or select the Recognize icon from within a group or project area.

3

Choose the category and specific recognition you want to share, designate who the recognition is for, and include any additional message. Once you're finished, you can preview the recognition and then select the 'Give' button.

4

Your shared recognition will appear on the team or recipient's news feed, where everyone will be able to see and react to their success.
Bring your frontline and office teams together on one common platform
It has never been this easy to create the perfect employee experience for your deskless and deskbound workers. Contact us to discuss requirements, pricing, rollout and support. Get your free demo today!