What Are Employee Feedback Centers?
An employee feedback center is an area where workers can submit their ideas, opinions, and feedback about anything in the organization, bringing the traditional suggestion box into the modern age. A successful feedback center gives employees the opportunity to speak openly and helps them know they have a real voice in the organization. Feedback centers are a great asset to leaders as well, offering suggestions and ideas that might otherwise be lost or go unnoticed.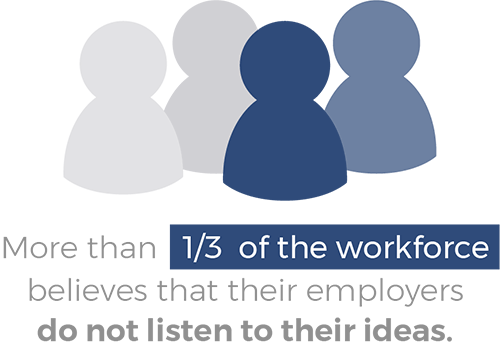 Unreliable Feedback Options
Employee feedback centers give both employers and employees exceptions opportunities, but only when they're easily accessible. Unfortunately, few companies have a simple way for ideas and opinions to be shared, reviewed, and acted on. And even when leaders can find and access ideas, they're rarely sharable or well organized, making it hard to see similarities, patterns, and persistent problems.
MangoApps exceeded our expectation in how much it helped us with organizing employee feedback and creating feedback centers.
A Centralized Feedback Source
MangoApps surveys give employees a specific spot to submit feedback right within their work area. Sharing a thought or expressing a concern doesn't feel empty or unappreciated, and surveys save everyone the time of tracking down management or filing extra paperwork.  Surveys keep captured content all organized within the same digital area as well, making it easy to share, sort, and search for feedback and see existing patterns.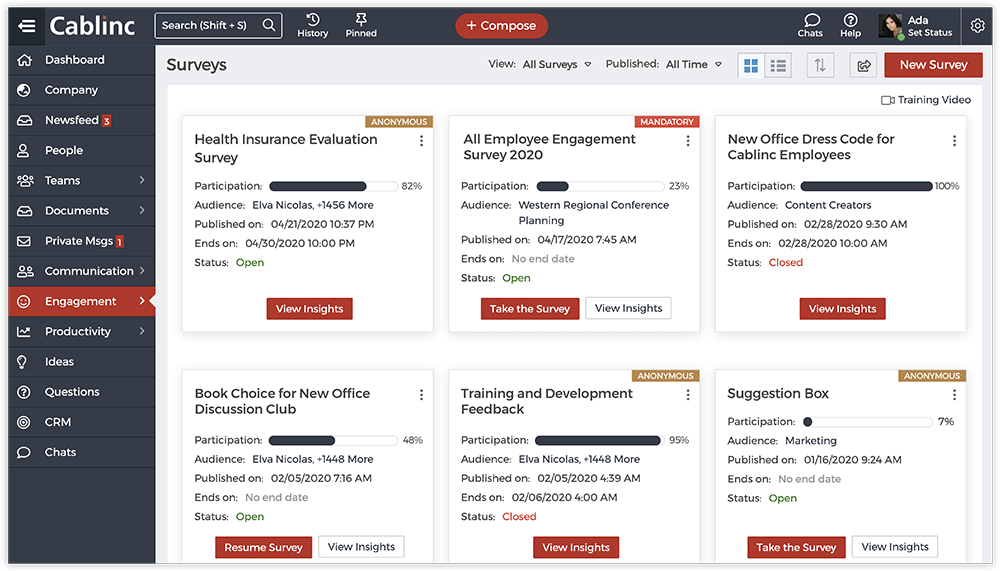 Besides open surveys for any feedback, leaders can also construct specific forms to gage thoughts and opinions around a particular topic or idea. These surveys let leaders measure interest in advance and can even be targeted at customers or other external individuals.
How To Make Surveys Happen:
1

Surveys help employees easily gather information, test out ideas, and gain important insight. To start a new survey, first, go to the team area where you want your survey to be held.

2

Next, hover over the 'More' drop-down menu and select 'New Survey'. You can also start a new survey by selecting the 'compose' button from the top navigation bar and selecting 'survey' from the drop down menu.

3

Preview and select your survey type from many unique templates or create your own survey with a blank form. Edit, rearrange, add, or delete questions until your survey is just right.

4

Publish your survey to a specific team or share it individually. After employees have taken the survey you'll gain access to a comprehensive data analysis you can view at any time.