What Are Employee Feedback Centers?
Think of employee feedback centers as the modern equivalent of a suggestion box. The idea is to allow employees to submit their ideas and opinions about anything in the organization.
Being able to speak openly like this lets employees know they have a real voice in the organization, and the information generated here can be a great asset for leaders. It can help them keep a pulse on the organization and also find ideas and suggestions that might otherwise go unnoticed.
An employee feedback center is an area where workers can submit their ideas, opinions, and feedback about anything in the organization, bringing the traditional suggestion box into the modern age. A successful feedback center gives employees the opportunity to speak openly and helps them know they have a real voice in the organization. Feedback centers are a great asset to leaders as well, offering suggestions and ideas that might otherwise be lost or go unnoticed.
Problem: Unreliable Feedback Options
Employee feedback centers represent a great opportunity for both employees and leaders, but few companies have a simple mechanism in place for this purpose. Even if there is something, it's unlikely that the feedback is shareable or well-organized, which makes it hard to see patterns or persistent problems.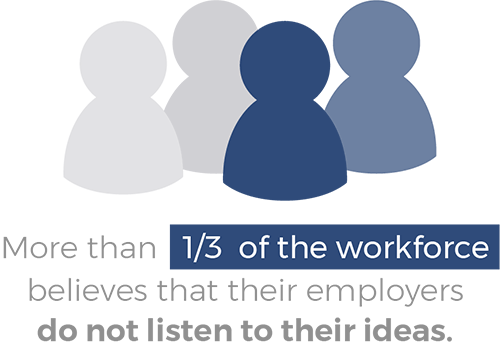 This can mean employees feel that they have no voice, which is a hallmark of low job satisfaction, and also that leadership is missing out on potentially great ideas coming from other parts of the organization.
A classic example of a win like this is the origins of
Flamin' Hot Cheetos
. The CEO of Frito-Lay distributed a video message encouraging employees to submit ideas, and a janitor from their plant, who saw that the company didn't have any products catering to the Latino community, pitched an idea that went on to make billions of dollars.
Without leadership explicitly encouraging this kind of input and putting a mechanism in place by which it could be communicated, many employees are unlikely to speak up when they have great ideas.
One of our colleagues from supply chain made a vlog in MangoApps about wrapping the pallets with plastic that we send to the stores. One of the colleagues in the stores saw that and instantly gave feedback: 'If you're wrapping it in plastic, can you wrap the top as well?' Because every now and then pallets stand outside and that would protect them from getting wet if it rains. Before MangoApps, that wouldn't have been communicated.
-Jan Carel Uylenberg, HR Director, A.S. Watson Benelux
Solution: A Centralized Feedback Source
MangoApps provides many ways to create a formal employee feedback center, including forms and surveys. Employers can create an ongoing survey that invites feedback about any topic, in addition to forms designed to elicit a response regarding something more specific.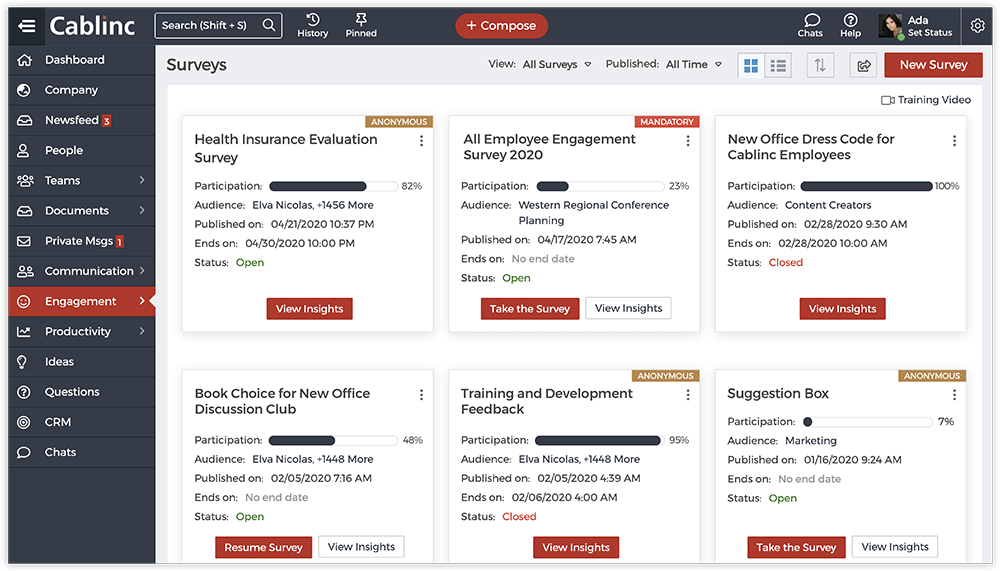 All of this happens right inside the workspace where employees already are, meaning that employees are more likely to provide feedback, and leaders are more likely to see it and respond. Content captured this way is organized and easy to share, sort, and analyze for patterns.
Outside of formal feedback centers, though, one of the most powerful aspects of MangoApps is that it connects everyone in the company and gives them a way to communicate with each other. This means that there are countless opportunities for people to make their voices heard on topics that they might have otherwise not known about or not bothered to get involved in. It's as simple as commenting on a post on their news feed, and can create extremely valuable connections.
How To Create A Survey:
1

Surveys help employees easily gather information, test out ideas, and gain important insight. To start a new survey, first, go to the team area where you want your survey to be held.

2

Next, hover over the 'More' drop-down menu and select 'New Survey.' You can also start a new survey by selecting the 'Compose' button from the top navigation bar and selecting 'Survey' from the drop down menu, under Feedback.

3

Create your survey from scratch, or use one of our templates. Edit, rearrange, add, or delete questions until your survey is just right.

4

Publish your survey to a specific team or share it individually. After employees have taken the survey you'll gain access to a comprehensive data analysis you can view at any time.
Bring your frontline and office teams together on one common platform
It has never been this easy to create the perfect employee experience for your deskless and deskbound workers. Contact us to discuss requirements, pricing, rollout and support. Get your free demo today!