What Are Employee Benefits?
Employee benefits are any kind of non-wage compensation offered to employees in addition to their normal pay, such as healthcare and retirement plans, or less common initiatives like commute subsidization or student loan assistance. Benefits act as additional incentives to employees, and often help increase overall company engagement and enthusiasm.
Problem: Trying To Track Down Benefits
Benefits information is notoriously mismanaged, outdated, and difficult to find, and is almost never mobile-friendly.

Even in organizations without the above problems, getting things submitted or approved usually involves a tedious process that can include tracking down an HR rep, manually finding and filling out forms, scheduling meetings, and submitting or re-submitting paperwork printed on actual paper.
This is not only time-consuming, but also discouraging, and often results in employees missing out on benefits that the company works hard on and invests money in providing.
Between connecting with colleagues, editing documents, having all your HR information in one portal, MangoApps has everything that you need to know. You don't need paper documents anymore. You can quickly access everything you need.
-Brook Laskin, Executive Director, CCS
Solution: Modern, Flexible Pages & Libraries
Unlike outdated traditional methods, MangoApps is designed around straightforward, secure company communication, making sharing and accessing company benefits safe, reliable, and incredibly easy. Many of our customers choose to create a dedicated benefits page under either Company or HR. Admins can then add widgets, text, photos, and more, giving employees access to relevant, usable resources that help them make the most of everything their company has to offer.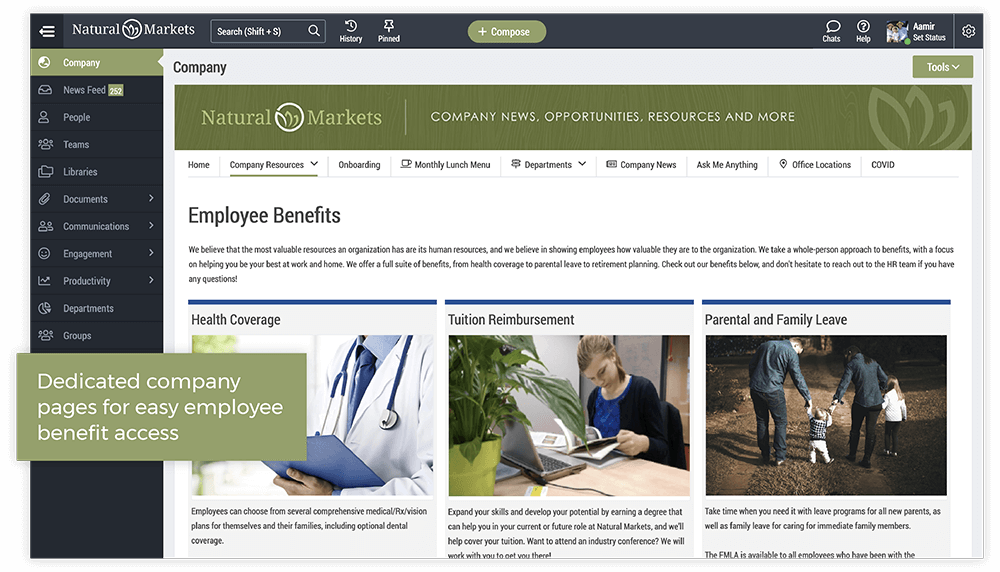 Through a visually engaging company or department page, employees can access forms, update details, change preferences, and submit requests, all from the same space.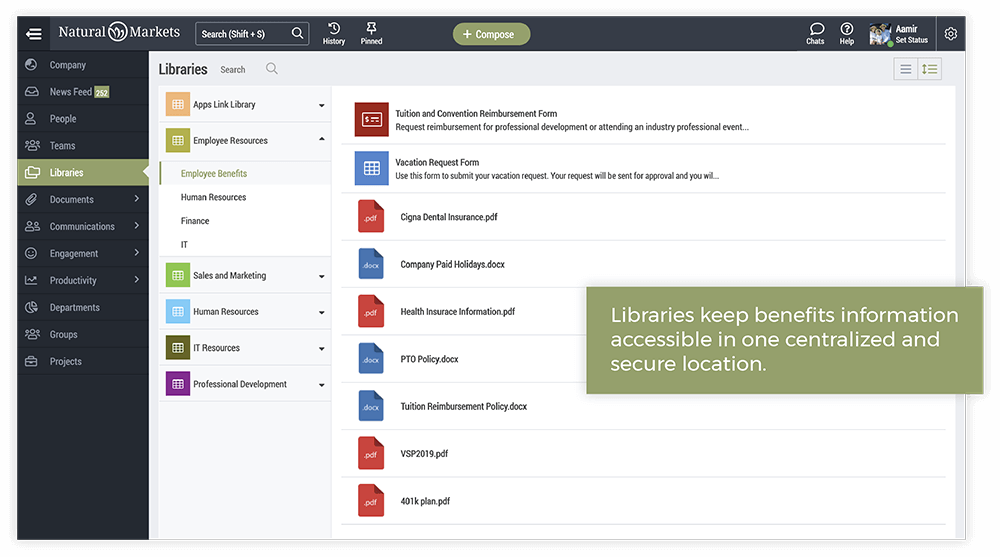 MangoApps also includes libraries, where companies can compile and share information organized into specific and searchable categories. This allows relevant, accessible benefits information to be centralized to one secure area that is available anywhere you have internet access.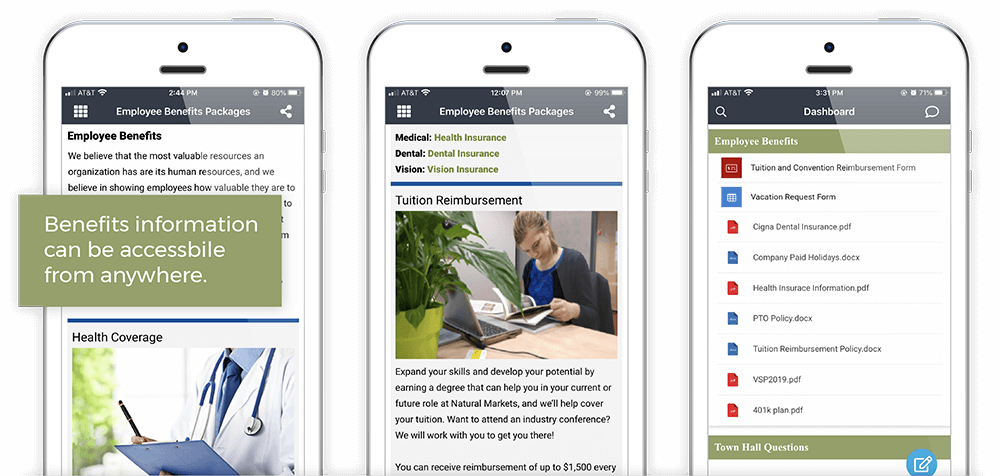 How To Make Pages:
1

Company, department, or team pages detail important and engaging information. Pages can only be created by administrators, so be sure you have the proper permissions before you begin.

2

To start, go to the company, department, or team area where you want your page to appear and be sure that pages are enabled.

3

Next, select the 'Tools' button and then choose 'New Page' from the drop-down menu.

4

Pick your page layout from several template options, or create it entirely from scratch. Adjust the settings and fill it with content.

5

Save and publish your completed page. Published pages can be edited, deleted, duplicated, or rearranged at any time.
How To Set Up Libraries:
1

Libraries make storing, accessing, and managing documents quick and easy. To create a new library, first make sure that the libraries module is enabled, then select the libraries icon from the left navigation menu.

2

Next, choose the 'Add Items' button.

3

Pick the library, category, and item type where your new addition belongs and then choose your item from existing resources in the 'Find And Add Item' area.

4

Select one of the save item options and then add any other additional library items.
Bring your frontline and office teams together on one common platform
It has never been this easy to create the perfect employee experience for your deskless and deskbound workers. Contact us to discuss requirements, pricing, rollout and support. Get your free demo today!