What Are Employee Benefits?
Employee benefits are any kind of non-wage compensation offered to employees in addition to their normal pay. Employee benefits include everything from traditional offers like insurance packages and retirement plans to unique or less common initiatives such as employee libraries or student loan assistance. Employee benefits act as additional incentives to employees and often help increase overall company engagement, enthusiasm, brand, and culture.

Trying To Track Down Benefits
Employee benefits information is rarely mobile friendly and often outdated, mismanaged, and difficult to find. And even when employees can track down information, actually getting anything submitted or approved almost always involves a long and tedious process. Tracking down an HR representative, manually finding and filling out forms, scheduling meetings, and submitting or resubmitting paperwork is incredibly discouraging and takes way too much time. Poorly organized information often causes employees to miss out on the benefits you work so hard to provide like rideshare programs, gym stipends, or other less common opportunities.
We had staff was missing out on all of the great things we had to offer but now seeing everything is super easy
Why MangoApps Is The Best Method
Unlike outdated traditional methods, MangoApps is designed around straightforward, secure, company communication, making sharing and accessing company benefits safe, reliable, and incredibly easy. To simply share employee benefits, many companies choose to create a dedicated benefits page in either their company section or human resources department section. Admins can make employee benefits pages truly their own by adding widgets, creating text, including photos, and much more. Pages are also easy to navigate and effortless to edit, ensuring employees not only have access to relevant resources but can also make the most out of everything their organization has to offer. With a visually engaging company or department page, employees can access forms, update details, change preferences, and submit requests all from the same space.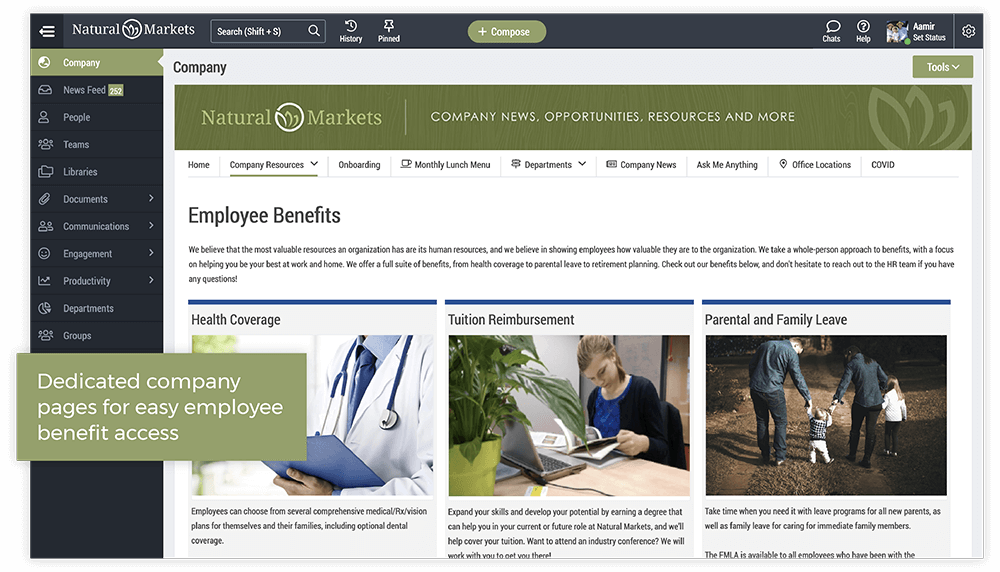 In addition to company and department pages, the MangoApps libraries module is another amazing tool for accessing and maintaining employee benefits. MangoApps libraries give companies the freedom to compile and share any kind of company-wide information. In the libraries module, company resources are organized into specific and searchable categories, making it the perfect place to keep company benefits information relevant and accessible. Whether you're asking for days off or accessing your health insurance, all of your important benefits information is conveniently located in one centralized and secure area, available anywhere you have internet access.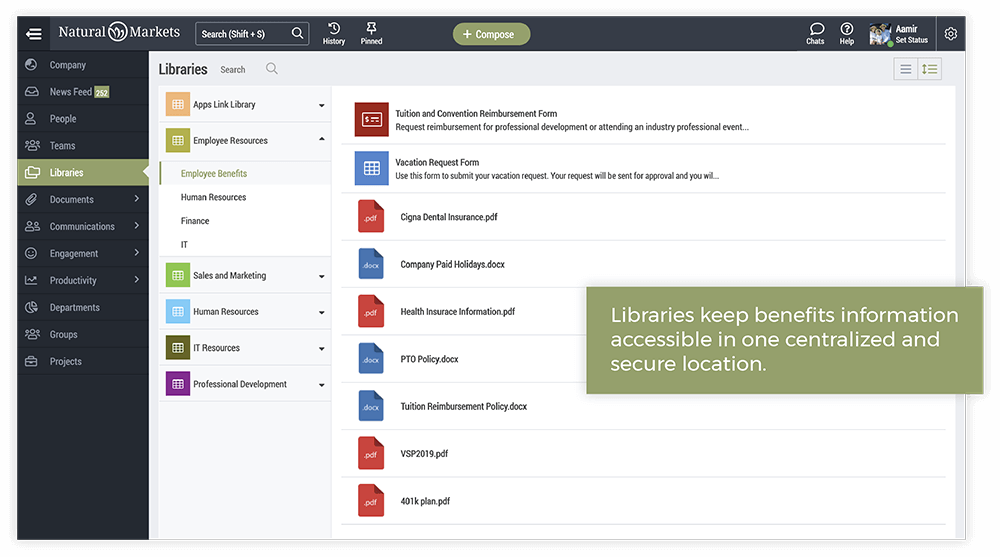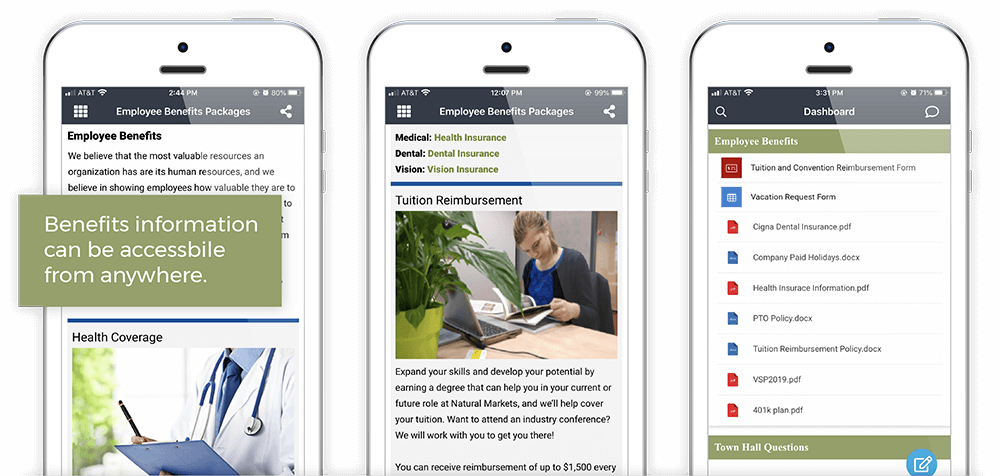 How To Make Pages:
1

Company, department, or team pages detail important and engaging information. Pages can only be created by administrators, so be sure you have the proper permissions before you begin.

2

To start, go to the company, department, or team area where you want your page to appear and be sure that pages are enabled.

3

Next, select the 'tools' button and then choose 'new page' from the drop-down menu.

4

Pick your new page layout from several template options, or create a new page entirely from scratch. Adjust the settings for your page and fill it with content.

5

Save and publish your completed page. Published pages can be edited, deleted, duplicated, or rearranged at any time.
How To Setup Libraries:
1

Libraries make storing, accessing, and managing documents quick and easy. To create a new library, first make sure that the libraries module is enabled, then select the libraries icon from the left navigation menu.

2

Next, choose the 'add items' button.

3

Pick the library, category, and item type where your new addition belongs and then choose your item from existing resources in the 'find and add item' area.

4

Select one of the save item options and then add any other additional library items.