What Is An IT Help Desk?
An IT help desk in an internal IT team that lets employees quickly reach out for technical assistance and provides reliable resources for common issues. Help desks allow employees to get back to work quickly and gives them the skills, aid, and knowledge they need to overcome common problems and keep things running smoothly.
MangoApps was the best fit for us because of the scale and capabilities of the platform and its ability to help us improve our IT experience.
Common IT Issues
In order for IT help desks to work effectively, IT workers need to have at least a baseline knowledge of every technical tool in use. And without a primary or centralized platform used across the company, that can mean a lot of extra effort. In most cases, tool sprawl expands exponentially across departments, forcing IT employees to spend more and more time studying and learning about dozens of different platforms and programs. And even when IT is able to stay knowledgeable, submitting a help desk ticket is its own form of frustration, since sending tickets takes significant time and IT teams usually don't have a way of instantly seeing new requests.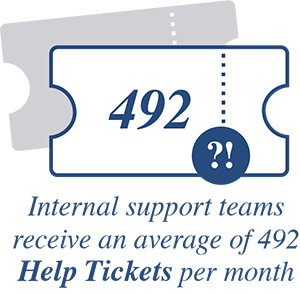 Centralized Tech Support
Because MangoApps is a holistic, centralized workspace, IT help becomes a lot easier. With only one primary platform to worry about, the IT team can focus their efforts in a single area instead of being overwhelmed by tool sprawl technologies. And because communication exists in the exact same space, contacting employees, sending help tickets, and seeing assigned projects can all happen almost instantaneously. Dedicated IT groups in MangoApps even let the IT team share frequently requested resources and send quick updates about temporary issues or outages.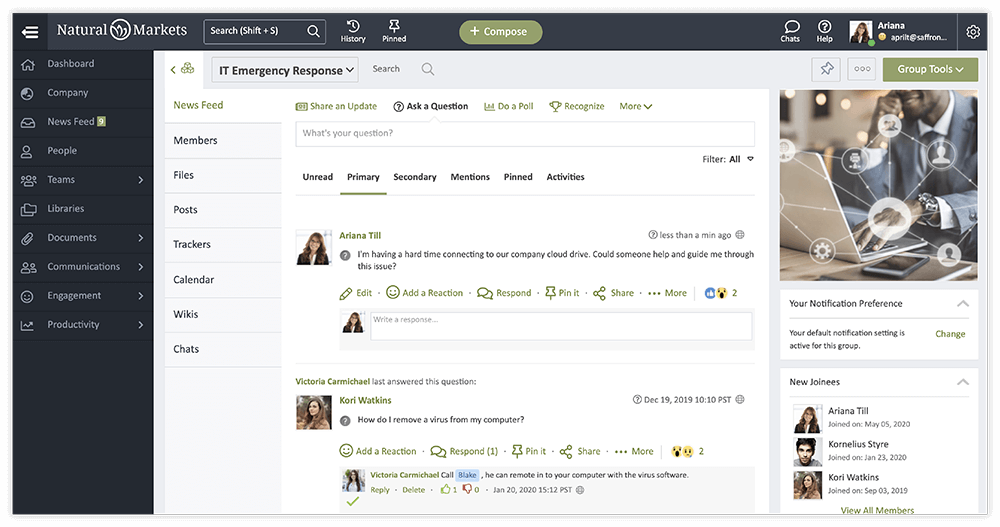 How To Create an IT Help Desk Group:
1

Groups give teams a specific space to meet together, collaboration effectively, and work on topics without a specific end date or goal in mind. To create a new group, make sure the groups module is enabled in your domain, then go to the groups area and select the 'create a group' button.

2

Give your group a name and establish some of its basic details. Provide a description, establish permissions, enable or disable features, and more.

3

You're now ready to add users and get to work. Select the group tools button and then 'invite network users' to start adding group members.

4

Once a member has been added to a group, he or she can immediately begin posting, sharing, asking questions, submitting documents, and participating in everything groups have to offer.
How to Manage IT Tickets and Questions with Trackers and Forms:
1

Trackers save time, simplify data management, and improve overall organization by collecting, storing, and analyzing information. To create a new tracker, first visit the department, group or team area where you want your tracker to be.

2

Be sure that forms and trackers are enabled in the area and then select the trackers option from the left-hand navigation bar.

3

Next, select 'new' to start a new tracker and choose from either a wide variety of available templates or start from scratch with a blank tracker.

4

Add and remove content however you need until you're ready to publish.

5

Once it's published, users can easily input or view data at any time, and submissions are collected and organized all in one place.

6

Easily create online forms that make it easy to share and collect detailed submissions that enter directly into the tracker.