What Are Remote Meetings?
Any meeting conducted without everyone being in the same room is considered a remote meeting, whether all participants are communicating digitally or there's a mix of physical and digital presence.
Remote meetings allow team members to participate regardless of physical distance, keeping more people more informed than would be possible in a more traditional setting—especially in an organization with multiple locations.
Problem: Unpredictable Tools
While remote meetings have amazing potential, they often come with their own share of issues. For most companies, incorporating remote capabilities means having to work with another third-party tool and potentially even dealing with unsecured apps.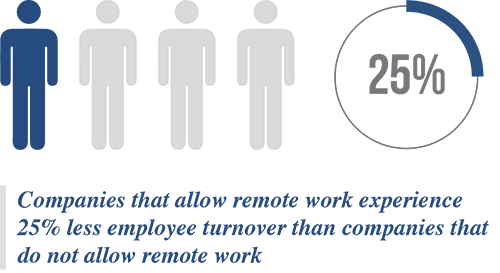 These tools are often challenging to manage and introduce new technical issues. Most people have, at some point, experienced the frustration of losing twenty minutes of an important meeting to technical difficulties.
We've got such a large workforce in a number of different locations, and Mango's just brought everybody together. One of the biggest comments I've heard is. 'I feel like the business got smaller because I can contact more people, and I've got friends that I didn't even know existed before.' It has been absolutely transformational for us.
-Jo Mackie, Customer & People Director, Superdrug
Solution: Integrated Video Conferencing
With MangoApps, video conferencing capabilities are built right into the platform, with traditional video calls and comprehensive screen sharing. Calls can be made in the moment, like a phone call, or scheduled in advance on a universal calendar, avoiding confusion and allowing teammates to make comments and prepare in advance.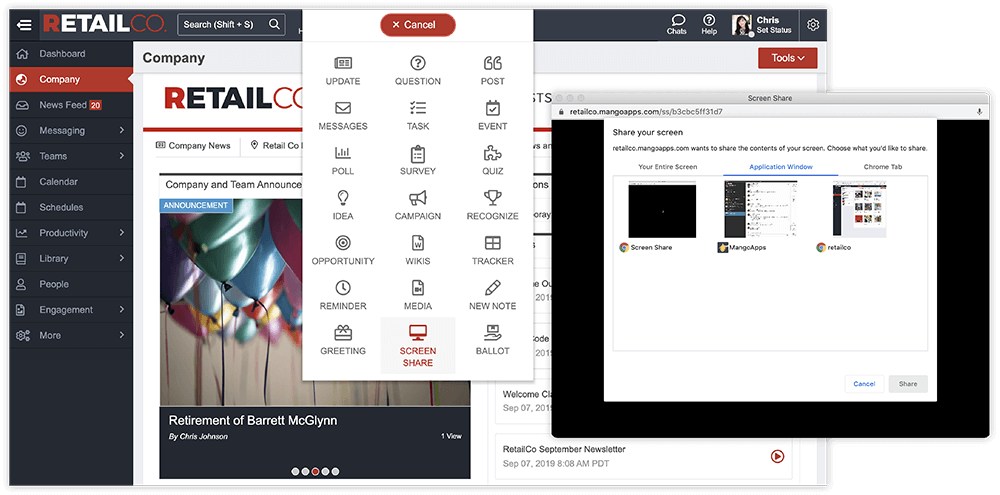 This integration saves employees the headache of learning another system, and existing notes and documents are readily available. Staying centralized also makes it easy to invite anyone from individual users to entire teams to a remote meeting, making use of MangoApps' advanced search and filter functionalities.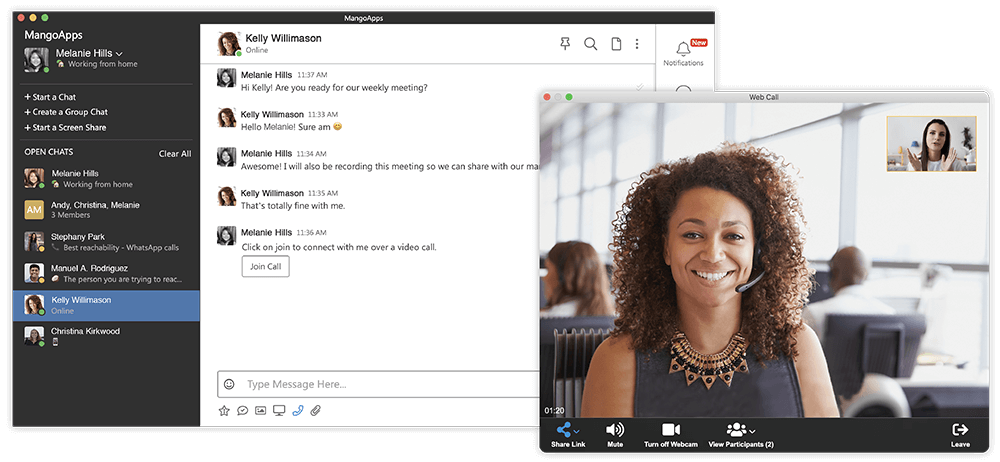 Aso, if you're already using another service provider like GoToMeeting or Join.me, we've got integrations that will easily work these meetings into your MangoApps workflow.
How To Make & Answer Video Calls:
1

Video calls simplify remote communication and let users share in a naturally and visually engaging way. To start a video call, open the instant messaging window of the employee you want to talk to

2

From the instant messaging window, select the small 'Actions' square and then 'Call' from the drop-down menu

3

MangoApps will instantly begin your video call. Once the recipient answers, you're all ready to go!

4

To answer an incoming video call, just select the 'Join' button that appears on your screen

5

During your call, you can also initiate a handful of helpful actions like muting microphones, disabling video, and enabling screen sharing.
Bring your frontline and office teams together on one common platform
It has never been this easy to create the perfect employee experience for your deskless and deskbound workers. Contact us to discuss requirements, pricing, rollout and support. Get your free demo today!