Employee Access to HR Content
Every employee needs regular access to HR information, which is notoriously difficult to organize and distribute effectively.
In many organizations, team members find themselves tracking down HR reps because it's unclear what forms are needed for a particular situation, and then filling out those forms on paper and waiting endlessly for information to be processed.
I use MangoApps every day, it's pretty much the first thing I do when I get to work. Between connecting with colleagues, editing documents, and having all your HR information in one portal, it has everything that you need to know. You don't need paper documents anymore. You can quickly access everything you need.
-Brook Laskin, Executive Director, CCS
Problem: Poorly Organized HR Information
In many companies, HR information is lost in some sort of database where it's unclear what any particular file's intended purpose is, and impossible to tell whether or not it's out of date. In some cases, files are only available through an HR representative, or were initially distributed in print form and have since been lost and forgotten.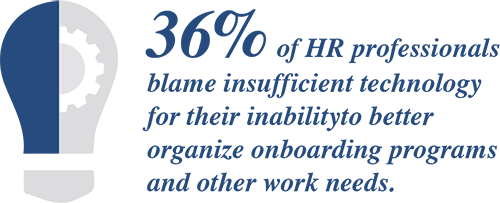 In any case, employees do not have quick access to the information they need.
Solution: One Consolidated Dashboard
One of our favorite features of MangoApps is the personalized, mobile-first intranet dashboard, designed to consolidate all of the tools an employee might need into one instantly accessible area that is equally usable on a computer or mobile. Naturally, this lends itself to frequently-used HR forms and resources. Dashboards operate at a personalized level and contain updated dynamic content, so it's easy to present each employee with updated information tailored to their exact requirements, without any extra work for the HR team. In fact, this will save them a ton of effort compared to the outdated processes listed above.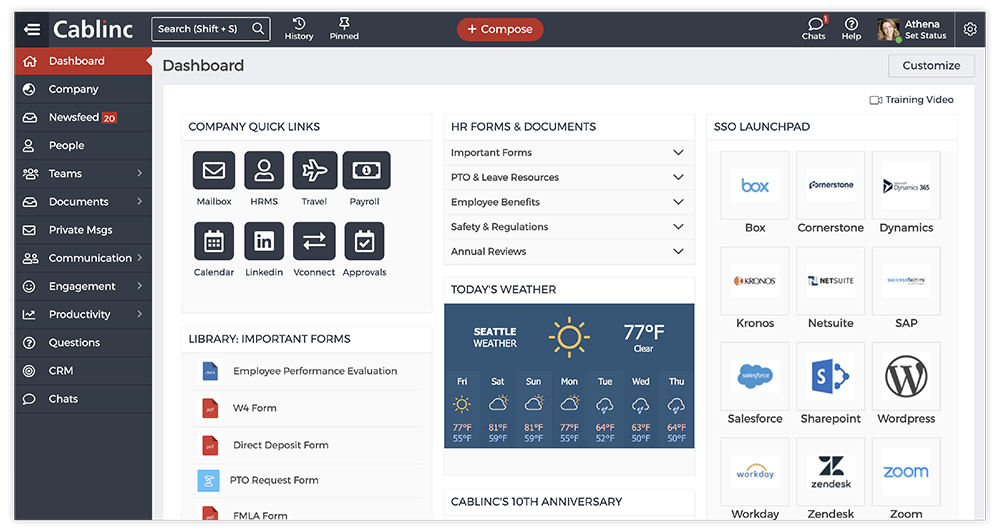 Dashboards also store static HR information, like pay dates, employee handbooks, and health plans. These resources offer workers a quick reference guide and the ability to look up information from anywhere and at any time. With content continually available on a dashboard, employees no longer need to save paper copies, dig through old documents, or track down others to find what they need.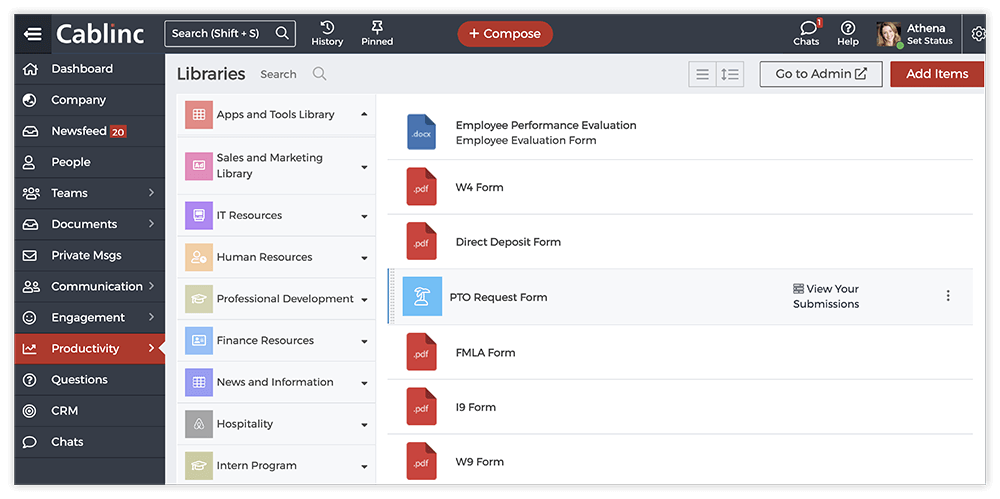 Dashboards can even integrate quick links to frequently used external services. From paystub access on third-party platforms to industry-specific repositories, dashboard quick links help employees easily access all of their tools and resources, whether inside or outside of MangoApps.
In addition to Dashboards, Mango Libraries are a fantastic place for HR content. Libraries allow companies to organize documents, files, hyperlinks, images, and any other useful resources into categorized areas, creating a digital HR index.
How To Make Customized Dashboards:
1

Dashboards help employees stay productive and engaged with up-to-date and easy access to all of their essential resources.

2

To create a dashboard that is available for all of your employees, first ensure that dashboards are enabled in your domain. Then select 'Dashboard' under modules in the domain admin to set up your dashboard.

3

Select the 'Customize' button to start building a dashboard designed to meet your company's unique needs.

4

The widget gallery has a wide variety of detailed widgets and many can be customized. You can search for a specific widget or just browse the available list.

5

Rearrange and resize your dashboard widgets however you like. Once you've found the perfect layout, select done to save your work.
Bring your frontline and office teams together on one common platform
It has never been this easy to create the perfect employee experience for your deskless and deskbound workers. Contact us to discuss requirements, pricing, rollout and support. Get your free demo today!