Value at Every Level
Find out how MangoApps benefits each sector of your manufacturing organization.
Business Leaders
Establish effective top-down communication
Easily create and distribute posts to communicate company-wide news and updates. Segment your workforce for more targeted content.
Reinforce company culture
Reinforce your culture and values with consistent communication and opportunities for your factory workers and line managers to make their voices heard
Increase engagement
Keep frontline workers engaged with the ability to like and comment on company posts. Celebrate and acknowledge their hard work with rewards and recognition.
Gain insights from your platform
Get actionable insights into employee sentiment and content consumption, and improve your communication effectiveness over time.
Ensure security & compliance
Maintain organization-wide compliance by satisfying industry standards/regulatory requirements. Enterprise-grade security and data protection ensures that all of your information is secure.
Easy platform administration and development
Take some of the strain off your IT team with our easy-to-use admin interface. Our support team will do all the legwork of implementation and rollout.
Management
Painless onboarding
Streamlined onboarding processes save time and allow your frontline workers to hit the ground running on their first day.
Improved communication
Reach your factory workers easily by putting mobile tools in their hands. Quick, two-way communication lets you stay ahead of issues and keep better track of your team.
Employee shout-outs
Highlight employee stories and successes to enrich your workplace culture and encourage high productivity.
Real-time visibility
Gain real-time feedback on team execution and performance. Easily share this information with business leaders, leading to more impactful changes.
Better scheduling
Manage shift schedules within the app, so everyone has 24/7 access to the latest version and you don't have to send pictures via WhatsApp or field questions.
Frontline
Task communication
Allow managers to clearly communicate and track assignments while ensuring frontline workers understand expectations and work requirements.
Schedules & hours
Provide a space where employees can easily access their work schedules. With a single version of the schedule, factory employees are always provided the most current version of their shift schedule.
Searchable information library
Ensure that frontline workers have quick and easy access to policy updates, training, and other important resources.
Quick links
Set up a dashboard with buttons that take employees directly to external tools they need, like paystubs and benefit information.
Continuous learning
Ensure that employees are knowledgeable about the latest safety measures and processes by assigning lessons and providing easy access to learning materials.
Questions & feedback
Empower your frontline workers to ask questions so they can maintain a high level of productivity. Use surveys to collect feedback and learn improvements that need to be made.
Mobile access
Our intuitive mobile app gives your factory workers access to all the tools they need, without requiring a ton of training and oversight.
MANUFACTURING CUSTOMERS:
Break free from legacy systems and move forward faster with MangoApps.
A unified employee experience saves employees time, improves workplace efficiency and agility.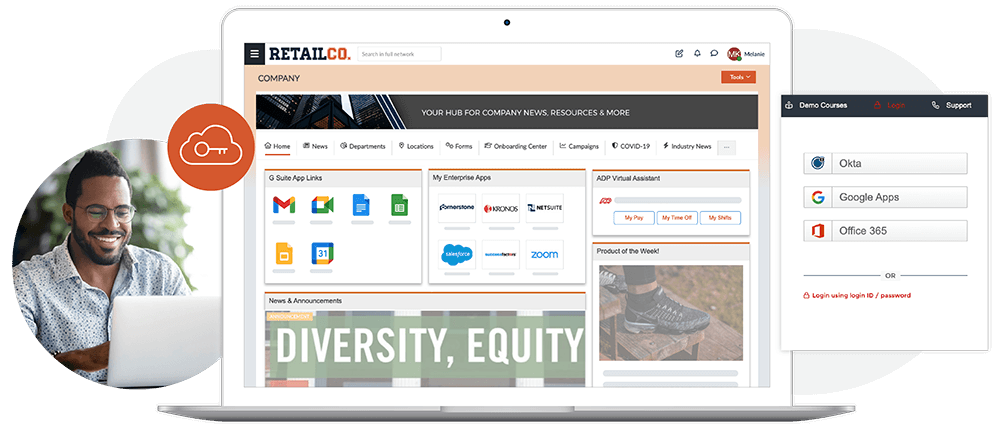 Talk to a product expert to learn more