What Is A Customer Knowledge Base?
A customer knowledge base is any data, resources, or important information companies have about individual customers. These databases often include customer history, relevant feedback, past experiences, and other helpful details. Customer knowledge bases serve as useful reference guides for employees, allowing them to offer detailed and comprehensive customer care, and are incredibly valuable when joining a new team, transferring to a new area, or taking on additional clients.
Strong customer relations are at the heart of everything we do, and MangoApps is a huge asset in making that happen.
Disjointed Details and Scattered Sources
Customer knowledge bases offer employees important client insight, when they're up-to-date, easy to find, and well organized. But most customer knowledge bases, if they exist at all, are outdated or incorrect, making them relatively useless.
When detailed client records do exist, it's usually done at an individual employee level and not typically shared or otherwise accessible. Instead of a centralized, shared resource, employees have to gather their own information. If a particular employee ever transfers or leaves the organization, important client data is often lost in the process.

Accessible and Up-To-Date Information
MangoApps is explicitly designed to simplify storing information in a centralized workspace. Instead of having client information scattered in notebooks or work documents across a handful of employees, one master customer knowledge base is digitally available anywhere and at any time. Employers can even alter customer knowledge base visibility settings to ensure private customer content stays safe and confidential.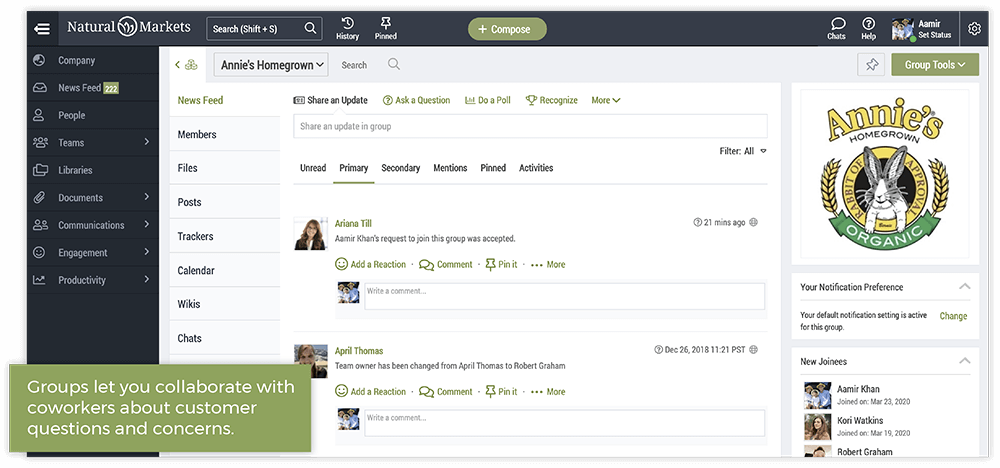 With designated groups created for clients, new employees can quickly catch up on customer details and history as well, helping them quickly catch up on information without interrupting customer service. And groups even let you collaborate with coworkers about customer questions and concerns.
Mango Libraries are a great resource for creating customer knowledge bases as well. Libraries allow companies to organize documents, files, hyperlinks, and other useful resources into categorized areas, creating a digital index for your organization. Employees can build any number of customer knowledge bases that are categorized however makes the most sense with all kinds of different, detailed, and fleshed out information.

How To Setup Libraries:
1

Libraries make storing, accessing, and managing documents quick and easy. To create a new library, first make sure that the libraries module is enabled, then select the libraries icon from the left navigation menu.

2

Next, choose the 'add items' button

3

Pick the library, category, and item type where your new addition belongs and then choose your item from existing resources in the 'find and add item' area.

4

Select one of the save item options and then add any other additional library items.
How To Create Groups:
1

Groups give teams a specific space to meet together, collaboration effectively, and work on topics without a specific end date or goal in mind. To create a new group, make sure the groups module is enabled in your domain, then go to the groups area and select the 'create a group' button.

2

Give your group a name and establish some of its basic details. Provide a description, establish permissions, enable or disable features, and more.

3

You're now ready to add users and get to work. Select the group tools button and then 'invite network users' to start adding group members.

4

Once a member has been added to a group, he or she can immediately begin posting, sharing, asking questions, submitting documents, and participating in everything groups have to offer.