What Is A Customer Knowledge Base?
A customer knowledge base collects useful information about individual customers, such as history, relevant feedback, and past experiences. This is a crucial reference for employees who work with customers that are passed on to them, ensuring that those customers get the comprehensive, individualized care that they expect and deserve.
When a customer-facing employee joins a new team, transfers to a new area, or takes on additional clients, a customer knowledge database ensures that they have all of the information they need to minimize friction and create a consistent experience on the customer's side.
Problem: Disjointed Details and Scattered Sources
Most customer databases, when they exist, are fraught with outdated information and poorly organized, making it extremely hard for multiple employees to ensure a consistent customer experience.

When detailed client records do exist, they're usually done at an individual employee level and not shared or otherwise accessible, meaning employees have to gather their own information. When a particular employee transfers or leaves the organization, important client data is often lost in the process.
Any sales or customer success employee knows the headache of having to pore through and decipher the confusing notes left by their predecessor on a particular account, or worse, go into a client meeting ignorant to their history and needs. This wastes time and risks creating a bad experience, or alienating clients altogether.
Solution: Accessible, Up-To-Date Information
MangoApps is built to replace scattered information with centralized workspaces. Instead of letting employees manage client information individually as they see fit, you can create a master customer knowledge base that is digitally available to them wherever they are, both on desktop and mobile devices.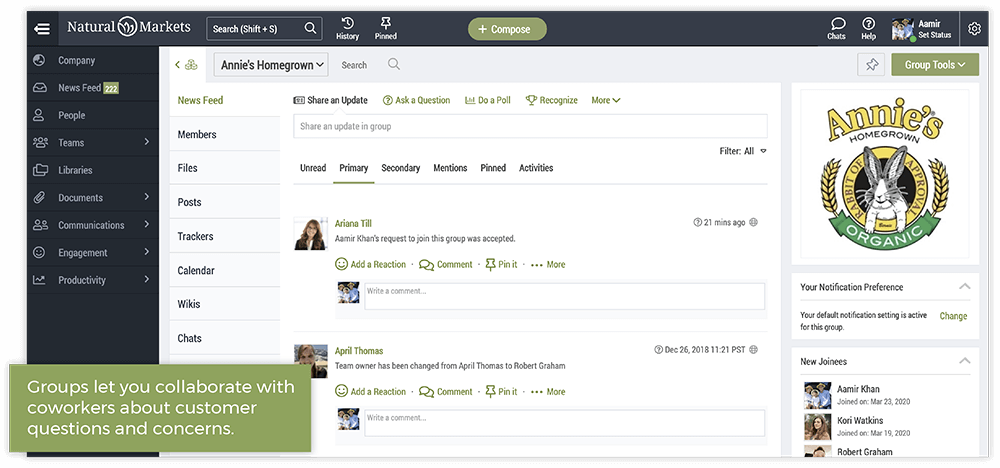 This makes it easy for everyone who needs this information to access and update it on the go. Employers can even control visibility settings when necessary, ensuring that private customer information stays safe and confidential.

In MangoApps, you can also create a designated group for each important client, which lets new employees catch up on details and history, so the customer experience isn't interrupted. Groups allow colleagues to collaborate on accounts by communicating questions and assigning tasks. The shared nature of groups ensures that nothing is lost in the shuffle and everything is viewable and searchable for the people who need it.
For larger customer knowledge bases, MangoApps Libraries are especially useful. Libraries allow companies to organize files and hyperlinks, among other resources, into a categorized digital index that is easy to find and navigate.
I most often use MangoApps for searching for samples. When I have a problem or issue with my client that I've never come across before and don't have a solution at my fingertips, I can search for a work product or a sample based on client location, type, work product, etc. to see if there's anything I can use as a starting point.
-Annie Bidwell, Senior Director, CCS
Our flexible model allows employees to build and organize customer knowledge bases in whatever way makes the most sense for your team. There are many possible paths, but the end result is a better-informed, more efficient organization and a stronger customer experience.
How To Setup Libraries:
1

Libraries make storing, accessing, and managing documents quick and easy. To create a new library, first make sure that the libraries module is enabled, then select the libraries icon from the left navigation menu.

2

Next, choose the 'Add Items' button

3

Pick the library, category, and item type where your new addition belongs and then choose your item from existing resources in the 'Find And Add Item' area.

4

Select one of the save item options and then add any other additional library items.
How To Create Groups:
1

Creating a group for a particular account is an easy way to ensure that everyone who touches that account can stay informed. To create a new group, make sure the groups module is enabled in your domain, then go to the groups area and select the 'Create A Group' button.

2

Give your group a name and establish some of its basic details. Provide a description, establish permissions, enable or disable features, and more.

3

You're now ready to add users and get to work. Select the group tools button and then 'Invite Network Users' to start adding group members.

4

Once a member has been added to a group, he or she can immediately begin posting, sharing, asking questions, submitting documents, and participating in everything groups have to offer.
Bring your frontline and office teams together on one common platform
It has never been this easy to create the perfect employee experience for your deskless and deskbound workers. Contact us to discuss requirements, pricing, rollout and support. Get your free demo today!