Easy Implementation
Our support team does all the heavy lifting, so you can roll the platform out quickly, with minimal internal IT expertise needed.
Our modular platform can be designed to suit a wide variety of needs, and modules can be added or removed with the click of a button
Personalize communication interfaces for different departments to ensure easy worker adoption
Encourage Communication & Collaboration
Create a cohesive, engaging space for your staff and volunteers to connect real-time with one another about company news and updates.
Shoutouts and newsletters remind workers of your movement's mission, recognize hard workers, and celebrate successes
Enable collaboration for specific teams through departmental sites, customizable groups, and donor workspaces that allow external guests
A Personalized Onboarding Process
Make the welcoming process for new workers simple and engaging to ensure a great experience from day one.
Help workers adjust to their new roles with customized training paths
Easily create and deploy training courses using an interactive, personalized learning management system
Simplicity & Accessibility
Eliminate operational delays by streamlining communication through a single, mobile-accessible platform.
Intuitive interface allows employees and volunteers to easily navigate the platform
Accessible anytime, anywhere with our mobile-friendly app
Trackable Organization System
Establish a secure database for collecting and storing all your information in a centralized area.
Easily systemize all company files and policy resources for mobile access
Collect information with forms and then use interactive spread sheets to move work through to completion
Break free from legacy systems and move forward faster with MangoApps.
A unified employee experience saves employees time, improves workplace efficiency and agility.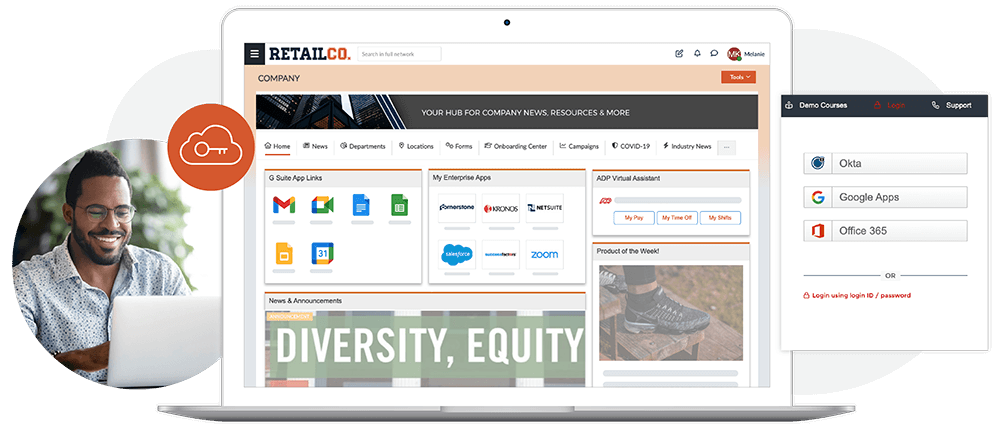 Talk to a product expert to learn more