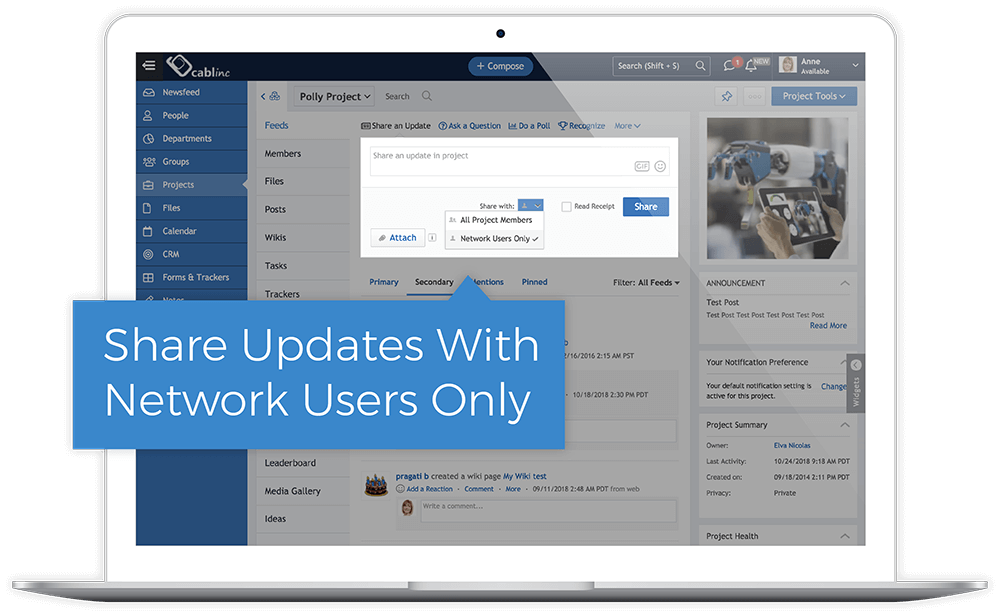 Private Communication Without Guest Visibility
While including outside guests can be very valuable to collaboration and project goals, there are times where internal only discussion or sharing is needed. Network users can opt adjust the sharing of updates and posts to either be visible to 'All Project Members' which includes guests, or 'Network Users Only' which locks the visibility of the content to only be seen by internal colleagues.
How Our Customers Use Partner and Vendor Collaboration
1

Increase collaboration and contact with customers and external partners or vendors

2

House important communication in a single secure and organized area

3

Enhance customer and client relationships through improved service and support

4

Work and collaborate in a shared spaces with external guest users, while retaining the ability to privately communicate or share in the space as needed

5

Save time and money by giving the power and tools of MangoApps to guest users as needed without any additional cost
Bring your frontline and office teams together on one common platform
It has never been this easy to create the perfect employee experience for your deskless and deskbound workers. Contact us to discuss requirements, pricing, rollout and support. Get your free demo today!