Multi-purpose
MangoApps' deep, modular intranet platform is designed to serve more than just one purpose.
MangoApps' collaboration features allow you to work in tandem with colleagues, so there's only one version of a particular document, and it's always the most recent.
With seamless communication, you can direct people to the right resources, so files aren't lost, efforts aren't duplicated, and employees can quickly find what they are looking for.
A powerful search engine scans document contents, and collates results from all of your conversations, databases, and project workspaces.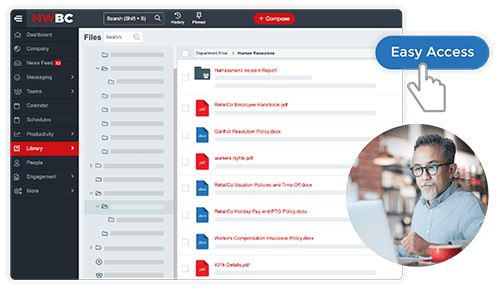 The ability to put a file out there and then upload a new version without having to go back and re-email everybody was crucial. Our data sharing over the intranet became a raw, real, and live thing. We were changing stuff constantly. 10 minutes could make a difference.
- Debra Helwig, Senior Internal Communications Manager, KCoe Isom

Remove Aging Tech
Finding resources and information has never been easier with our modern intranet solution that is always evolving.
Remove the wasted time and money associated with managing an outdated intranet. You no longer need to spend countless hours coordinating content across departments to onboard a new user.
We are constantly improving our intranet solution so that we keep pace with current developments in security, functionality, and user experience.
With new versions and updates rolled out monthly, your intranet will never become outdated or obsolete.
It's constantly being developed, so we've seen a lot of new features and new functionality added to the system since we initially implemented it. Seeing that kind of constant development and evolution, gives us some assurance that we're not going to be in the same position that we were in with the old platform where it got outdated and our users kind of lost interest and started moving to other systems.
- Andrew Rushton, Intranet & ICT Project Office, WildLife Trust
Avoid The Static Experience
Eliminate the workarounds, VPNs, and other hindrances that often come with a static intranet experience.
Equip your employees with secure access to your intranet from wherever they are, on whatever device they need.
With MangoApps, you can skip the ad hoc solutions and 'workarounds', by having everything you need in one platform.
Deploy an intuitive user-friendly experience so that employees can jump right in and immediately engage with the intranet platform.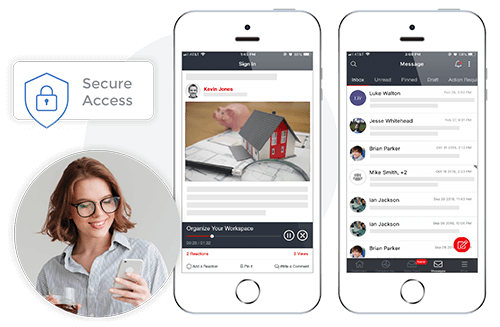 No More Ad Hoc Solutions
Deploy a modern intranet that doesn't leave your employees frustrated and wasting their time.
Keep important company information secure in a centralized location, ensuring that knowledge is retained and transferred.
With MangoApps, you can provide your team with a modern intranet solution that erases the need for employees to look elsewhere for additional functionality.
Improve workplace efficiency, agility, and productivity with a unified employee experience.
The collaboration space is the clear favorite. Our employees absolutely love the groups and projects, the fact that they can have all their information in one area and work on it together. With our previous intranet, we had extreme difficulties accessing it from outside our network. Having access to all our files from anywhere we like has been a massive bonus.
- Carolyn Prendergast, Head of Internal Communications, Tatts Group