Time Savings
With MangoApps, all of your tools are in one centralized dashboard, so there's no time lost
to logging in and out of different environments.
Funnel all of your notifications through a single feed that is accessible from desktop & mobile.
Tools and conversations are centralized and available from a secure cloud-based platform.
Cut down on noise and distractions by only breaking concentration for items that actually require your attention.
Control when you receive notifications so that you only break your concentration for items that actually need your attention.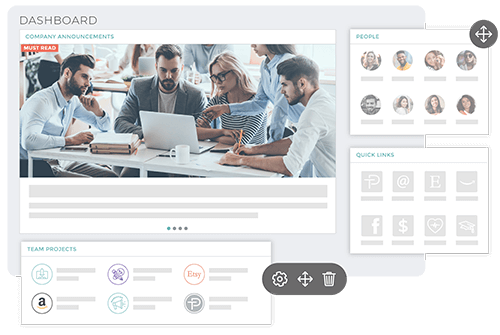 A Centralized Information Hub
With MangoApps, all of your internal conversations, files, and resources are stored in a centralized location.
Create a user-friendly dashboard for external company apps and internal resources.
Quickly find what you're looking for with our advanced search and filtering capabilities.
Ensure employees always have access to the correct version of files and resources.
I think our work product would not be as strong if we didn't have... a Paul Hamilton.png centralized place to save our 70 years of experience and the thousands of documents that my colleagues create every day. Being able to access that in a moment's notice is absolutely amazing.
- Annie Bidwell, Senior Director, CCS Fundraising
Fast Onboarding & Training
Get new employees up to speed by making sure they have access to all of the tools, resources,
and information they need for success.
Assemble onboarding information in a centralized space where employees have a clear understanding of what needs to be done.
Automatically assign new hires to groups, departments, and projects relevant to their job title.
New employees receive access to historical information so they can hit the ground running on day one.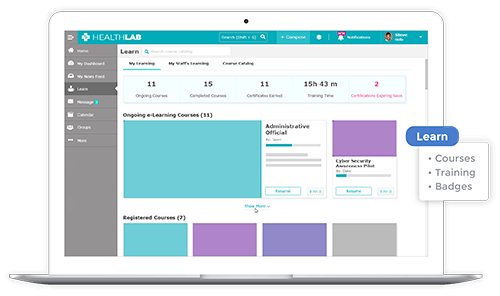 Anytime a new user starts, you go over 2-3 hours worth of stuff between HR, IT, finance. They're not going to remember everything, but having that stuff in a library that they can go back and refer to is helpful. So we can say, 'Hey, after the onboarding is done, if you ever need a refresher on this, here's a link to the page to go to. And you can refer to the videos and answer most of your questions yourself.
- Marcel Tabor, Director of IT, Integral Group
A Modular Approach
Start with the features you need now, and add more as your company's needs evolve.
With our modular approach, select exactly which features you're interested in, and only pay for those.
Provide your employees a clean, uncluttered, and focused user experience.
Skip the buying cycle when you need a new feature or function. Just flip a switch and you're up and running.
Cost Savings
Remove standalone solutions from the equation. With MangoApps' unified work hub,
employees can receive all the tools they need in a single, easy-to-use platform.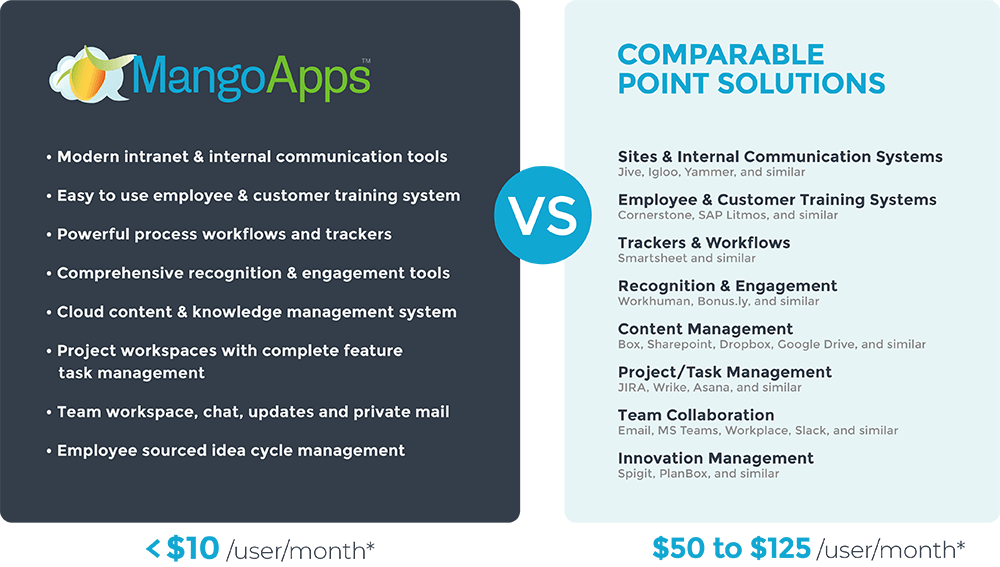 Your assigned CSM and TAM, along with our dedicated support team, take on all of the development work, so you don't have to do it in-house or hire consultants.
By replacing siloed solutions with a unified work hub, you save on bloated contracts because there is only one set of administration costs.
Our low per-user costs make it possible to connect and engage with your frontline workers, which can mean massive improvements in retention.
Think about the cost of supporting SharePoint infrastructure, servers, and developers. I don't have to have developers for MangoApps. When we want something, we let the support team know. And it's pretty quick, the turnaround that we get. It's much faster than if we were doing our own development. So time and money.
- Marcel Tabor, Director of IT, Integral Group