What Are Employee Experts?
Employee experts are coworkers or other workplace individuals with a specific work specialty. Employees can be experts at a specific role, a kind of client, a unique experience, or any other kind of work circumstance. Because completing projects or compiling teams often requires a wide variety of skillsets, knowing different employee experts is a fantastic way to get advice, guidance, or assistance in the office and helps everyone garnering the company's best collective experience.

I actually can't ever recall a time where I've had to sit down with someone and say, 'This is how you find another employee.' It's been very intuitive and easy for our members to figure out.
Finding Expert Employees
Employee experts naturally occur in an organization over time as workers get to know different customers, tools of the trade, or unique niches. But it's hard to know at a glance who the experts are, especially in a large or geographically diverse organization. Instead, employees can only work with coworkers whose talents and skills they already know about or rely on input from those around them. While these strategies can be successful, it often leaves a large area of skills and expertise unknown or inaccessible.
Collaborating With Coworkers
MangoApps Employee Directories are designed to connect employees anywhere in the organization. Detailed directories display a comprehensive org chart, along with every worker's photograph and general information. Directories also link to descriptive employee profile pages, where coworkers can see in-depth information like skillsets, current projects, work experience, and much more, helping employees gather a complete picture of expertise. In addition, MangoApps company directories and org charts can conveniently integrate profiles and be automatically kept in sync from active directory, LDAP or other enterprise systems.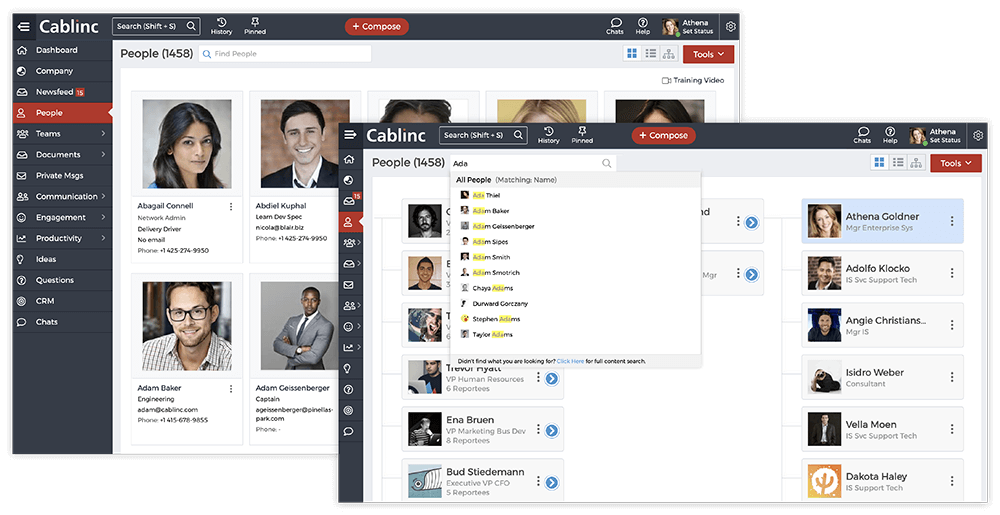 Employee directories are also completely searchable by name, location, skillset, and a wide variety of other features, making finding the exact expert you need simple and straightforward. And because MangoApps is completely centralized, coworkers can instantly communicate directly from within the platform.
How To Set up Employee Directories:
1

Employee directories keep employees connected and in touch with each other. To utilize employee directories, first, make sure that the people module is enabled on the platform.

2

Once the module is activated, MangoApps will automatically incorporate all active users into the employee directory, using the information provided in their employee profile.

3

To access employee directories, select the people icon on the left navigation bar. You can then see employees, access the org chart, or select an individual to see their detailed employee profile.