What Are Employee Experts?
An employee expert is anyone in an organization that has expertise on a particular topic, whether it's a part of their job function or not. For example, many offices and departments have an Excel guru or two that help out their coworkers, or a go-to person for questions about certain customer types.
Because completing projects often requires a wide variety of skill sets, being able to quickly identify employee experts can be helpful in seeking advice or building teams.
Problem: No Codified Way To Find Experts
Employee experts naturally occur in an organization over time, as workers get to know different customers, tools of the trade, or unique niches. In large or geographically diverse organizations, it's hard to find out who these experts are—employees often find themselves relying on coworkers they already know or input from those around them.

This often results in duplicated or wasted efforts, and leaves potentially important skills and expertise untapped.
Because we don't all work together in the same building or in the same office, we think of [MangoApps] as the place where we meet. You can go to Mango to see who the members are. Read their profiles, see their photographs, and understand better the people with whom you're forming this community.
-Rebecca Ginsburg, Associate Professor & Director, University of Illinois
Solution: A Digital Directory
Mango Directory is designed to connect people from anywhere in the organization. It's a detailed directory including org charts and rich employee profiles, with information including skill sets, current projects, and work experience. These profiles can be integrated and kept in sync from active directory or other enterprise systems, and updated manually as well.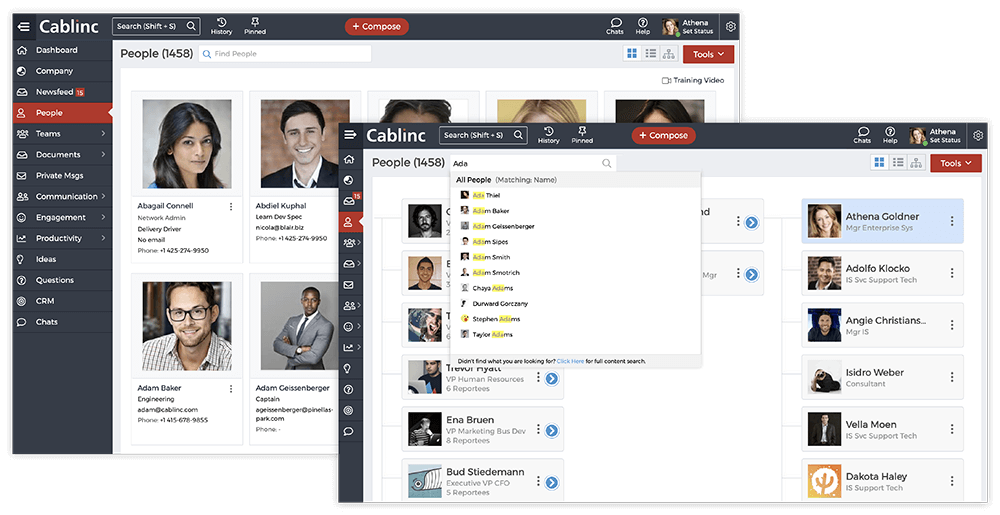 The directory is powered by a flexible search function, and custom industry-specific fields can be added by admins.
What all this means is that we make it easy for employees to find each other based on any criteria, including obscure or non-obvious expertise. Because Mango Directory is fully integrated within our platform, employees can also instantly communicate once they find each other.
How To Set up Mango Directory:
1

To utilize Mango Directory, first, make sure that the People module is enabled on the platform.

2

Once the module is activated, MangoApps will automatically incorporate all active users into the employee directory, using the information provided in their employee profile.

3

To access Mango Directory, select the People icon on the left navigation bar. You can then see employees, access the org chart to find managers and understand the company hierarchy, or select an individual to see their detailed employee profile.
Bring your frontline and office teams together on one common platform
It has never been this easy to create the perfect employee experience for your deskless and deskbound workers. Contact us to discuss requirements, pricing, rollout and support. Get your free demo today!