Why Should You Centralize Content?
Keeping company content centralized ensures work stays accessible and increases overall productivity. With office tools completely integrated into one specific spot, workers know their data is always safe and secure and no longer face the daily frustrations of tools sprawl, saving time and energy for everyone involved.

Keeping Content Together
Companies know the benefits of centralized content and want to keep information both safe and accessible, but they need an integration-friendly platform to make it happen. While saving documents onto a computer or shared work drive is a good start, it doesn't ensure the comprehensive compatibility, remote work flexibility, and security features an organization truly needs.

We have over 200 existing company applications we use regularly and we were able to integrate all of them into MangoApps.
Why MangoApps Is The Best Method
MangoApps is designed around centralizing workflow and simplifying secure storage, so effective integration is an absolute must. Our dedicated platform seamlessly integrates or improves all of the most common work tools right into a singular space, with seamless transitions between both desktop and mobile devices. And customizable dashboards available to every employee help workers access whatever static or dynamic content they need all in the same area. From helpful internal information to external content widgets drawing from outside sources, dashboards automatically integrate the most relevant and up to date information.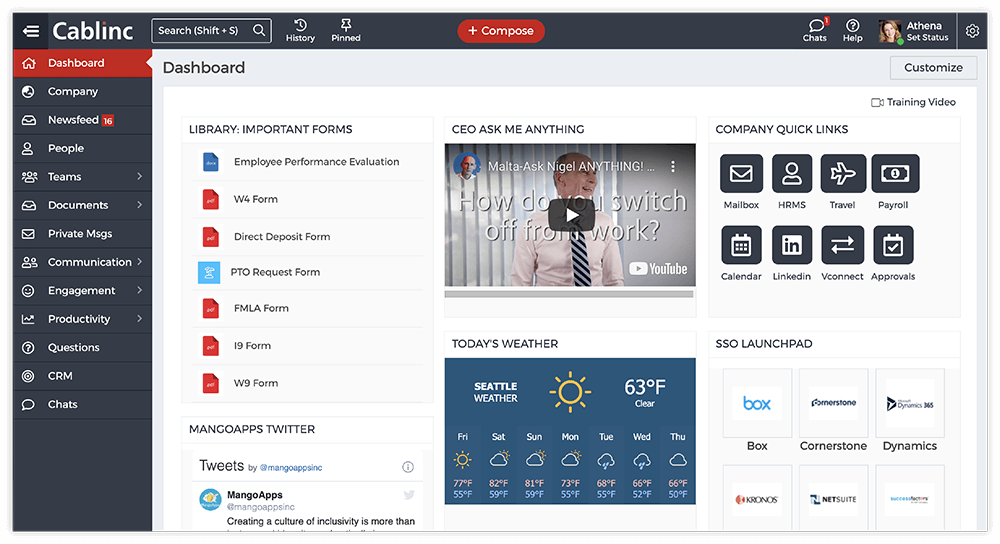 MangoApps Libraries are also a great way to save, share, and access company information. In the libraries module, company resources are organized into specific and searchable categories, making it the perfect place to keep relevant information employees can access anywhere they have internet. And libraries aren't just for internal documents or sources either. Leaders can just as easily create an organized list of links to external information, so no matter where your content lives, employees always have easy and instant access.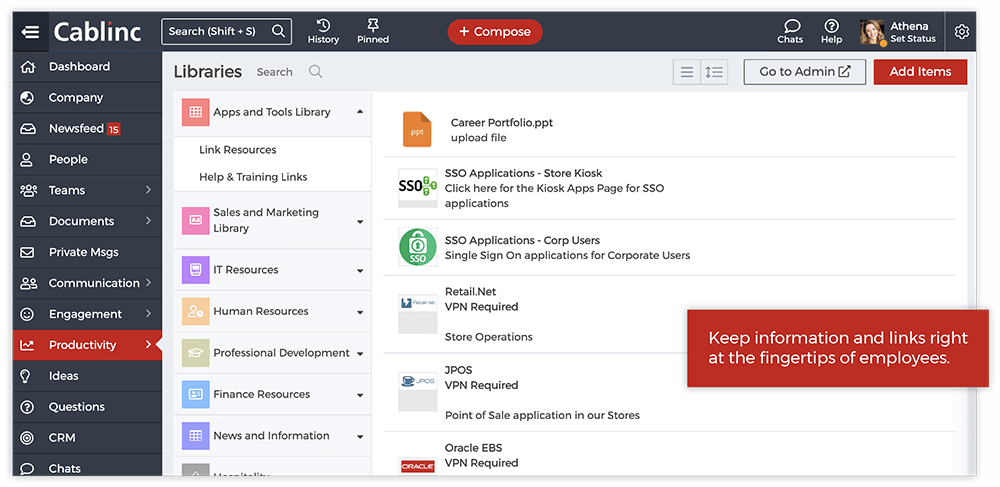 How To Setup Libraries:
1

Libraries make storing, accessing, and managing documents quick and easy. To create a new library, first, make sure that the libraries module is enabled, then select the libraries icon from the left navigation menu.

2

Next, choose the 'add items' button

3

Pick the library, category, and item type where your new addition belongs. Then choose your item from existing resources in the 'find and add item' area or add in links to external content sources.

4

Select one of the save item options and then add any other additional library items.
How To Make Dashboards Happen:
Embrace office productivity with up-to-date and easy access to all of your essential resources.
1

Dashboards help employees stay productive and engaged with up-to-date and easy access to all of their essential resources.

2

To create a dashboard, first ensure that dashboards are enabled in your program. Then select the 'dashboard' button on the left navigation bar.

3

Select the 'customize' button to start building a dashboard designed to meet your unique needs.

4

The widget gallery has a wide variety of detailed widgets and many can be customized. You can search for a specific widget or browse the available list.

5

For external content, users can also incorporate i-frame or quicklink widgets as well, helping them aggregate important outside information

6

Rearrange and resize your dashboard widgets however you like. Once you've found the perfect layout, select done to save your work.